J&J to Print Patient-Specific Surgical Tools in 3D
By HospiMedica International staff writers
Posted on 13 Apr 2017
The Johnson & Johnson 3D Printing Center of Excellence is introducing a range of customized surgical tools, which are now available to surgeons in hospitals across the United States.
The new tools will complement the 3D-printed TruMatch craniomaxillofacial (CMF) implants and surgical guides developed by DePuy Synthes, a JNJ company. The patient's computerized tomography (CT) scan is analyzed and then converted into fabrication files for additive manufacturing (AM) printers to fabricate personally tailored implants, such as a jawbone, or surgical guides which can aid the surgeons in the precise implementation of incisions and implantation of medical hardware, based on the patient's anatomy.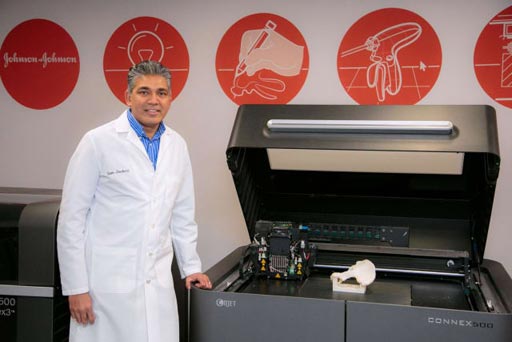 Traditional surgical instruments are composed of many different moving parts, with a range of individual components placed into a particular instrument in order to be delivered to the implantation site, where they are fixed in place by screws or other types of joins. Using 3D printing technology, the entire surgical tool can be fabricated as a single, fully functional instrument. Using AM with a 3D printer on-site also streamlines and accelerates the actual production process of surgical tools.
Another project in development with DePuy Synthes is a titanium alloy implant for cancer patients who suffer from bone degradation. The implant is custom-designed for each patient using a CT or magnetic resonance imaging (MRI) scan, or even a simple X-ray, in order to extract their particular anatomy. The implant is then reverse-designed, and a digital file is transferred to the 3D printer, which then prints a replacement section of bone. Another project, under development in conjunction with Ethicon Endo-Surgery, another JNJ subsidiary, involves bioprinted knee meniscus tissue.
"Typically, a doctor may enter the operating room with multiple instrument sizes, which can introduce added inefficiency into the surgery. With 3D printing, however, it's possible to create tools that fit the procedure exactly," said mechanical engineer Sam Onukuri, head of the JNJ 3D Printing Center of Excellence. "We can potentially move manufacturing to a very small footprint, doing the same thing closer to the customer. That means products do not need to be shipped as far, and there's a faster turnaround."
3D printing is a collection of a broad family of technologies that use everything from metals to polymers to biomaterials (materials that mimic living tissue) in order to create objects. Metal parts, for example, are made with laser-based or electron beam-based 3D printers that use metal powders for raw material; the laser or electron beam fuses the powder. Polymer parts are made using ultraviolet (UV), infrared (IR) or visible light in conjunction with laser or heat energy.
Latest Health IT News
Other channels