Virtual Reality System Helps Reassure Surgical Patients
By HospiMedica International staff writers
Posted on 26 Jul 2017
A new software system combines magnetic resonance imaging (MRI), computerized tomography (CT), and angiograms to create a virtual reality (VR) three-dimensional (3D) model.
The Surgical Theater (Mayfield Village, OH, USA) Precision VR medical visualization platform is designed to work on multiple levels of interaction and immersion for both patient and surgeon, with the aid of Oculus Rift or HTC Vive VR headset. When wearing the VR headset, the patient can explore the 3D model generated from his own imaging, thus bridging a critical gap in patient education and providing increased shared decision-making opportunities.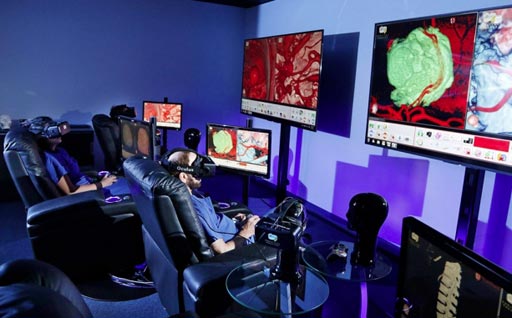 The Precision VR visualization platform also delivers powerful surgical planning capabilities and provides professional education and rehearsal functionality. Neurosurgeons can navigate their patients' anatomy and simulate complex operations in surgical VR before making an incision. In addition, neurosurgical training for residents is available for even the most challenging surgical cases. Residents can hone their surgical techniques and situational awareness of the patient's brain anatomy, optimizing performance and skill acquisition before entering the operating room.
"We see tremendous value in utilizing virtual reality across our treatment continuum, especially with regards to educating patients and families about complex treatments options," said Professor Gary Steinberg, MD, PhD, chairman of the department of neurosurgery. "Equipping our neurosurgeons with virtual reality also allows us to advance our mission of precision medicine while further personalizing our approach to solve the most challenging neurological disorders for each patient."
VR technology provides an immersive, multisensory, and 3D environment that enables users to have modified experiences of reality by stimulating the visual, auditory, and proprioception senses. VR has already been used to help treat anxiety disorders, support physical rehabilitation, and distract patients during wound care. For example, VR coupled with medication is effective in decreasing pain during bandage changes for severe burns, and provides positive distraction during routine procedures such as intravenous line placements and dental procedures.
Latest Health IT News
Other channels