New RF Module Facilitates Implantable Medical Device Design
By HospiMedica International staff writers
Posted on 13 Mar 2018
A new radio frequency (RF) base station module has been developed specifically for external controllers and monitors of implantable medical devices.
The Microsemi (Aliso Viejo, CA, USA) ZL70123 base station module, combined with the ZL70323 implant module, is designed to provide a complete solution for achieving superior performance in next-generation medical networks (Med-Net). Both modules are based on the latest generation of Microsemi's ultralow power (ULP) radio transceiver chip, which uses the medical implant communication service (MICS) 402-405 MHz RF band. The ZL70123 supports multiple ULP wake-up options, including the 2.45 GHz industrial, scientific, and medical (ISM) band.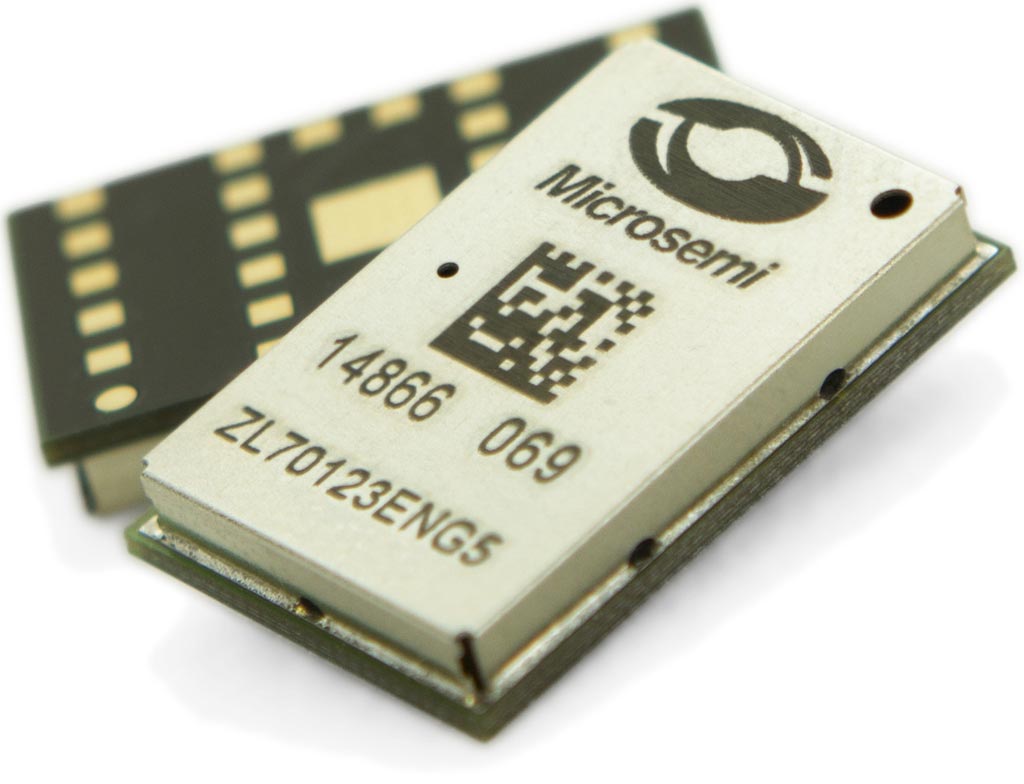 The new ZL70123 base station module includes all RF-related functions required to deploy external device functions in a MICS-band RF telemetry system, including an integrated matching network with a nominal 50 ohm RF port; a bandpass filter for suppression of unwanted blockers; a 2.45 GHz wake-up transmitter with a nominal 50 ohm RF port; and a fully shielded, 18×12×3 mm package. Microsemi also offers an application development kit (ADK) for future expansion.
The matching Microsemi ZL70323 implant module consumes less than six milliamps (mA) of power when transmitting or receiving data, and consumes just 10 nanoamperes (nA) when in its sleep state. An integrated antenna tuning circuit allows the module to be used with a wide range of implant antennas (as nominal antenna impedance load is 100+j150 ohms). Additional features include surface acoustic wave filters for suppression of unwanted blockers and antenna tuning; an integrated 24 MHz reference frequency crystal; and decoupling capacitors.
"The ZL70123 base station module raises the bar in implant telemetry by offering more flexibility, longer range capability, and smaller size than its predecessor, while maintaining backward compatibility with older systems," said Jeff Kuhn, application manager for Microsemi. "Combining the ZL70123 base station module with the ZL70323 implant module, Microsemi's Med-Net radio solution enables deeper implants with strong communication links while preserving battery power."
"RF engineering is a highly specialized discipline, and leveraging Microsemi's deep expertise in this area allows our customers to reduce design times and minimize project risk," said Martin McHugh, product line manager for implant modules at Microsemi. "With Microsemi's two-module radio link, companies can now focus research dollars and development efforts on new therapies that enable a better quality of life."
Related Links:
Microsemi

Latest Health IT News
Other channels