Smartphone Technology Advances Implanted Hearing Aid Performance
By HospiMedica International staff writers
Posted on 11 Jul 2018
Innovative cochlear implant technology allows people with hearing loss to directly control and monitor their hearing on any compatible iOS or Android smartphone.
People with hearing deficits that have received a Cochlear (Centennial, CO, USA) implant that features the Nucleus 7 Sound Processor can now control their hearing with the Nucleus Smart App from a compatible Android or iOS device. Recipients can now stream sound directly from a compatible device directly to their Nucleus 7 Sound Processor, and can also control, monitor, and customize their hearing settings, view personalized hearing information, and even locate a missing sound processor, all from the convenience of their smartphone.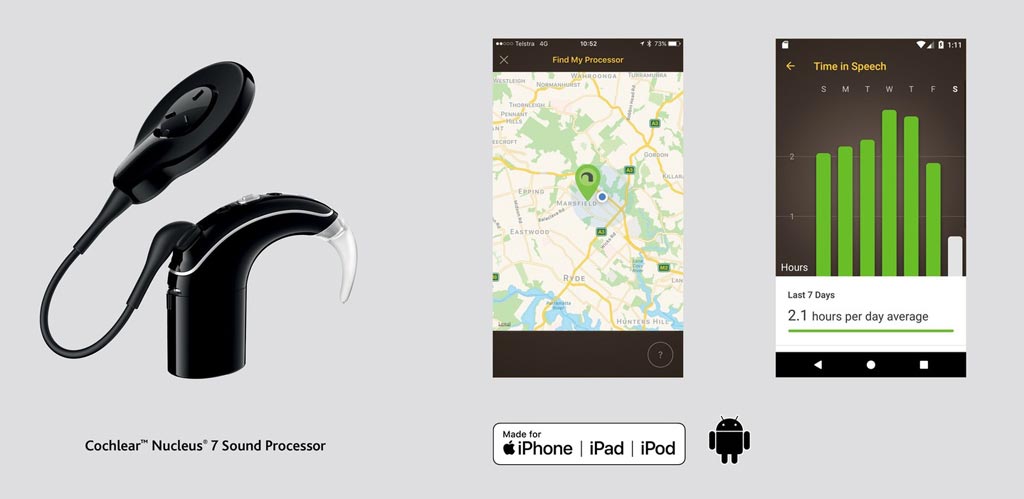 Unique features include Hearing Tracker, which records coil-offs time (when the sound processor coil does not detect the implant coil) and time in speech (the amount of time spent in speech environments, including FM radio and streaming audio); the Find My Processor feature, which helps locate a lost sound processor by using location services to determine the last place it was connected to the paired device (such as in the playground or in the car); and Forward Focus, a user-activated algorithm that reduces distracting noise coming from behind a person so they can more easily enjoy a face-to-face conversation in a challenging listening environment, such as a noisy restaurant.
"With the launch of the Nucleus 7 Sound Processor last year, we were the first in our industry to introduce a 'Made for iPhone' cochlear implant sound processor, still the only one to offer direct streaming to a compatible Apple device," said Tony Manna, President of Cochlear Americas. "Now we are pleased to offer Android users the ability to use the Nucleus Smart App to track their hearing and access new features. We are committed to giving people who are living with disabling hearing loss greater choices when it comes to controlling their hearing experience."
"We live in a world where consumers expect to be easily connected to technology, and consumers should expect to get innovative, accessible technology out of their medical devices too," said Patricia Trautwein, AuD, VP of marketing and product management at Cochlear Americas. "We want our recipients to be able to take control of their hearing performance, like they may do already with their fitness and health, and how they are accustomed to connecting with their other consumer electronics."
In a normal ear, sound vibrations in the air lead to resonant vibrations of the basilar membrane inside the cochlea. The movement of hair cells, located all along the basilar membrane, creates an electrical disturbance that can be picked up by the surrounding nerve cells, allowing the brain to interpret the nerve activity and determine what sound frequency is being heard. The cochlear implant bypasses the hair cells and stimulates the cochlear nerves directly using electrical impulses. This allows the brain to interpret the frequency of sound as it would if the hair cells of the basilar membrane were functioning properly.
Related Links:
Cochlear
Latest Health IT News
Other channels