New Medical Monitors Augment Clinical Use
By HospiMedica International staff writers
Posted on 24 Apr 2019
A new range of medical-grade monitors combine image quality, performance, and safety for a wide variety of hospital and laboratory applications.
The Contec Americas (Melbourne, FL, USA) line of medical monitors currently includes seven displays designed for original equipment manufacturers (OEMs) that require versatile, long life solutions. The clinical displays range in size from 15" to 27" and include 5-wire resistive touch and projected capacitive touch (PCAP) options. Monitors in the Legacy group feature the standard 4:3 aspect ratio, in order to help manufacturers protect their existing investments as they transition to widescreen (16:9) format.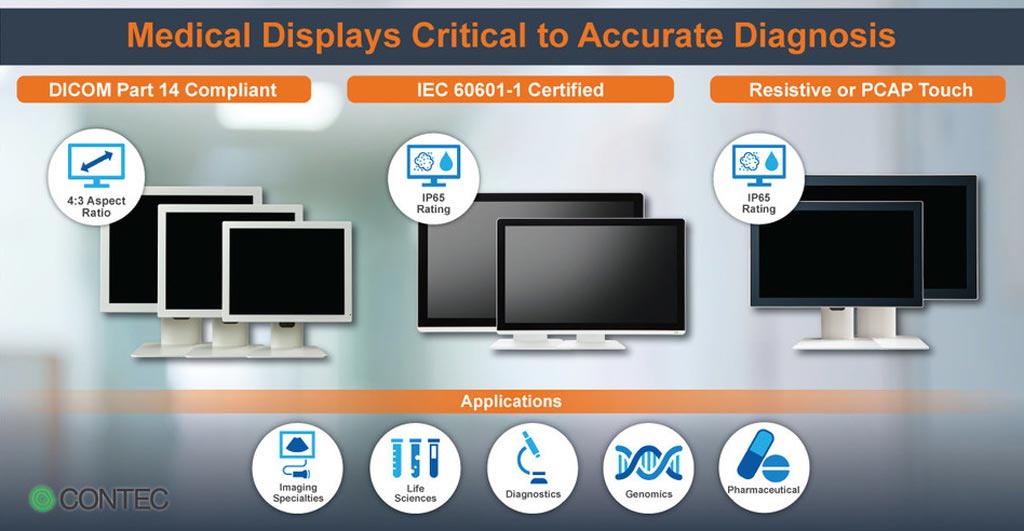 Conversely, the Modern line boasts a sleek, contemporary look, 16:9 widescreen aspect ratio, high brightness up to 350 nits, wide viewing angles of up to 178 degrees, and true-flat front, IP65 rating for easy cleaning and sanitation. All monitors in both groups meet digital imaging and communications in medicine (DICOM) part 14 image quality, as well as international standard for environmentally conscious design (IEC 60601) compliance to medical safety and performance standards.
"We have expanded our capabilities and reimagined our entire portfolio with the customer in mind," said Brad Jens, executive vice president of Contec Americas. "Our new collection of monitors, panel PCs, all-in-one computers (AIOs), and embedded systems is purpose-built to the customer's specific needs. When combined with our suite of integration and support services, we are able to offer our customers a new level of partnership and support."
"We leveraged our 30 years in the medical industry and solicited feedback from customers across many modalities to identify which features and functionality were most important," said Jeannette Toews, director of displays at Contec Americas. "In addition to image quality and performance, which are critical to accurate diagnosis, we considered the functional requirements of the equipment and ease-of-use. I'm really proud of the result, which supports a wide range of applications in the life sciences, pharmaceutical, diagnostic, and imaging specialties."
Historically, computer displays, like televisions, had an aspect ratio of 4:3 (width of the display screen to the height). For widescreen LCD monitors, the aspect ratio is generally 16:9, which is more suited for are viewing movies, playing games, and displaying multiple windows side by side. High definition (HD) and ultra HD also use a widescreen aspect ratio.
Related Links:
Contec Americas

Latest Health IT News
Other channels