Wireless-Controlled Soft Neural Implant Stimulates Brain Cells
By HospiMedica International staff writers
Posted on 22 Aug 2019
A soft neural implant operated by a smartphone can deliver multiple drugs and colored light to control Parkinson's, Alzheimer's, addiction, depression, and pain, according to a new study.
Developed at the Korea Advanced Institute of Science and Technology (KAIST; Daejeon, Republic of Korea), the University of Washington (UW; Seattle, USA) and the University of Colorado (Boulder, USA), the neural implant includes a soft, ultrathin probe (the thickness of a human hair), which holds microfluidic channels and tiny LEDs, smaller than a grain of salt. The implant also holds 'plug-n-play' replaceable drug cartridges, which allows continuous neuropharmacology and photostimulation of the same brain circuits with unlimited drug doses and light delivery.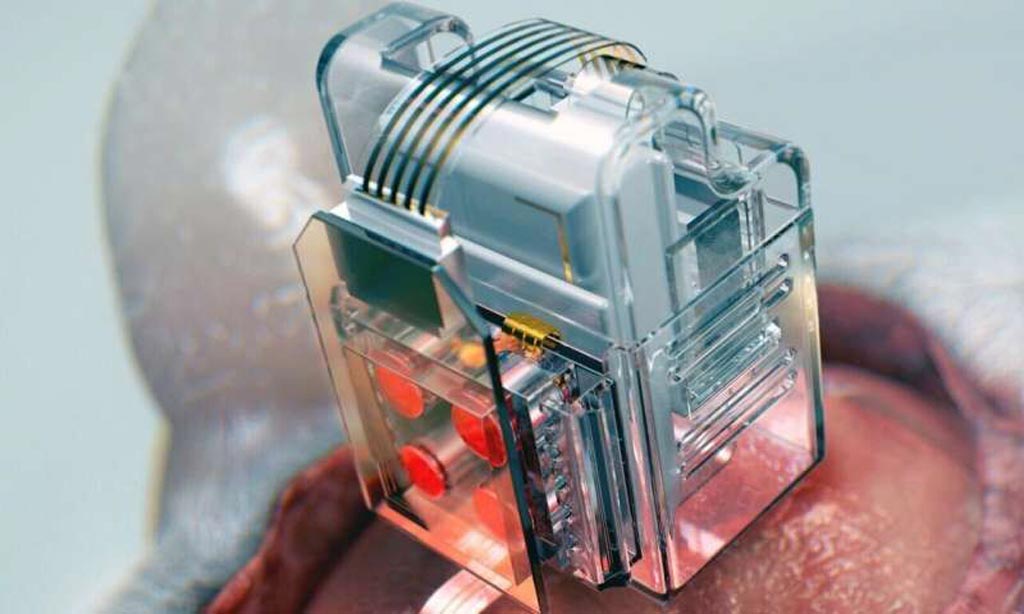 Activation of the wireless implantable optofluidic brain probe is controlled with a simple user interface on any smartphone, providing neuroscientists with the ability to easily trigger any specific combination or precise sequencing of LED light and drug delivery, without being physically inside the laboratory, and even set up fully automated delivery. For the study, the researchers demonstrated the use of the probes by controlling locomotor activity in mice for over four weeks. The study was published on August 5, 2019, in Nature Biomedical Engineering.
"This technology significantly overshadows the conventional methods used by neuroscientists, which usually involve rigid metal tubes and optical fibers to deliver drugs and light," said lead author Raza Qazi, PhD, of KAIST and University of Colorado Boulder. "Apart from limiting the subject's movement due to bulky equipment, their relatively rigid structure causes lesions in soft brain tissue over time, therefore making them not suitable for long-term implantation. We are interested in further developing this technology to make a brain implant for clinical applications."
"This technology will help researchers in many ways. It allows us to better dissect the neural circuit basis of behavior, and how specific neuromodulators in the brain tune behavior in various ways," added senior study co-author professor of anesthesiology, pain medicine, and pharmacology Michael Bruchas, MD, PhD, of the UW School of Medicine. "We are also eager to use the device for complex pharmacological studies, which could help us develop new therapeutics for pain, addiction, and emotional disorders."
Photostimulation is the use of light to artificially activate biological compounds, cells, tissues or even whole organisms. One form of photostimulation is optogenetics, which has shown significant promise in the treatment of a series of neurological disorders such as Parkinson's disease and epilepsy by targeting specific cell types or neural circuits. So far, it has only been implemented for research purposes in the field of neurobiology, serving to reveal more about the mechanisms of specific disorders.
Related Links:
Korea Advanced Institute of Science and Technology
University of Washington
University of Colorado