Therapeutic Compression Device Supports Patient Mobility
By HospiMedica International staff writers
Posted on 06 Apr 2021
A novel prophylaxis system provides intermittent compression to the lower leg and displays real-time patient mobility data.
The Recovery Force (Fishers, IN, USA) Movement and Compressions (MAC) system is a novel, data-driven device that includes two wearable controllers with an interactive touchscreen display. The system empowers bedside caregivers with critical metrics to support the execution of in-hospital mobility and adherence to deep vein thrombosis (DVT) prophylaxis regimens. Additionally, the MAC embraces the continuum of care by providing at-risk patients discharged to the home setting access to the same mobility and compression data to actively engage and participate in their recovery.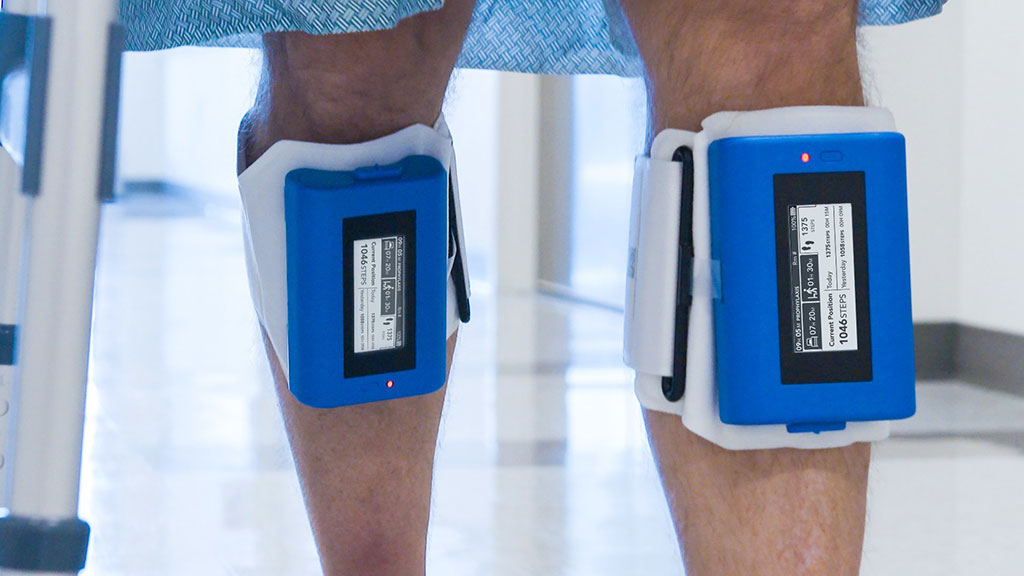 The non-pneumatic system is designed to mimic the body's natural physiological venous return using proprietary force algorithms. Pulsations are applied via a compression strap that delivers three times over baseline blood flow to avoid venous stasis. In addition, the system tracks patient positioning and activity in order to monitor adherence to mobility protocols. Data displayed on the device provides a snapshot of patient movement, orientation, and activity for the current day, as well as previous data to properly gauge mobility progression.
"The MAC System offers a solution that provides transparency and access to patient mobility data while seamlessly fitting into the complicated hospital workflow. This is a significant innovation milestone for the healthcare industry," said Matthew Wyatt, President and CEO of Recovery Force. "The MAC System integrates the physiological benefits of typical intermittent pneumatic compression (IPC) into a low-profile wearable device free of cords, hoses, and disruptive pump noise."
IPC usually comprises a pair of inflatable sleeves which are wrapped around the legs and are secured by Velcro. They are attached via flexible tubing to a small bedside electric pump. The sleeves may be short (below knee), wrapping around the lower leg, or long (thigh length) to wrap around the thigh as well. They are inflated one side at a time to compress the legs at intervals. Some types inflate sequentially, first around the lower leg and then the upper, to "milk" the blood from the leg and increase venous flow.
Related Links:

Recovery Force
Latest Patient Care News
Other channels