RT Offers Hope for High-Risk Arrhythmia Patients
By HospiMedica International staff writers
Posted on 10 Oct 2019
A single, high dose of radiation therapy (RT) can dramatically reduce episodes of ventricular tachycardia (VT) for more than two years, according to a new study.
Developed at the Washington University (WUSTL; St. Louis, MO, USA) School of Medicine, the noninvasive, outpatient procedure for treating VT is called EP-guided noninvasive cardiac radioablation (ENCORE). The novel therapy fuses electrocardiogram (ECG) and imaging data to pinpoint the scar tissue in the patient's heart responsible for the arrhythmias, and then targets it with a single dose of stereotactic body radiation therapy (SBRT). ENCORE requires no general anesthesia, and allows patients to go home immediately after treatment.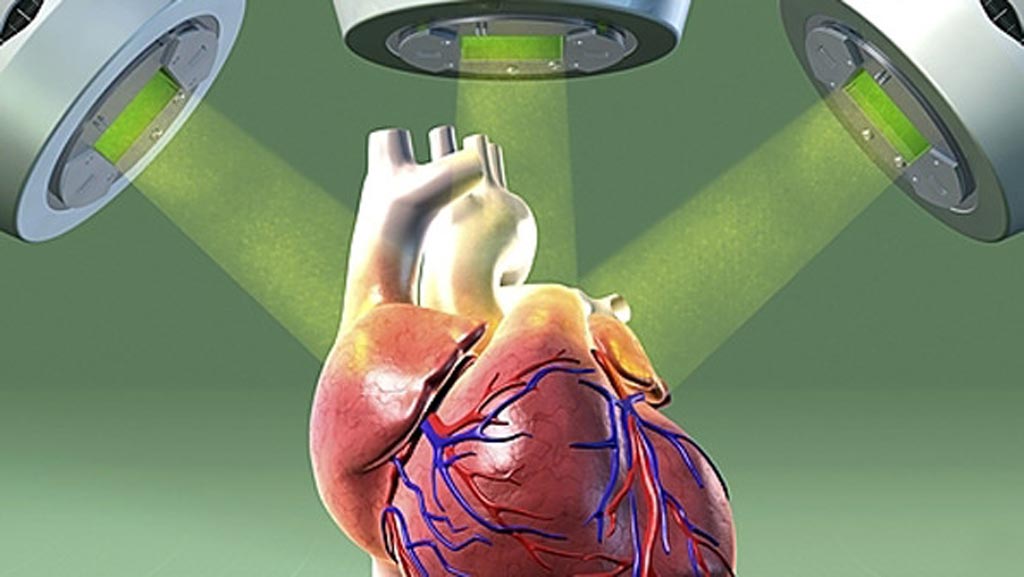 In a phase I/II prospective trial, 19 patients who had life-threatening VT were treated with a single fraction (25 Gy) of SBRT. ENCORE led to a 94% reduction in VT episodes in the first six months after SBRT, with longer-term follow-up data showing that the effect persisted in 78% of patients for more than two years; overall survival was 52% after the second year. Of the nine patients who died, six suffered from cardiac deaths (heart failure and VT recurrence) and three from non-cardiac deaths (accident, amiodarone toxicity, and pancreatic cancer). The study was presented at the 61st annual meeting of the American Society for Radiation Oncology (ASTRO), held during September 2019 in Chicago (IL, USA).
"Patients come to us as a last line of defense. They have few or no other options. Often, the primary reason we are treating them is because they were too sick to have more catheter ablation," said lead author and study presenter Clifford Robinson, MD, an associate professor of radiation oncology and cardiology at WUSTL. "Given the relative novelty of this treatment approach, we are following our patients closely, conducting trials to gather more data and being careful not to make assumptions at this point."
"An additional benefit to treatment was a reduction in the medications patients were taking, which resulted in fewer medication-related side effects and a higher quality of life," concluded Dr. Robinson. "These patients were on heavy doses of medications, with side effects such as liver damage, lung damage, nausea, and thyroid problems. After they were treated, we could dramatically reduce their medications. We saw reduced VT, reduced medication and improved quality of life, at least in the intermediate term."
In VT, the electrical signals in the heart's lower chambers misfire, crippling the relaxation and refilling process and producing rapid arrhythmias. First line treatment for VT includes pharmaceuticals and an implantable cardioverter defibrillator (ICD). Patients with recurrent VT often also undergo catheter ablation, which requires general anesthesia, takes up to nine hours to perform, holds a 5% mortality risk, and has a 50% chance that it won't stop VT arrhythmias from recurring. If catheter ablation does not control the VT, patients are left with few options beyond a heart transplant.
Related Links:
Washington University

Latest Nuclear Medicine News
Other channels