Transparent Heating Pad Helps Prevent Thermotherapy Burns
By HospiMedica International staff writers
Posted on 10 Mar 2017
A new study describes an innovative transparent thermotherapy pad (TTP) that allows users to see through it to monitor skin color, thus preventing potential injuries.
Researchers at Lanzhou University and Lanzhou University of Technology fabricated the ultraflexible transparent film TTP heater by embedding conductive silver (Ag) nanowires into a thin polyvinyl alcohol (PVA) film (AgNW/PVA). They then enveloped the AgNW/PVA complex and a copper electrode in biocompatible polydimethylsiloxane in order to insulate the heating element and protect the user's skin.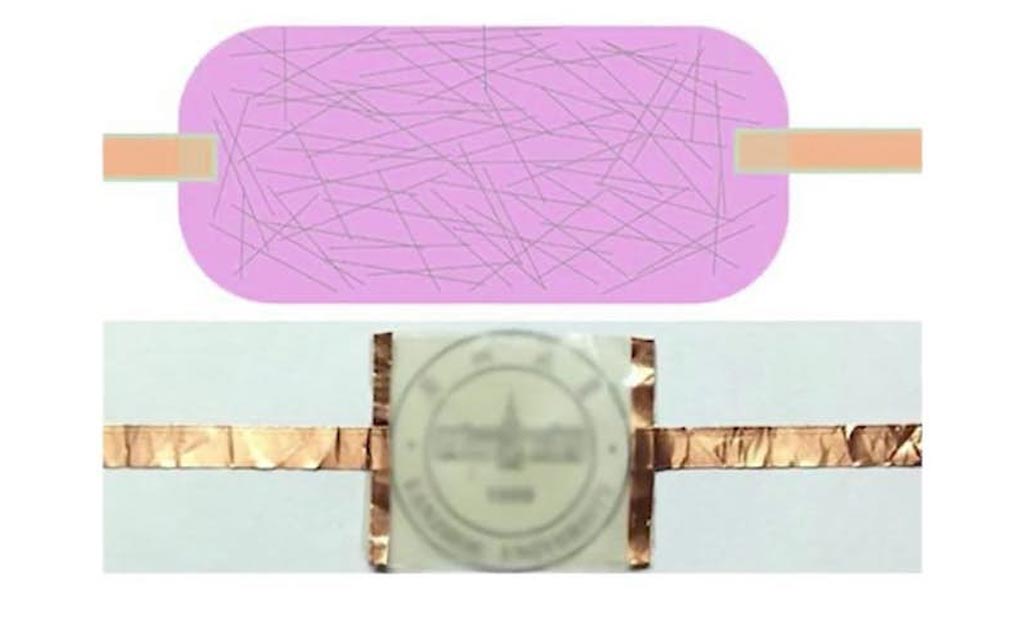 A cold-pressing method was used to adjust the sheet resistance of the composite films in order to regulate the heating capabilities of the AgNW/PVA film at certain biases. The TTP film heaters have a favorable optical transmittance (93.1%), outstanding mechanical flexibility--with no visible change in sheet resistance after 10,000 bending cycles--and environmental endurance, with no significant performance degradation, even after being kept at a high temperature of 80 °C and high humidity for half a year.
According to the researchers, Joule heating can increase the temperature of the film heaters (20 Ω/sq) to 74 °C in about 20 seconds, at a bias of 5 volts. In prototype testing, the transparent TTP device heated quickly even when only 3 volts were applied, the typical voltage produced by coin-cell batteries used in watches, remotes, and other small electronics. They study was published on February 2, 2017, in ACS Applied Materials & Interfaces.
"The as-prepared AgNW/PVA films exhibited excellent mechanical flexibilities and long-term thermal stabilities, and they were very stable under different harsh conditions," concluded lead author Wei Lan, PhD, of the LUT department of materials engineering. "The fast-heating characteristics at low voltages associated with its transparent and flexibility properties make the composite film a potential candidate in medical thermotherapy pads."
Medical TTPs are widely used to improve blood circulation, prevent inflammation, and alleviate pain. In clinical applications, TTPs are used to treat rheumatic arthritis, cervical spondylosis, and traumatic injuries. Conventional commercial TTPs are composed of a heating component and a far-infrared paste, and often suffer from two main issues, which limit their practical applications; one is the uncontrollable temperature, and the other one is their opacity, which entails removing the pad to adjust temperatures according to the local conditions.
Latest Patient Care News
Other channels