Smart Battery System Reduces Medical Device Downtime
By HospiMedica International staff writers
Posted on 07 Sep 2017
A novel hot-swappable battery system can power a range of mobile healthcare devices, such as vital signs monitors and computer carts.
The Advantech (Taipei, Taiwan) iPS-M100 is a medical-grade intelligent power system designed to integrate with a range of mobile healthcare devices, with hot-swappable capabilities to ensure battery replacement without turning off the device. The system is comprised of a docking base and dual hot-swappable power 19 VDC, 100Wh lithium-ion batteries (LIBs), and can also be integrated with an optional charging station to ensure reliable 24-hour power supply. The system weighs just 9.3 kg--with each power module weighing less than 2 kg--ensuring easy maintenance and service.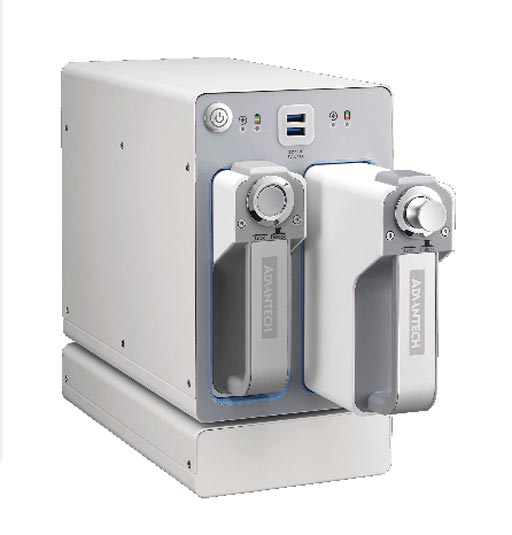 The iPS-M100 can be installed on medical carts to power vital sign monitors, blood pressure monitoring devices, and many other healthcare equipment. It can also be integrated with many software platforms, such as the proprietary Advantech AMiS_Link intelligent power management software, which features diverse management functions, such as low battery alarm notification, battery temperature monitoring, and charge/discharge cycle management. AMiS_Link also supports constant connectivity for instant communication and remote monitoring and management.
An external light emitting diode (LED) indicator reports battery and power status monitoring, and two front-accessible 1A USB ports are available for charging peripheral devices. The iPS-M100 has recieved an IP67 rating and is certified to IEC 60601-1-2 and IEC 60601-1 compliance medical safety standards, ensuring reliable and safe operation in critical environments such as the operating room (OR) and intensive care units (ICU), where hygiene control is a strategic priority. In addition, a fanless cooling mechanism protects against water and dust ingress, further extending the product lifecycle.
LIBs rechargeable batteries are commonly used in consumer electronics, electric vehicles, and portable electronic devices because of their lightweight, high energy density, minimal memory effect, and low self-discharge rate.
Latest Patient Care News
Other channels