Mobile Digital Carts Put Patients and Caregivers First
By HospiMedica International staff writers
Posted on 10 Oct 2018
New ultra-lean workspace carts offer a customizable design that eases caregiver mobility and improves ergonomics in the care setting.
The Ergotron (St. Paul, MN, USA) CareFit Slim Laptop Cart and Slim LCD Cart are the result of the increasing adoption of electronic health records (EHRs) and digital care, and have been designed so as to allow nurses and doctors to easily travel between patient rooms and hallways while supporting workflow and ergonomic footprint. Features of the carts include an expansive vertical range to adjust for both sitting and standing; a compact frame that faciltates moving all-in-one computers and monitors around the healthcare facility; and a space-saving design that allows the carts to sit flush against the wall when not in use.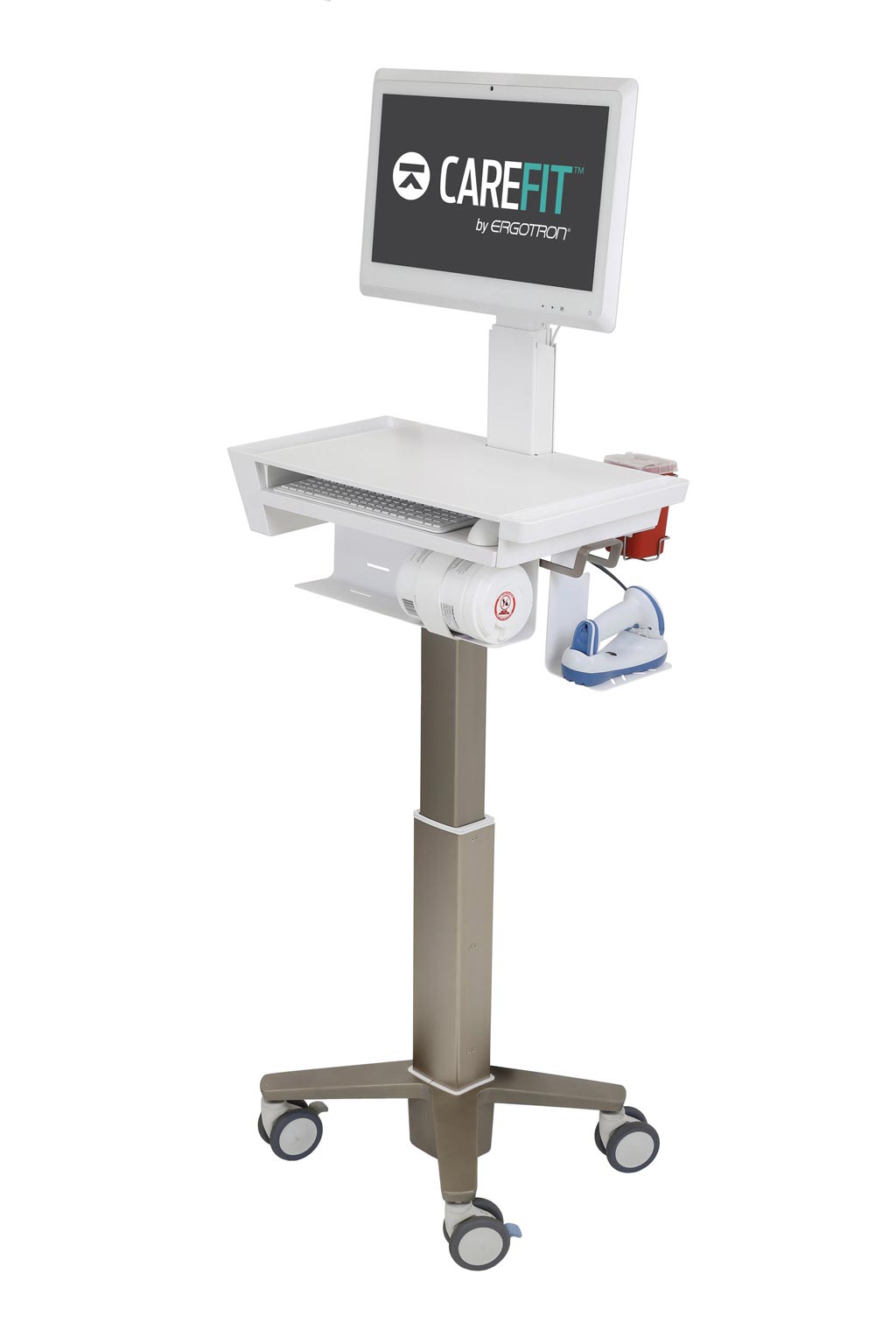 The CareFit Slim Laptop Cart has a compact frame that makes it easy to move small laptops and two-in-ones wherever work takes caregivers around the healthcare facility. Features include a cast aluminum base with durable finish, four-inch casters for extra maneuverability, and height adjustability between 61 and 124 cm; a pull-out cable storage tray and quick connect hardware and a slide-out power brick holder; an easy-to-adjust device strap keeps technology secure; and a T-slot mounting system to support accessories.
The CareFit Slim LCD Cart works as a point-of-care solution at a patient's bedside, in a hallway or any other area, supporting large all-in-one computer and monitors weighing up to 8.2 kg. Features include full sit-to-stand functionality with easy height adjustment by simply pulling a handle; an additional 13 cm of telescopic lift for precise monitor placement; a cast aluminum base with durable finish and four-inch casters for extra maneuverability; a pull-out keyboard and large workspace; an accessory shelf for a scanner, printer, or wipes; and a convenient add-on power system integration.
"Nurses and physicians spend long hours with patients during their greatest time of need, and with the CareFit line of products, Ergotron aims to help caregivers thrive with the right tools to stay comfortable and productive at the patient's bedside," said Bob Hill, healthcare manager at Ergotron. "Our new CareFit Slim Carts are designed to fit people, fit workflows and fit environments, without restrictions, giving caregivers direct access to their patients without sacrificing physician safety or hospital workflow."
Latest Patient Care News
Other channels