Robotic Arm Helps Rehabilitate Stroke Patients
By HospiMedica International staff writers
Posted on 15 Nov 2018
A new robotic arm enables stroke patients to independently engage in intensive and effective self-help rehabilitation exercise once discharged from hospital.
The mobile exo-neuro-musculo-skeleton represents an innovative integration of exo-skeleton materials, soft robotics, and neuro-muscular electrical stimulation (NMES) technologies. The working principle of both exo-skeleton and soft robotic designs is to provide external mechanical forces that are driven by voluntary muscle signals that assist the patient's desired joint movement. The robotic arm, developed at Hong Kong Polytechnic University (PolyU) thus includes components for wrist/hand, elbow, and fingers, which can be worn separately or together for different functional training needs.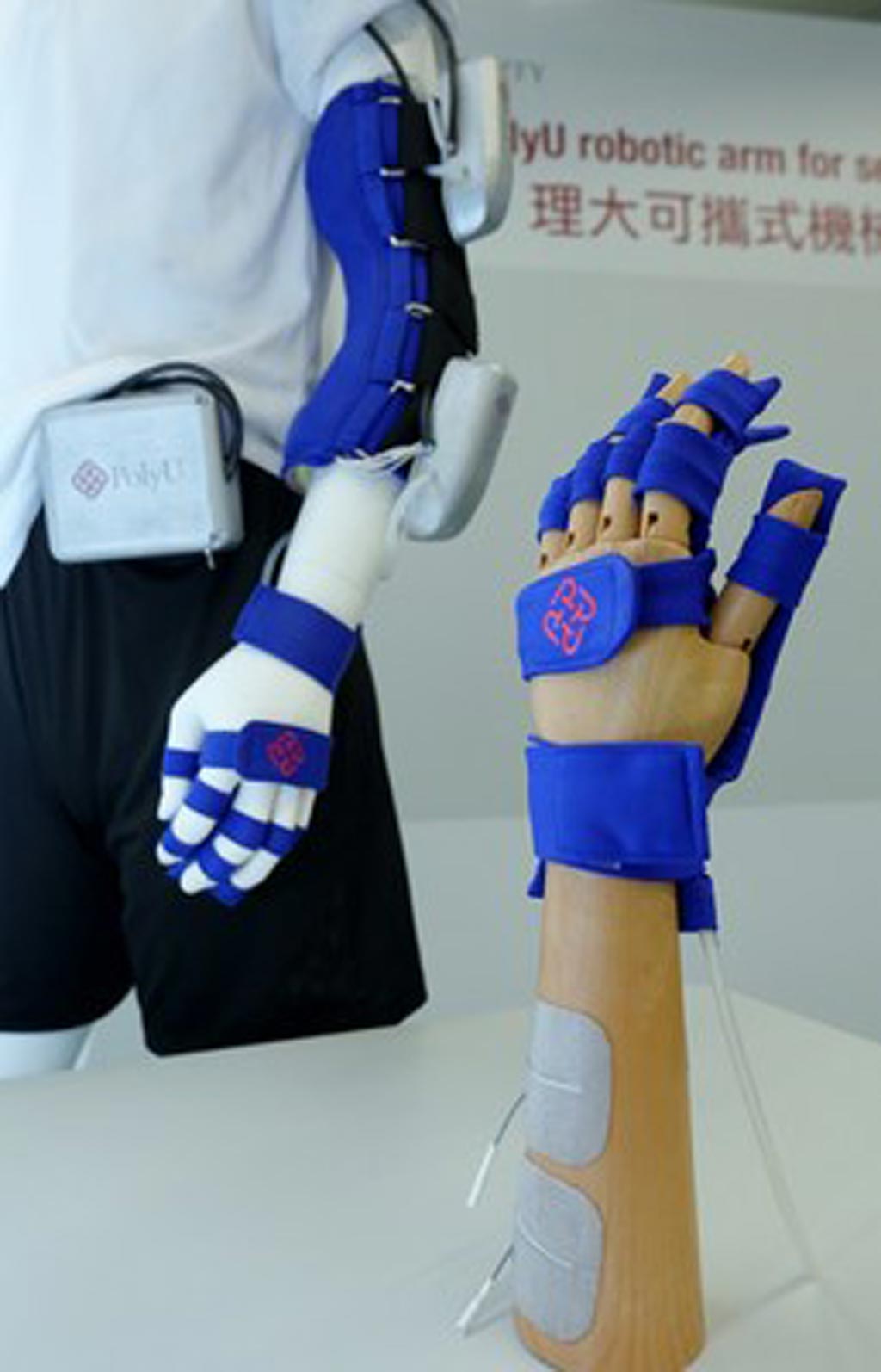 The robotic arm, which is light in weight, compact in size, fast in response, and with minimal power demands, is suitable for both indoor and outdoor environments. Once electromyography signals sent to the muscles are detected, the arm responds by applying NMES to help contract them, as well as exerting external mechanical forces to assist the desired voluntary movement. The combination of increased muscle strength triggered by NMES and external mechanical forces is 40% more effective for stroke rehabilitation than applying external mechanical forces alone.
Features include a lightweight design (up to 300g for wearable upper limb components, which are fit for different functional training needs), a low power demand (12V rechargeable battery supply for 4-hour continuous use), and a sportswear design that uses washable fabric with ultraviolet (UV) protection and good ventilation, . A value-added feature is a mobile app that allows users to control their own training. The app also records real-time training data for better monitoring of the rehabilitation progress by both healthcare practitioners and the patients themselves.
"We are confident that with our mobile exo-neuro-musculo-skeleton, stroke patients can conduct rehabilitation training anytime and anywhere, turning the training into part of their daily activities," said Hu Xiao-ling, PhD, and colleagues of the PolyU department of biomedical engineering (BME). "We hope such flexible self-help training can well supplement traditional outpatient rehabilitation services, helping stroke patients achieve a much better rehabilitation progress."
Intensive, repeated, and long-term rehabilitation training are critical for enhancing the physical mobility of stroke patients, helping to alleviate post-stroke symptoms such as disability. But the vast demand for outpatient rehabilitation services for stroke patients results in long queues forming for every available slot, and patients do not receive timely and routine rehabilitation exercises. Stroke patients also find it challenging to travel from home to outpatient clinics.
Related Links:
Hong Kong Polytechnic University

Latest Patient Care News
Other channels