Smart Hospital Bed Continuously Monitors Patient Wellbeing
By HospiMedica International staff writers
Posted on 19 Dec 2018
The Hill-Rom Holdings (Batesville, IN, USA) Centrella Smart+ bed platform now allows for continuous monitoring of patients' heart and respiratory rates over 100 times per minute without ever touching them, thanks to continuous contact-free heart rate and respiratory rate sensing and analytics technology provided by EarlySense (Waltham, MA, USA).
The technology will alert clinicians to potential patient deterioration events much earlier than traditional monitoring methods. Specific, validated outcomes include helping reduce mortality related to "code blue" events by 83% and cardiac arrest by 86%. In addition, clinicians have reported that overall hospital length-of-stay (LOS) was reduced by 9%, and intensive care unit (ICU) days were reduced by 45%. Some EarlySense customers also reported that the system assisted with early detection of sepsis, a condition that, when not identified and treated rapidly, may be life-threatening.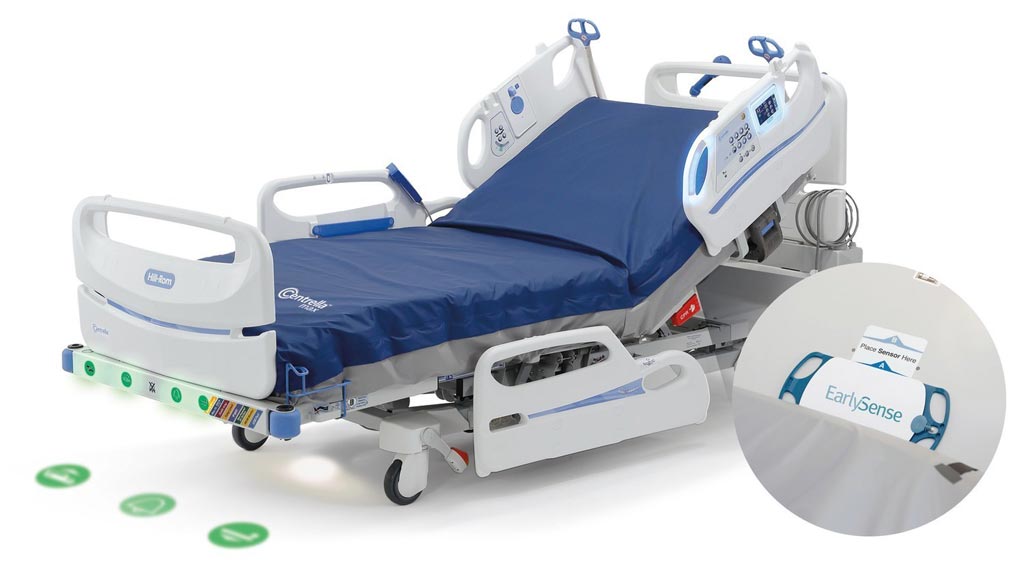 "Hill-Rom's Centrella bed is transforming inpatient care by integrating advanced sensing and analytics into the bed, offering a complete patient safety platform to assist clinicians in providing the highest level of care," said John Groetelaars, president and CEO of Hill-Rom. "EarlySense has been used to effectively monitor close to a million patients, positively affecting patient outcomes. By integrating the EarlySense technology into our Centrella beds, we are ushering in a new era in quality of care, whereby all patients can be continuously monitored throughout their entire hospital stay."
"We are proud to be Hill-Rom's exclusive bed integration and nurse call communication partner, making our sensing and analytics technology available for more hospital patients and ensuring timely, effective, clinical intervention is achieved," said Avner Halperin, co-founder and CEO of EarlySense. "Integrating EarlySense monitoring capabilities with the Hill-Rom Centrella bed platform will advance our collective aspiration of having every patient in every hospital continuously monitored for safe, data-driven care, with the potential to save thousands of lives and significant costs for the healthcare system."
The EarlySense system uses sensors embedded into a mattress or chair cushion to monitor heartbeat, respiration rate, and movement. The data is transferred to a monitoring station, either local or remote, with the system setting off alarms in the event that something appears amiss. The company has already partnered with many leading global technology companies, including Samsung, Welch Allyn, iFit and Beurer.
Latest Patient Care News
Other channels