Smart Pill Bottle Fights Prescription Drug Abuse
By HospiMedica International staff writers
Posted on 23 May 2019
An advanced pill bottle that incorporates novel sensor technology sends wireless alerts when it detects tampering, overdose, or unsafe storage conditions.
Under development at King Abdullah University of Science and Technology (KAUST; Thuwal, Kingdom of Saudi Arabia), the new pill bottle is based on a flexible sensor made of an anisotropic conductive tape that coats the bottle, acting as a touch sensor. Fabricated of silver particles sandwiched between two layers of adhesive copper tape, the material is nonconductive in its normal state; but when pressed by a finger, the double-layered tape creates an electrical bond that sends a signal to an external reader warning that someone is attempting to break into the bottle.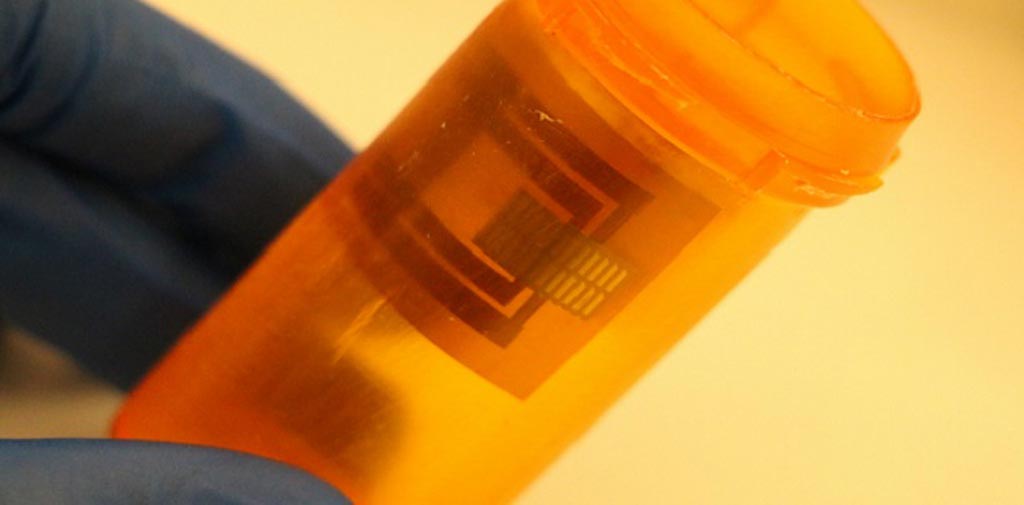 The conductive tape could be used on its own, or as part of a modular sensor system. For example, the researchers also incorporated a three-dimensional (3D) printed lid that uses light-emitting diodes (LEDs) to count the number of pills dispensed, and flexible, low-cost paper-based humidity and temperature sensors taped to the underside of the bottle. If the inside of the pill bottle becomes dangerously moist, or the temperature is elevated beyond the recommended level, a control module analyzes the signals and delivers an SMS warning via Bluetooth. The study was published on April 9, 2019, in Flexible and Printed Electronics.
"Our integration strategy gives the flexibility to develop customized versions of the system, depending on the requirements for different applications, ranging from ambient sensors to monitor the environment inside the container to security sensors that can detect any kind of mishandling with the prescription container," said senior author professor of electrical engineering Muhammad Hussain, PhD. "The add-on system is easy to install or remove, enabling an easy implementation for practical use that will ultimately mitigate drug overuse."
Estimates by the World Health Organization (WHO, Geneva, Switzerland) indicate that only about 50% of patients in developed countries follow treatment recommendations. Low rates of adherence for asthma, diabetes, and hypertension are thought to contribute substantially to the human and economic burden of those conditions. Major barriers to compliance include the complexity of modern medication regimens, poor "health literacy" and lack of comprehension of treatment benefits, undiscussed side effects, the cost of prescription medicine, and poor communication or lack of trust between patient and health-care provider.
Related Links:
King Abdullah University of Science and Technology
World Health Organization

Latest Patient Care News
Other channels