Touch-Free Catheter Facilitates Aseptic Bladder Drainage
By HospiMedica International staff writers
Posted on 09 Aug 2019
A touch-free intermittent catheter provides a balance between ease of use and protection from urinary tract infections (UTIs).
The Hollister (Libertyville, IL, USA) VaPro is a flexible, hydrophilic, intermittent tubular catheter inserted through the urethra by male, female and pediatric patients who need to drain their bladder. The catheter features a combination of protective tip and a sleeve that provide 100% touch-less protection. The protective tip shields the sterile catheter during insertion from bacteria located within the first 15 mm of the distal urethra, helping to reduce the risk of carrying bacteria into the urinary tract, while the protective sleeve allows for the catheter to be gripped anywhere.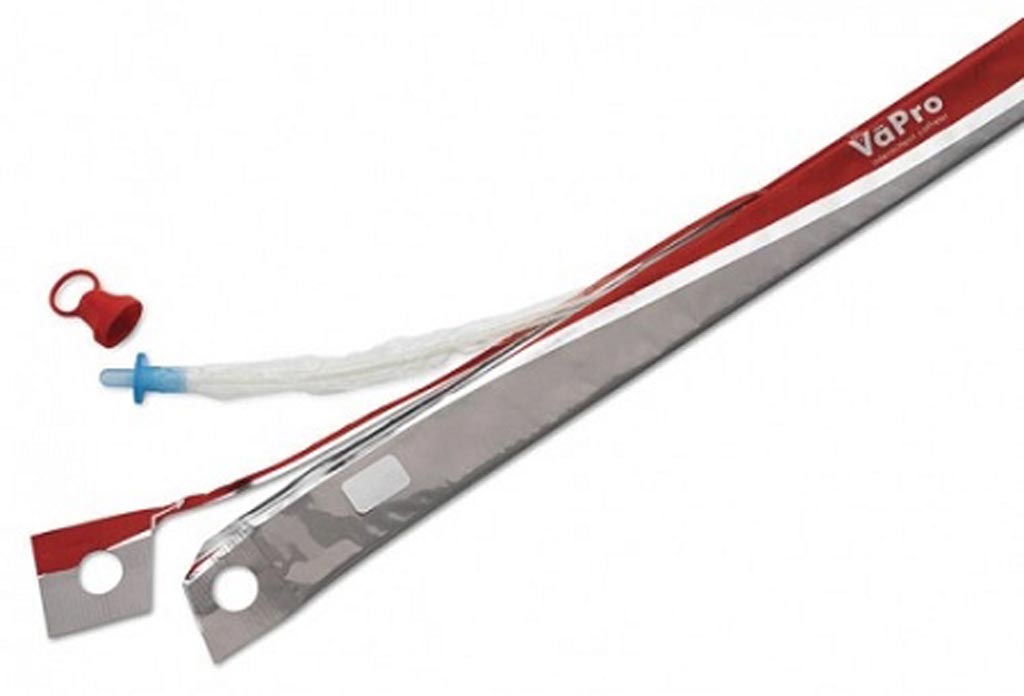 The combination of protective tip and sleeve facilitates no-touch aseptic intermittent catheterization. Additional features include phthalates-free PVC construction, smooth eyelets for trouble-free insertion, a ring cap that helps keep the protective tip clean until use, pure catheter hydration technology, and easy-to-open packaging with large finger holes and a tear strip to help facilitate easy opening. A Coudé tip for insertion in males is evenly lubricated so as to provide for easier insertion, and an alternative Tiemann tip option is available in select sizes.
"The VaPro touch-free intermittent catheter's combination of protective tip and sleeve create a 100% 'No Touch' system that is easy to use, while protecting patients from germs throughout the entire catheterization process," said Brian Luedtke, senior vice president of Hollister Americas. "Our mission is to make life more rewarding and dignified for the people who use our products and services, and the VaPro catheter helps do just that."
People with neurogenic bladder disorders like spinal cord injury, spina bifida or multiple sclerosis, and those with non-neurogenic bladder disorders like obstruction due to prostate enlargement, urethral strictures or post-operative urinary retention, need to be continuously catheterized to empty their bladders. Since continuous catheterization can lead to problems like UTIs, urethral strictures or male infertility, intermittent catheterization done by the patient or a caregiver in the home environment at regular intervals helps avoid such negative effects.
Related Links:
Hollister

Other channels