Dynamic Brace Helps Restore Neck Motion to ALS Patients
By HospiMedica International staff writers
Posted on 22 Aug 2019
An innovative robotic brace supports amyotrophic lateral sclerosis (ALS) patients, helping them to hold their heads upright and increase their range of motion.
The robotic neck brace, developed at Columbia University (New York, NY, USA), incorporates both sensors and actuators to adjust the head posture, and is capable of restoring roughly 70% of the active range of motion of the human head. Using a joystick interface, patients can actively adjust brace position--and thus head position--by controlling servo motors mounted on it. In addition, by placing motors with compliant springs at the joints, it can provide assistive forces to keep the head in a neutral configuration.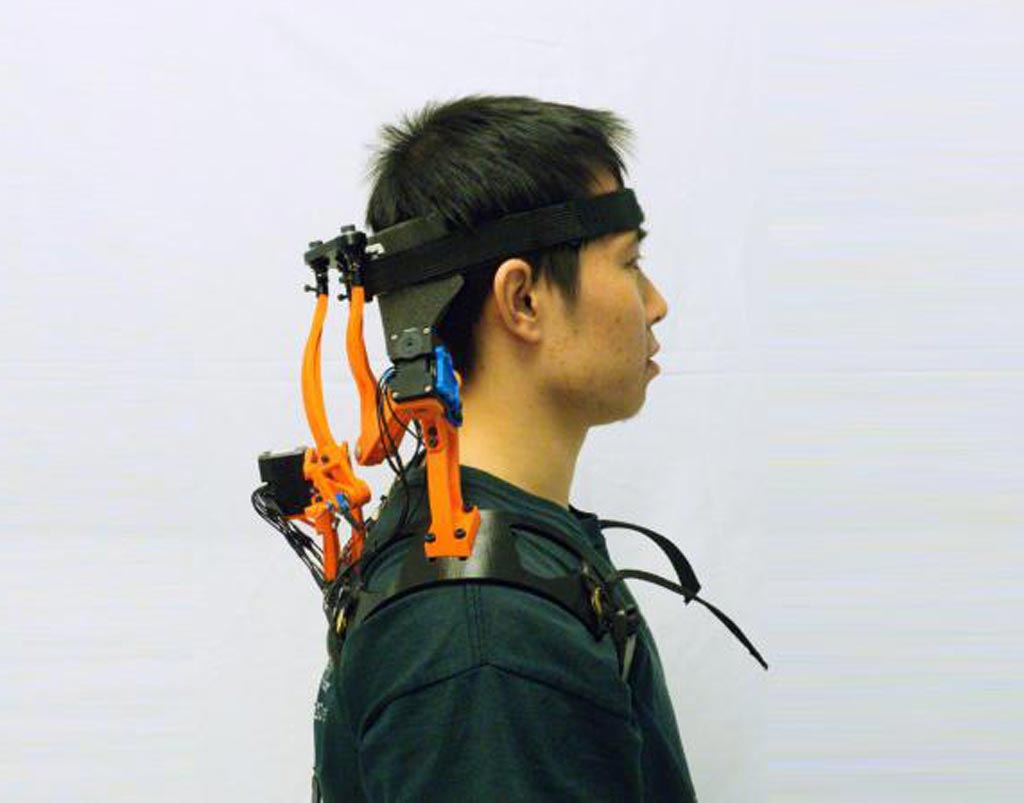 And by simultaneous measurement of the motion with the sensors on the neck brace, and surface electromyography (EMG) of the neck muscles, it can also serve as a diagnostic tool to study impaired motion of the head and neck. To test the new brace, the researchers recruited 11 ALS patients and 10 healthy, age-matched subjects. Participants were asked to perform single-plane motions of the head-neck that included flexion-extension, lateral bending, and axial rotation. Each motion was performed in a cycle and was repeated five times at self-selected speeds.
The results showed that patients with ALS use a different strategy of head-neck coordination compared to healthy subjects. ALS patients had a shorter period to reach the maximum flexion and an earlier EMG onset in the neck extensors when starting from neutral. Brace measures during activation of the neck muscles in the ALS patients were well correlated with clinically measured scores. According to the researchers, the measurements collected by the device can be used to better assess head drop and ALS disease progression. The study was published on August 7, 2019, in Annals of Clinical and Translational Neurology.
"Professor Agrawal and his team have investigated, for the first time, the muscle mechanisms in the neck muscles of patients with ALS. Their neck brace is such an important step in helping patients with ALS, a devastating and rapidly progressive terminal disease," said study co-author Professor Hiroshi Mitsumoto, MD, of the Columbia University Lou Gehrig ALS Center. "We have two medications that have been approved, but they only modestly slow down disease progression. Although we cannot cure the disease at this time, we can improve the patient's quality of life by easing the difficult symptoms with the robotic neck brace."
ALS is a neurodegenerative disease characterized by progressive loss of muscle functions, leading to paralysis of the limbs and respiratory failure. Commonly known as Lou Gehrig's disease, a defining feature of the disease is a dropped head due to declining neck muscle strength. Over the course of their illness, which can range from several months to more than 10 years, patients completely lose mobility of the head, settling in to a chin-on-chest posture that impairs speech, breathing, and swallowing. Current static neck braces become increasingly uncomfortable and ineffective as the disease progresses.
Related Links:
Columbia University

Other channels