Smart Sleepwear Monitors Heart Rate and Respiratory Rhythm
By HospiMedica International staff writers
Posted on 26 Sep 2019
Physiological-sensing devices that can be woven into sleep garments could provide an unobtrusive way to monitoring heart rate and respiratory rhythm during sleep, according to a new study.
The "phyjamas", developed at the University of Massachusetts (Amherst, USA), make use of a combination of a new fabric-based pressure sensor that obtains cardiac and respiratory rhythm signals from the pressure between the body and various surfaces (such as the mattress); and a second, triboelectric sensor that leverages changes in separation between layers to measure ballistics induced by the heart. The two-sensor combo can be integrated into loose-fitting clothing, such as pajamas, allowing the detection of physiological signals across many different postures.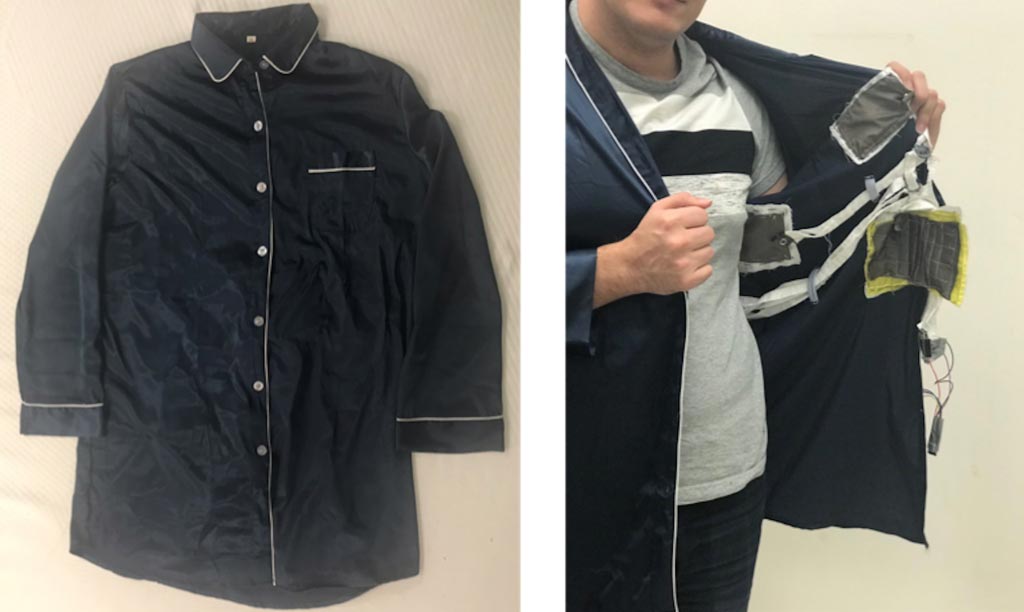 The researchers also designed a signal-processing pipeline that fuses information from the different sensors, so that the physiological signals can be measured across the range of sleep and stationary postures. They then benchmarked performance, both under restricted settings with 21 users, as well as more naturalistic settings with another seven users. In both controlled and natural settings, the sensors extracted heartbeat peaks with high accuracy, breathing rate with less than one beat per minute error, and also predicted sleep posture. The novel health-monitoring sleepwear was presented at the annual Ubicomp conference, held during September 2019 in London (United Kingdom).
"Our insight was that even though sleepwear is worn loosely, there are several parts of such a textile that are pressed against the body due to our posture and contact with external surfaces," said co-senior author Professor Deepak Ganesan, PhD. "Such pressured regions of the textile are potential locations where we can measure ballistic movements caused by heartbeats and breathing, and these can be used to extract physiological variables."
"We expect that these advances can be particularly useful for monitoring elderly patients, many of whom suffer from sleep disorders," said co-senior author Professors Trisha Andrew, PhD. "Current generation wearables, like smartwatches, are not ideal for this population since elderly individuals often forget to consistently wear or are resistant to wearing additional devices, while sleepwear is already a normal part of their daily life. More than that, your watch can't tell you which position you sleep in, and whether your sleep posture is affecting your sleep quality; our Phyjama can."
Related Links:
University of Massachusetts

Other channels