Groundbreaking AI-Powered UV-C Disinfection Technology Redefines Infection Control Landscape
By HospiMedica International staff writers
Posted on 27 Jun 2023
Healthcare-associated infection (HCAI) is a widespread complication in healthcare management, posing a significant health risk due to its potential to increase patient morbidity and mortality, prolong hospital stays, and escalate associated costs. The emergence of serious infections like Severe Acute Respiratory Syndrome (SARS) and reemerging diseases such as plague and tuberculosis has underscored the need for effective infection control across all healthcare environments. Now, an innovative artificial intelligence (AI)-enhanced UV-C disinfection technology aims to redefine the landscape of infection control.
A strategic partnership between Shimadzu Corporation (Kyoto, Japan) and Shyld (Sunnyvale, CA, USA) has resulted in the entry of the cutting-edge Shyld AI disinfection technology in the hospital infection control market. This innovation automatically detects risks in real-time and kills pathogens on various surfaces using UV-C light. Shyld AI incorporates advanced AI and optics to revolutionize indoor air and surface disinfection, safeguarding patients as well as staff. This avant-garde technology underscores the increasing role of AI in refining healthcare processes, minimizing operational costs, and addressing ongoing staff shortages.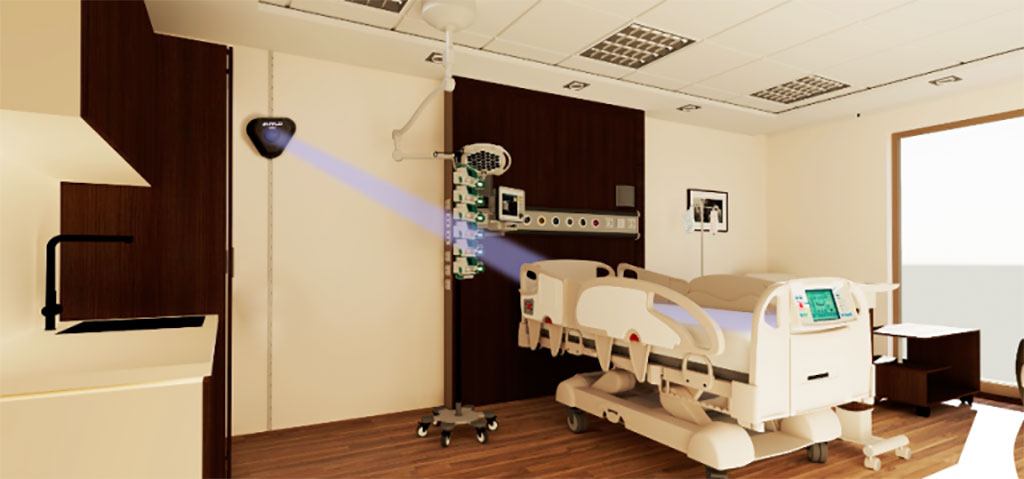 The AI-enabled UV-C disinfection technology designed for hospitals and healthcare facilities automatically detects and assesses risks in real time. It initiates the disinfection of frequently touched surfaces immediately after a room is vacated and identifies human presence in real-time to mitigate risks. The targeted and directional disinfection considerably cuts down the time required for room disinfection, and its round-the-clock hygiene monitoring ensures no potential risk is overlooked. By eliminating germs before they can spread, the Shyld AI disinfection technology reduces the incidence of Hospital-Acquired Infections (HAI), patient readmissions, and disease transmission.
Moreover, Shyld's intuitive and comprehensive infection monitoring tools take infection prevention to the next level. A single dashboard provides unlimited insights, enabling users to view and track all infection and disinfection reports across the organization in one location. Users can select any report for a detailed analysis of each device, building, floor, and room over time. The technology also permits users to customize their UV disinfection zones and specify unlimited stop zones within each room to protect samples or equipment from UV exposure. It allows for the creation of individual UV disinfection zones within each room, limiting the disinfection area to the desired sections.
"This new AI-powered, automatic UV-C disinfection solution is a testament to the transformative potential of artificial intelligence in revolutionizing healthcare protocols," said Hiroto Itoi, CTO of Shimadzu Corporation. "As global emphasis on health and safety escalates, our alliance with Shyld emboldens us to rewrite the narrative around disinfection protocols. By harmonizing our cutting-edge optical technology with Shyld's sophisticated AI, we're poised to roll out a game-changing UV-C disinfection solution, epitomizing Shimadzu's dedication to bolstering human health through innovative strides."
"This partnership stands as a hallmark of Shyld's mission to catalyze industrial transformation through AI. By synergizing our AI expertise with Shimadzu's optical prowess, we are not merely engineering a product but trailblazing towards a safer, healthier future," added Mohammad Noshad, CEO of Shyld.
Related Links:
Shimadzu Corporation
Shyld