Ultrafast, Low-Cost Point-of-Care PCR Testing System Provides Central Lab Precision in 15 Minutes
By HospiMedica International staff writers
Posted on 16 May 2023
Despite the rapid progress in medical testing, there's still a pressing demand for improved diagnostic and screening tools for infectious bacterial and viral pathogens. Currently, nucleic acid amplification tests (NAAT), such as RT-PCR, are the "gold standard" for accuracy, with the highest analytic sensitivity. However, PCR testing requires specialized lab equipment, significant technical knowledge, and is costly, time-intensive, and often inaccessible in remote or under-resourced areas. Now, a compact, portable platform that can be operated by non-technical personnel takes testing out of the traditional laboratory environment by consolidating the entire PCR testing process (sample extraction and PCR), providing results in approximately 15 minutes.
The DASH (Diagnostic Analyzer for Specific Hybridization) quantitative PCR system from Minute Molecular Diagnostics (Evanston, IL, USA) is roughly the size of a cereal box, making it compact enough to fit on a countertop or desk. DASH delivers the same accuracy as other PCR tests in a compact portable platform that can be utilized by non-technical personnel at the point of care. It identifies infectious bacterial and viral pathogens in under 15 minutes, requiring less than a minute of hands-on time. During the initial 10 minutes, samples are extracted and purified with sequence-specific capture probes. Paramagnetic particles (PMP) are introduced to bind to the target probe complex. Subsequently, the targets are magnetically separated from the swab extraction buffer, cleaned, and moved to the PCR chamber. During the final five minutes of the assay, 40 PCR temperature cycles are executed, with fluorescence measured via a four-channel optical system.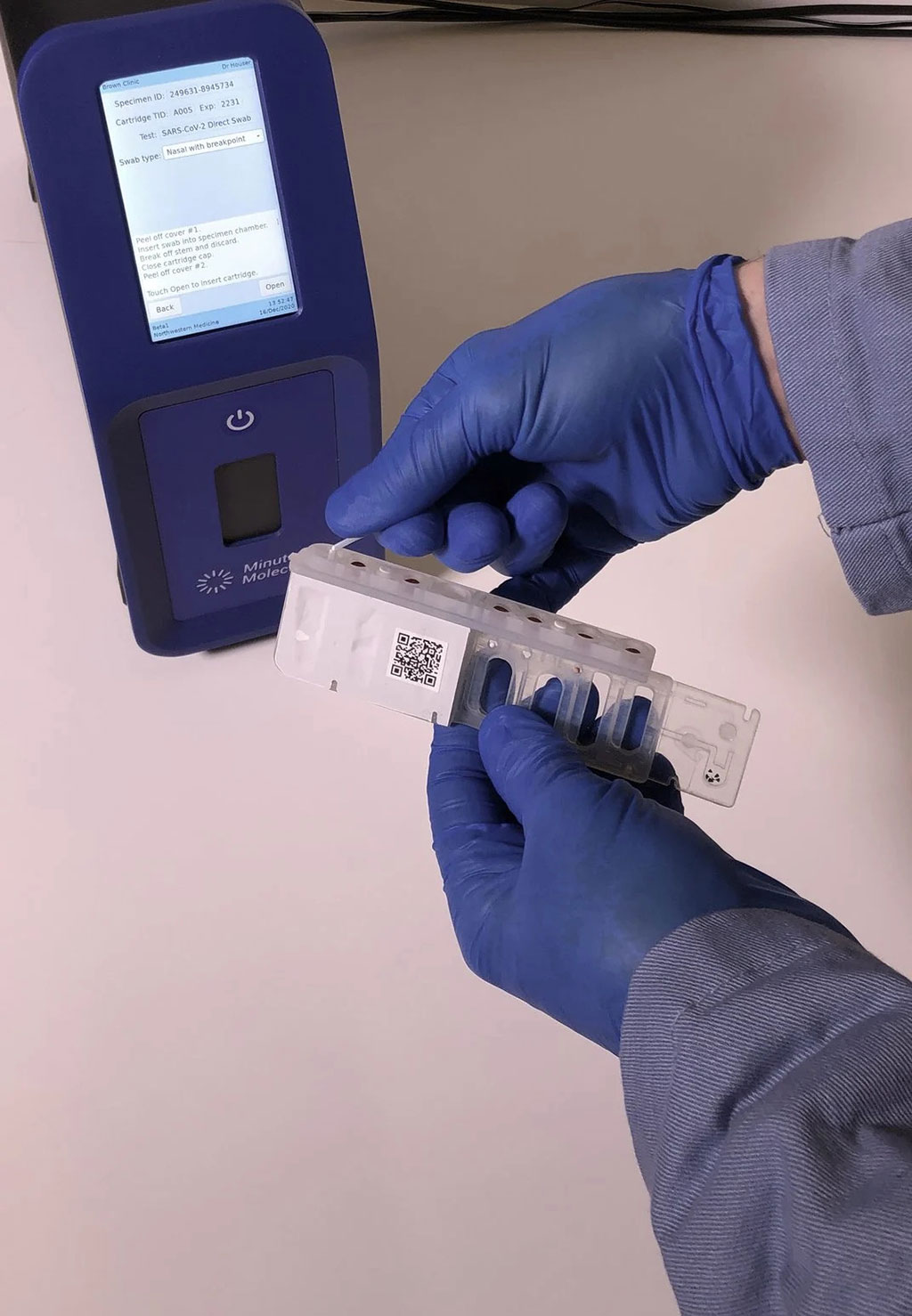 DASH's defining features are its user-friendly nature, quickness, and PCR-level precision. The DASH interface guides users through each step, making it as simple to operate as a coffee machine. Although initially conceived to combat the COVID-19 pandemic, the technology is versatile, capable of detecting a range of viral and bacterial pathogens. Presently, Minute Molecular Diagnostics is working on developing similar tests for influenza, HIV, Hepatitis C, several sexually transmitted diseases, MRSA, and C. diff, compatible with various sample types, including nasal swabs, saliva, and blood. The DASH PCR testing system can also provide a quantitative report of HIV and Hepatitis C viral loads. Its compact size facilitates testing in hospital and non-hospital settings. DASH units can be linked together to deliver between 4 and 24 test results per hour, making it an excellent choice for point-of-care testing in clinics, businesses, or community environments.
Related Links:
Minute Molecular Diagnostics 
Other channels