Cartridge-Based Antigen Testing System Delivers PCR Equivalent Performance at Half the Price
By HospiMedica International staff writers
Posted on 19 May 2023
A new first-in-class diagnostic platform technology that is transitioning from a working prototype to a commercial system is soon set to disrupt the point-of-care diagnostics industry.
Zymo Research (Irvine, CA, USA) has joined hands with Burst Diagnostics (Fort Collins, CO, USA) to create a pioneering diagnostic platform technology. This first-in-class diagnostic platform technology has the potential to deliver unmatched sensitivity and never-seen-before multiplexing abilities in antigen-based point-of-care testing. The platform is based on a novel microfluidic cartridge that is capable of miniaturizing and integrating all the traditional steps commonly carried out in a clinical lab environment (including washing and signal amplification) into a compact, sturdy, and electricity-free hand-held device.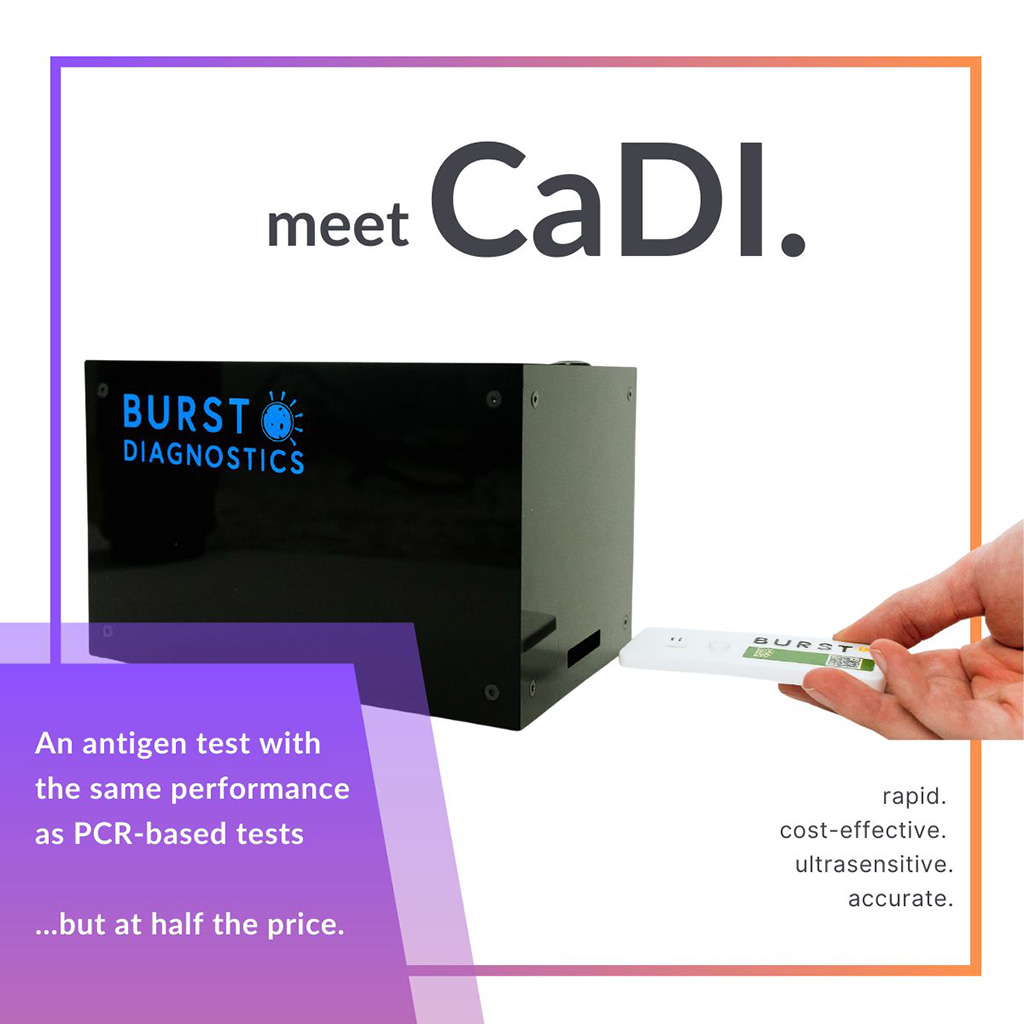 The cartridge-based antigen testing system promises performance on par with PCR-based testing but at half the cost. The ELISA system bears a striking resemblance to a rapid antigen test but comes with an integrated high-sensitivity chemiluminescence reader. Burst plans to offer rapid immunoassays with fewer false negatives than standard rapid antigen tests used in point-of-care situations while also providing these results at lower costs than lab-based tests. Burst is planning further studies and is aiming to submit an application for authorization from the US Food and Drug Administration for its inaugural test and reader by the first quarter of 2024. The company's first offering is likely to be a multiplex test for COVID-19, influenza A and B, and RSV. Additionally, Burst is in the initial stages of developing tests for sexually transmitted infections and strep throat.
"The tests we are building are simple, convenient, and inexpensive like rapid antigen tests but capable of producing laboratory-quality data with the level of sensitivity and accuracy previously exclusive to central lab run tests," said Dr. Charles Henry, Founder and CEO of Burst Diagnostics.
"We have a radical new technology and with it, we will challenge the limitations associated with antigen tests as we know them," added Dr. Rose Nash, Chief Operating Officer and Scientist at Burst Diagnostics.
"The creation of this advanced and ultra-sensitive technology will transform the industry and significantly impact the healthcare sector. It will enable faster and more precise diagnosis and treatment of diseases," said Dr. Larry Jia, Founder and CEO of Zymo Research.
Related Links:
Zymo Research
Burst Diagnostics 
Other channels