Tablet System Keeps Tally of Surgical Sponges
By HospiMedica International staff writers
Posted on 11 Oct 2017
An automatic surgical sponge counting system fits seamlessly with operating room (OR) protocols, helping to verify manual counts.
The Stryker (Kalamazoo, MI, USA) SurgiCount Safety-Sponge System offers an intuitive, user-friendly tablet technology that provides 100% sponge identification accuracy, thanks to a unique barcode ID on every sponge or towel for, so that the sponges counted out are the exact same ones counted in. A digital ledger gives real-time reconciliations throughout the operative case, and prohibits duplicate counts of the same sponge and counting of random sponges unrelated to the procedure.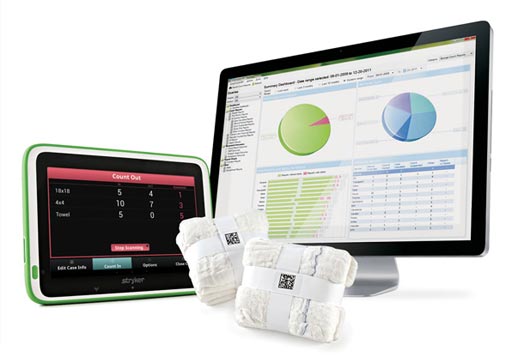 The tablet device features an interactive 10-inch touch screen display that notes the time, type, and ID of each sponge retained, and communicates the data in real time via WiFi to a secure cloud-based server and to all tablets within the same account, so that retained sponge data will display in any OR when the patient ID is scanned. Updates to packed sponge counts are corrected over time for those removed or added during recovery or other procedures, with a final reconciliation sent to the cloud database for a permanent record of complete removal.
To ensure correct tally, each sponge or towel has its own individual barcode for 100% identification accuracy. In addition, each pack has a unique master tag barcode containing data for all sponges within, which also enables a quick in count. The system also triggers an audible and visual recognition cue for each item scanned. In addition to the RFID tag, each sponge holds the industry-required barium strip for x-ray identification when needed, but also incorporates radiopaque threads for added safety.
"The design of the SurgiCount sponge incorporates a hydrophobic layer on the barcode that wicks away fluids and blood, ensuring maximum readability before and after use," said Nate Miersma, director of surgical safety at Stryker. "We've seen countless real-life tests done by nurses during clinical trials where a sponge is intentionally soaked and coated with the worst types of fluid; the labels still repel the fluid very effectively and are able to be read by the SurgiCount scanners and tablets without issue."
Retained sponges and instruments due to surgery are a recognized medical 'never event' and have catastrophic implications for patients, healthcare professionals, and medical care providers. Although most patients experience only temporary injury, permanent injury occurred in about a third of the cases, and 6.6% of cases result in death.
Latest Surgical Techniques News
Other channels