Early Results Shows PKR Superior to TKR
By HospiMedica International staff writers
Posted on 24 Oct 2017
One-year study outcomes suggest that partial knee replacement (PKR) provides better results for medial osteoarthritis (OA) than total knee replacement (TKR).
Researchers at the University of Oxford (United Kingdom), the Hospital for Special Surgery (HSS, New York, NY, USA), and other institutions participating in the total or partial knee arthroplasty trial (TOPKAT), have recently reported one-year results. The study included 528 patients with medial compartment knee OA treated at 27 sites by 63 surgeons. The Oxford Knee Score (OKS) at one year was the primary endpoint, with secondary outcomes including activity scores, patient satisfaction, and complications.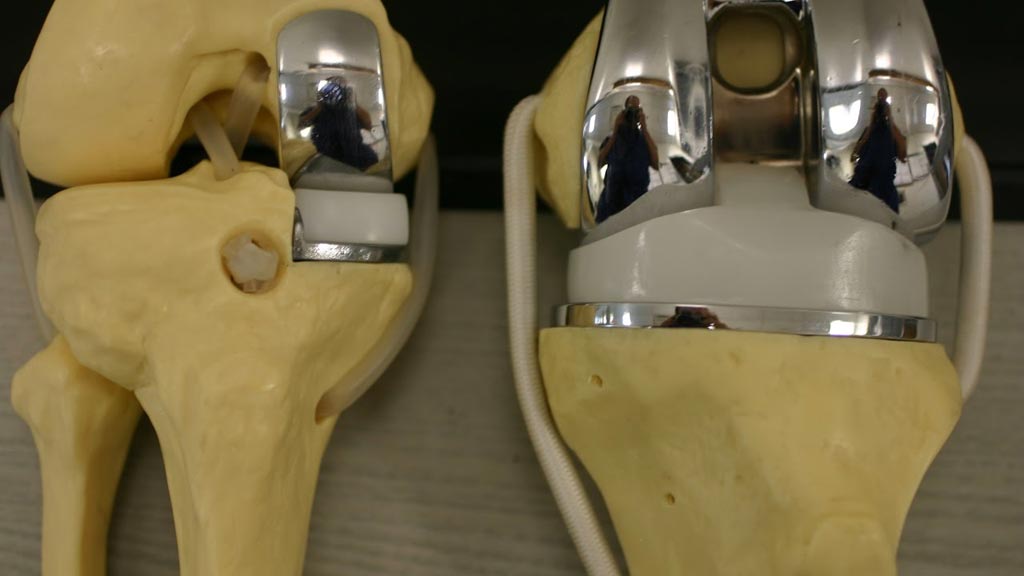 The results revealed that at one year, OKS was 1.9 points in favor of PKR, and the secondary variables mostly reflected this pattern. 89% of PKR patients reported they would undergo the operation again, compared with 77% of TKR patients. Overall, there were 8 (3.1%) complications requiring readmission in the PKR group and 12 (4.8%) in the TKR group. A composite outcome for failure showed that 11% of PKRs failed, compared with 15% in the TKR group. Expertise based analysis emphasized the differences between groups. The study was published in the October 2017 issue of Arthroscopy.
"Late stage knee osteoarthritis of the medial compartment can be treated using total knee replacement or partial unicompartmental replacement. The cost efficacy implications for the healthcare provider are substantial," concluded lead author Professor David Beard, MD, PhD, of Oxford University, and colleagues. "These early results suggest superiority of PKR over TKR for medial compartment knee OA at one year; however, in view of the importance of longer term outcome and failure of knee replacement, five year results from TOPKAT are essential."
During TKR, arthritic bone and cartilage are removed from the knee and replaced with anatomically shaped metal and plastic components impacted onto the bone or fixed using polymethylmethacrylate (PMMA) cement. The surgery involves detachment of part of the quadriceps muscle from the patella, which is displaced to one side to allow exposure of the distal end of the femur and the proximal end of the tibia. PKR is an alternative approach that it is only performed on one of the knee compartments – the medial, lateral, or patellofemoral compartment.
Related Links:
University of Oxford

Hospital for Special Surgery
Latest Surgical Techniques News
Other channels