External Fixation Device Helps Correct Limb Deformity
By HospiMedica International staff writers
Posted on 24 Oct 2017
A new orthopedic correction system helps improve the accuracy of a deformity correction plan with the assistance of three-dimensional (3D) planning software.
The DePuy Synthes (West Chester, PA, USA) MaxFrame Multi-Axial Correction System is an external circular fixation device used to gradually correct bone or soft tissue deformities in the arm, leg, foot, or ankle. The system's 3D planning software creates accurate patient treatment plans using advanced algorithms, which eliminate the need for manual measurement, potentially leading to a reduction in the number of patient X-rays required, and thus reducing procedural complexity, radiation exposure, overall costs, and treatment time.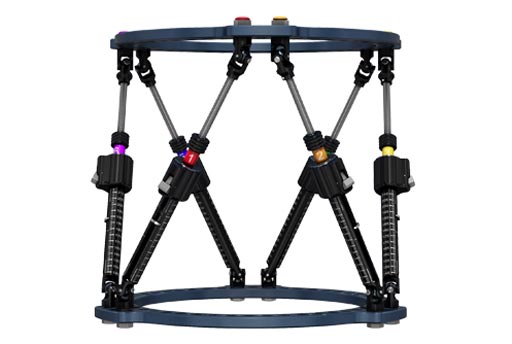 The system is indicated for fracture fixation (both open and closed), pseudoarthrosis of long bones, limb lengthening (via epiphyseal or metaphyseal distraction), correction of bony or soft tissue deformities, joint arthrodesis, treatment of infected fractures or non-unions, and correction of segmental defects. Patients undergoing treatment are responsible for adjusting the struts on the device as per their custom treatment plan. DePuy Synthes has also developed a patient care program and app that help patients prepare for surgery, manage treatment, and share their experiences through social media channels.
"There is a significant unmet need for treatment options that reduce both the burden to patients with limb deformities as well as surgical complexity," said I.V. Hall, worldwide platform leader of Trauma, CMF, Biomaterials, and Veterinary Portfolios at DePuy Synthes. "With the launch of the MaxFrame system, we are building on our long history of innovation, excellence in service and support for surgeons with unique 3D planning software and digital tools that help address these needs and enhance patient and surgeon satisfaction."
"The software eliminates significant sources of error inherent in earlier methods by removing the need to determine reference ring mounting parameters, as well as the requirement of ring orthogonality," said Professor J. Spence Reid, MD, of Penn State University (Hershey, PA, USA). "The system also allows maximum flexibility in the location of strut attachment points on the ring which makes frame application easier, particularly in complex cases, and the Assure-Strut technology allows the patient to confidently make strut adjustments."
Related Links:
DePuy Synthes

Latest Surgical Techniques News
Other channels