Mobile 3D C-Arm Ensures Optimal Intraoperative Quality
By HospiMedica International staff writers
Posted on 28 Nov 2018
A new mobile C-arm delivers precise intraoperative three-dimensional (3D) images, enabling surgeons to perform corrections on the go and confirm their results.
The Siemens Healthineers (Erlangen, Germany) Cios Spin Mobile 3D C-arm integrates seamlessly into the clinical routine, providing 3D computed tomography (CT)-like imaging for orthopedic, trauma, vascular, and spine surgery, supporting both standard and 3D imaging in a wide variety of procedures. The system's 25 kW power output (with up to 250 mA tube current) helps address the challenge of imaging large patients and dense anatomy in order to enable precise clinical evaluation of images. In addition, an energy storage unit (ESU) buffers energy to triple the applicable power.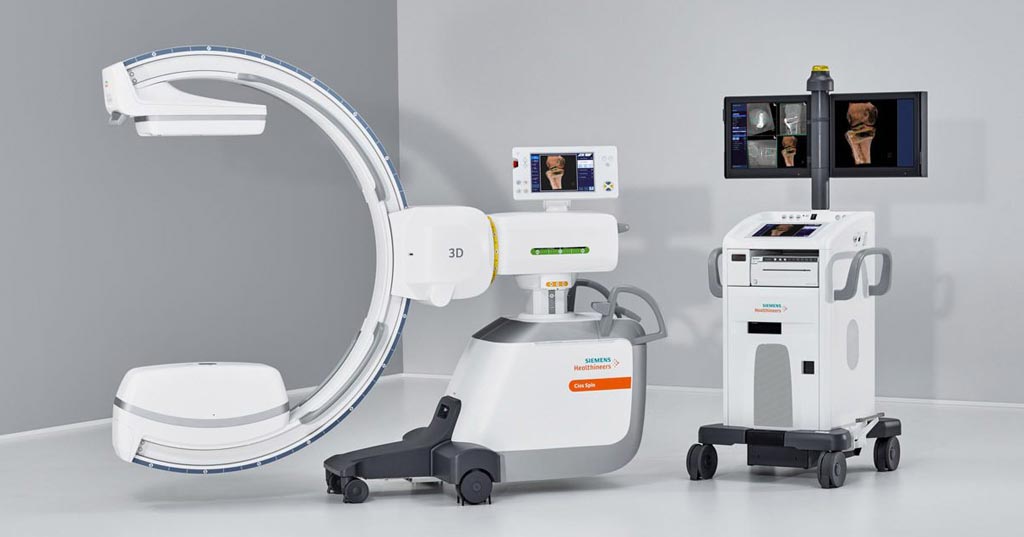 The system is equipped with advanced flat panel detector (FPD) technology with a 16x16x16 cm volume, metal artifact reduction, and isocentric technology. Retina 3D scan technology is built-in, with a range of optional software packages available, including an Easy 3D package that ensures fast, efficient setup, and image acquisition, and the Screw Scout package, which enables system software to recognize and automatically label screws in the X-ray image, saving time and effort for the surgeon. The NaviLink 3D digital navigation software provides easy-to-use connectivity to surgical navigation.
If, for example, screws need to be repositioned, the surgeons can make adjustments directly during the surgical intervention. As orthopedic surgery may often require the use of tens of screws, all of which must be localized before the surgeon can assess them, the Screw Scout can enable Cios Spin software to recognize them in the 3-D intraoperative image automatically and label their positions, saving time and effort for the surgeon. Cios Spin is also provided with an antimicrobial coating that prevents bacteria from proliferating on the system parts.
"Siemens Healthineers is proud to offer the Cios Spin, a dynamic new mobile 3D C-arm that illustrates our expertise in mobile X-ray imaging," said Robert Dewey, vice president of surgical solutions at Siemens Healthineers North America. "This system will help our customers improve the quality of patient care using precision medicine as well as reduce the additional costs imposed by revision surgery."
Conventional 2D imaging can make it difficult to get minimally invasive surgery right the first time, and often requires post-operative computed tomography (CT) to reveal if all implants or repositioned bone fragment are in exactly the right place. If not, revision surgery is often needed.
Latest Surgical Techniques News
Other channels