Novel Knee System for Robot-Assisted Surgeries
By HospiMedica International staff writers
Posted on 07 Feb 2019
A new platform for robot-assisted total knee replacement (TKR) features pre-operative planning tools and intraoperative data to improve surgical restoration of natural joint movement.
The Zimmer Biomet (Warsaw, IN, USA) ROSA Knee System is a stereotaxic instrumentation platform for TKR surgery designed to assist the surgeon by providing software-defined spatial boundaries for orientation and reference information to identify anatomical structures needed for the accurate placement of knee implant components. The core of the system includes a tactile robotic arm and three-dimensional (3D) visualization software that guides the surgeon during the procedure so as to conserve as much of the patient's healthy bone and surrounding tissue as possible.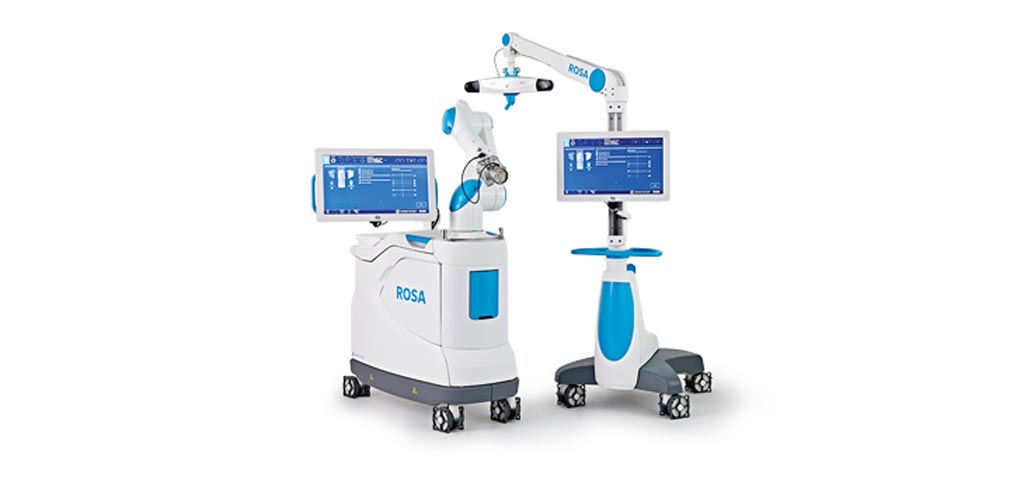 The system provides a continuum of data analysis, using computer and software technology in order to control and move surgical instruments. ROSA Knee features the proprietary X-Atlas imaging protocol, which uses preoperative x-ray imaging to create a three dimensional (3D) model and plan of a patient's bone anatomy, but also has imageless capabilities. The system can be used to implant multiple Zimmer Biomet Knees, with features that aid accurate bone resection and that provide real-time information on the state of both soft tissues and bone anatomy so as to facilitate implant positioning.
"We are excited for the launch of ROSA Knee, which brings together Zimmer Biomet's robotics technology with our industry-leading Knee implants to help surgeons personalize surgical procedures for their patients," said Ivan Tornos, group president of orthopedics at Zimmer Biomet. "Zimmer Biomet is committed to leading the industry in bringing differentiated and holistic solutions to market that address the needs of our customers and improve patient outcomes."
"ROSA Knee functions as a surgical assistant that gives me the tools and real-time data to perform bone cuts with greater precision and improve patient-specific soft-tissue balancing and implant alignment, without losing my feel for a natural fit and flexion," said Christopher Cannova, MD, of the Washington Joint Institute (Bethesda, MD, USA). "Complementing the skill and expertise of the surgeon with ROSA Knee's robotically-assisted technologies can improve accuracy, precision and consistency, which can improve patient satisfaction, clinical outcomes and efficiency."
Proper axial alignment is of paramount importance for the longevity of the TKR implant, and even minor deviations can lead to early loosening, increased polyethylene wear, and poor function. Misalignment of any of the components in any anatomical plane can cause major complications. For example, inaccurate rotation of either the femoral or tibial component will critically affect patellar tracking and can lead to patellar subluxation or dislocation. For TKR, the knee joint has to be placed in a 70-90-degree angle.
Latest Surgical Techniques News
Other channels