Skin Bioprinting System Helps Heal Extensive Wounds
By HospiMedica International staff writers
Posted on 12 Mar 2019
A mobile skin bioprinter that layers dermal fibroblasts and epidermal keratinocytes directly into a wound can accelerate contraction and re-epithelialization, claims a new study.
Developed at the Wake Forest Institute for Regenerative Medicine (WFIRM; Winston-Salem, NC, USA), the mobile bioprinting system first isolates the major skin cells--dermal fibroblasts and epidermal keratinocytes-- from a small biopsy of uninjured tissue. The cells are then expanded and mixed into a hydrogel and placed into the bioprinter. Using integrated imaging technology the wound is then scanned; the data is used to direct the print heads on which cells to deliver exactly where in the wound, layer by layer.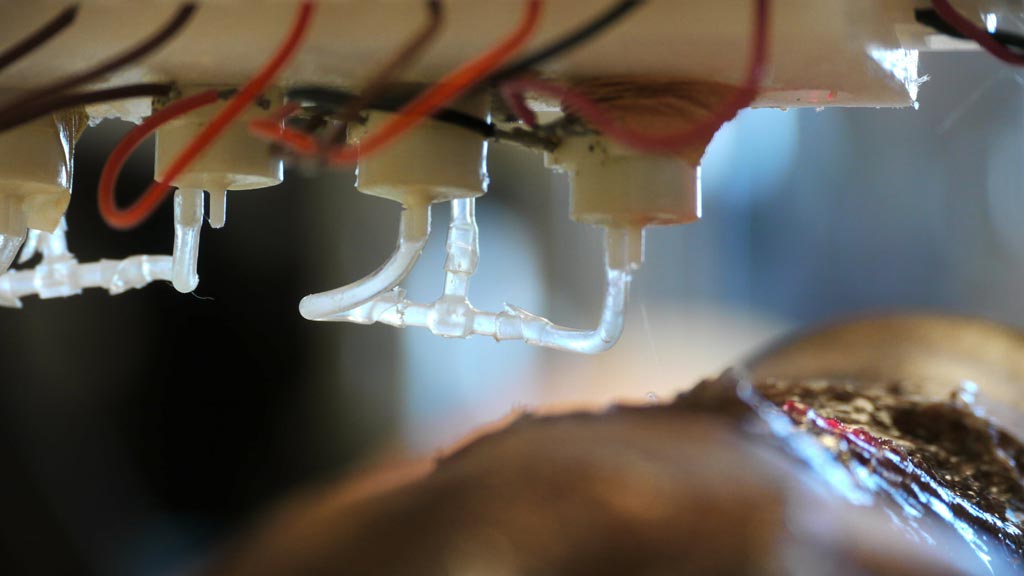 The process thus replicates and accelerates the formation of normal skin structure and function. The fibroblasts synthesize extracellular matrix (ECM) and collagen, which play a critical role in wound healing, while the keratinocytes reconstruct the epidermis, the outermost layer of the skin. The regenerated tissues show a dermal structure and composition similar to healthy skin, with extensive collagen deposition arranged in large, organized fibers, extensive mature vascular formation, and proliferating keratinocytes. The study was published on February 12, 2019, in Nature Scientific Reports.
"The unique aspect of this technology is the mobility of the system and the ability to provide on-site management of extensive wounds by scanning and measuring them in order to deposit the cells directly where they are needed to create skin," said lead author Sean Murphy, PhD. "Currently, skin grafts to treat wounds and burns are the 'gold standard' technique, but adequate coverage of wounds is often a challenge, particularly when there is limited availability of healthy skin to harvest."
The early treatment and rapid closure of acute or chronic wounds is essential for normal healing and prevention of hypertrophic scarring; but the use of split thickness autografts is often limited by the availability of a suitable area of healthy donor skin to harvest. Cellular and non-cellular biological skin-equivalents are commonly used as an alternative treatment option for these patients, however these treatments usually involve multiple surgical procedures and are associated with high costs of production and repeated wound treatment.
Related Links:
Wake Forest Institute for Regenerative Medicine

Latest Surgical Techniques News
Other channels