Pulsed Acoustic Device Hastens Tattoo Removal and Fading
By HospiMedica International staff writers
Posted on 04 Apr 2019
An innovative laser ancillary device use rapid pulsed acoustic shockwaves to accelerate the removal of unwanted tattoos.
The Soliton (Houston, TX, USA) Rapid Acoustic Pulse (RAP) device is designated as an accessory to a 1064 nm Q-Switched laser for black ink tattoo removal on the arms, legs, and torso in Fitzpatrick Skin Type I-III individuals. RAP allows for multiple passes of a Q-Switched laser during a single treatment session; after the initial laser pass has been made and vacuoles have formed, the RAP Device is applied immediately afterward. Within seconds, the RAP's acoustic waves remove the vacuoles, as well as further dispersing the ink pigment from the macrophages.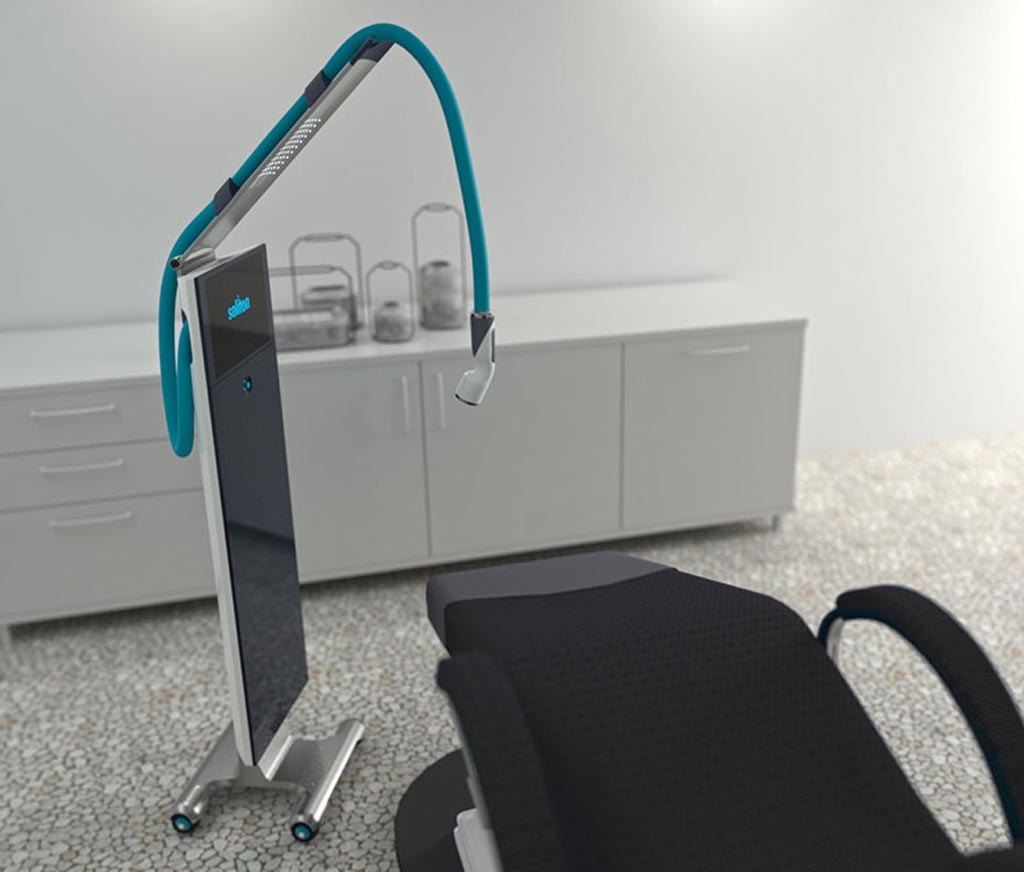 Another laser pass is now immediately possible and may be followed by another RAP pass, and so on. With the new approach, the RAP device enables multiple passes in a single treatment session, resulting in accelerated fading when compared to stand-alone laser treatment, and allowing tattoo removal to be completed in just two to three office visits. According to the company, RAP shockwave technology is also capable of inducing mechanical stress in fibroblasts, leads to new collagen growth, which could help reduce skin laxity and the appearance of cellulite.
"The human trials provided evidence of the potential for the RAP technology to accelerate tattoo fading," said Chris Capelli, MD, President and CEO of Soliton. "The combination treatment of the RAP device and a laser outperformed a laser alone, showing an average of 80% fading after only two visits, versus 44% fading for the laser alone. After three Soliton multi-pass treatments, 100% of the treated tattoos had a complete (76-100% faded) response; in comparison, only 17% of the tattoos treated with the laser only had a complete response."
"Our strategy is a razor/razorblade model with consumable products for single-use applications, generating recurring revenue," concluded Dr. Capelli. "We believe this business model will serve the company and our shareholders well as we enter into the tattoo removal segment, and eventually into additional aesthetics markets. We are excited about the prospects for expanding the use of our RAP technology to address new markets and other aesthetic issues."
The current standard of care for tattoo removal is to use a Q-switched (pulsed) laser to ablate the tattoo ink particles into pieces small enough for the body's natural processes to remove them. Unfortunately, it is highly inefficient, requiring up to 10 or more office visits to achieve acceptable results.
Related Links:
Soliton

Latest Surgical Techniques News
Other channels