Flexible Robotic System Accommodates Individual Surgeons
By HospiMedica International staff writers
Posted on 08 Apr 2019
A new robotic surgical navigation system is designed to aid surgeons in performing thoracolumbar minimally invasive and complex spine procedures.
The Zimmer Biomet (Warsaw, IN, USA) ROSA ONE Spine system features a robotic arm architecture with six degrees of freedom that can accurately replicate the movements of a human arm, providing high dexterity while completing complex surgical procedures, allowing complete freedom in the choice of trajectories. A full navigation suite of technologies that improve implant and instrument placement accuracy and predictability, combined with advanced haptic capability, help the surgeon easily guide the instruments, while staying within the limits and restrictions established using the 3D intraoperative planning software.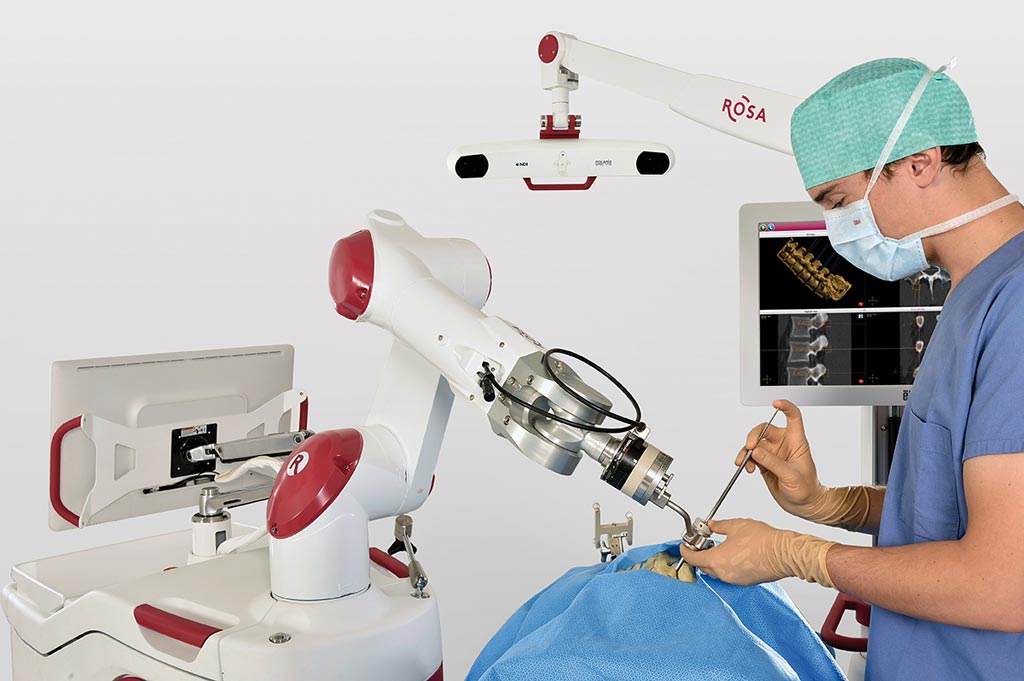 The combination of robotic guidance and navigation functionality allow users to establish a seamless and flexible workflow, ensuring they can focus on surgical goals and outcomes. The robotic platform also introduces a novel, real-time patient 'dynamic tracking' functionality that allows the arm to accurately move together with the patient, using information supplied by a non-invasive, touch-free registration system that combines precise robotic movement measurement and non-invasive lasers, without the need for invasive markers or a stereotactic frame.
"ROSA ONE Spine functions as a dual robotics and navigation technology solution for minimally invasive and complex thoracolumbar spine procedures," said Aure Bruneau, group president of Spine, CMF, and Thoracic and Surgery Assisting Technology at Zimmer Biomet. "We are extremely excited about the addition of ROSA ONE Spine to our already released ROSA ONE Brain and ROSA Knee Systems."
The ROSA ONE Spine System, originally developed by Medtech (Montpellier, France), uses the same platform as the sister ROSA ONE Brain and ROSA Knee system, thus providing a single robotic hardware platform to treat neurosurgical, spinal, and knee pathologies.
Latest Surgical Techniques News
Other channels