Endoscopic Shuttle Insert Delays Gastric Emptying
By HospiMedica International staff writers
Posted on 07 May 2019
An innovative device provides a non-surgical weight loss solution for adult individuals suffering from obesity.
The BAROnova (San Carlos, CA, USA) TransPyloric Shuttle (TPS) is a mechanically constructed device the size of a small peach (5.6 cm in diameter), made of solid silicone components that is designed to delay gastric emptying by slowing the passage of food through the pylorus, causing patients to feel full sooner and stay full longer. The TPS is designed to be inserted and removed trans-orally using standard endoscopic techniques, and is intended for a 12-month treatment cycle, allowing patients the opportunity to achieve more durable lifestyle changes and health benefits.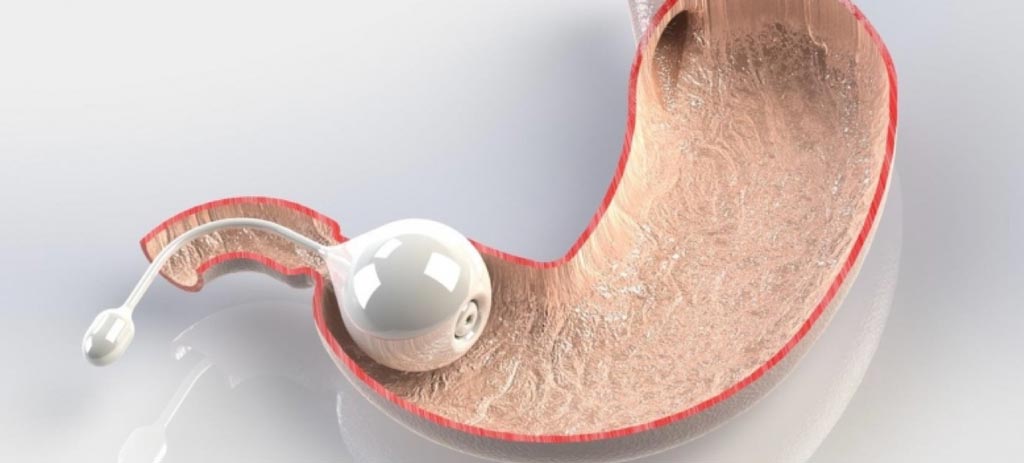 In a randomized, sham-controlled study that enrolled 302 patients from nine investigational centers, patients treated with the TPS device lost on average 3.4 times (9.5%) more weight than the sham-control group (2.8%) at 12-month follow up, and 40% lost over 10% of their body weight. Improvements in blood pressure and other cardiometabolic risk factors, as well as quality of life, were also observed with TPS treatment. The most common adverse events were gastrointestinal, such as stomach pain, nausea, vomiting, and dyspepsia.
"Endoscopically delivered intragastric devices can help close the obesity treatment gap and offer alternative options for qualified patients who are not eligible, or unwilling, to undergo metabolic and bariatric surgery," said senior investigator Wayne English, MD, of Vanderbilt University. "The TPS device design addresses some of the limitations with the first-generation intragastric devices and offers longer treatment duration, which is clinically attractive."
"The TPS device is unique in its treatment efficacy and duration. Further validation of potential comorbidity benefits, like cardiometabolic improvement observed in the pivotal study, during the post-market phase may translate to important advantages in achieving healthcare coverage for the TPS device in the future," said Lian Cunningham, MD, PhD, senior VP of clinical and regulatory affairs at BAROnova. "We look forward to bringing this new technology to patients and physicians."
Slow gastric emptying increases stomach distension, which activates stretch receptors. The vagus nerve carries the afferent signals related to stomach distension to the nucleus tractus solitarii (NTS) in the medulla, facilitating satiety by projections to the appetite-regulating nuclei of the hypothalamus.
Related Links:
BAROnova

Latest Surgical Techniques News
Other channels