Adjunctive Stent System Treats Brain Aneurysms
By HospiMedica International staff writers
Posted on 04 Jun 2019
A novel aneurysm adjunctive stent system helps surgeons treat wide-neck, intracranial aneurysms in conjunction with embolic detachable coils.
The Stryker Corporation (Kalamazoo, MI, USA) Neuroform Atlas Stent System is a self-expanding, open cell, nitinol stent designed to support embolic coil masses during the treatment of wide-neck intracranial, saccular aneurysms arising from a parent vessel with a diameter of greater than (or equal to) two mm, and less than or equal to 4.5 mm. The Stent has a tubular mesh design, with 4, 6, or 8 distinct sections laid out in a zig-zag pattern, depending on stent length, which are joined by two interconnecting struts, with eight radiopaque marker bands (four per end) secured to tabs on the stent.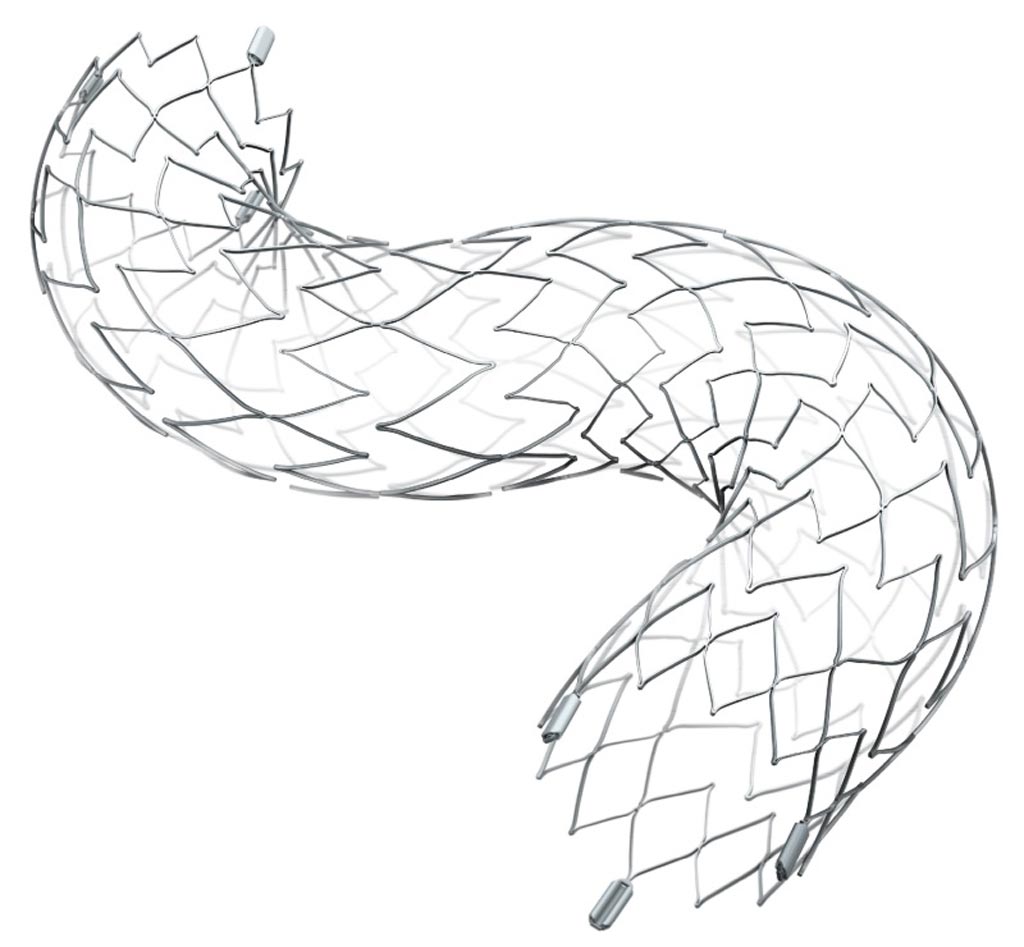 The stent is deployed onto healthy vascular tissue in the anterior circulation of the neurovasculature; once in place, the embolic coil is delivered through the struts, which is then used to retain the embolic coils within the aneurysm. It is provided pre-loaded on a delivery wire, protected by a transfer sheath, and is available with an accessory pouch containing an optional stabilizer that can be attached to the proximal end of the stent delivery wire to facilitate handling and stabilization. The stent is available in five diameters (2.5-4.5mm) and three lengths (10mm, 15mm, and 20mm).
"Enhanced stent conformability, a low-profile delivery system, and high deployment accuracy even in distal anatomy puts Neuroform Atlas in a category of its own," said Brian Jankowitz, MD, director of the NeuroEndovascular Fellowship program at the University of Pittsburgh Medical Center (UPMC; PA, USA). "This product is changing my clinical practice by allowing more patients with difficult aneurysms an option at endovascular treatment while improving the quality and safety of treatment."
"Patients around the world are now benefiting from significant advancements in intracranial stents designed specifically for the treatment of wide neck aneurysms. This product is an excellent fit with our mission to make healthcare better," said Mark Paul, president of Stryker's neurovascular division. "Meaningful clinical data enables our market leading products to better serve patients suffering from debilitating cerebrovascular disease."
Wide-neck aneurysms are defined as having a neck greater or equal to four mm or a dome-to-neck ratio of less than two. They are often untreatable by surgical clipping, as many wide- neck aneurysms are in vessels deep within the brain that are not amendable to being treated by open brain surgery. Coiling wide neck aneurysms, on the other hand, could lead to coil protrusion and/or embolization, as it is difficult to achieve and maintain sufficiently dense coil packing of the aneurysm to permanently exclude blood flow.
Latest Surgical Techniques News
Other channels