Innovative Debridement Device Provides Uniform Skin Grafts
By HospiMedica International staff writers
Posted on 03 Jul 2019
An innovative skin grafting and wound debridement device glides effortlessly over the skin in a pulling motion to provide efficient wound debridement and consistent skin grafts.
The Exsurco Medical (Wakeman, OH, USA) Amalgatome SD features a unique 360° circular cutting head incorporated into a 15° angled ergonomic hand piece that allows the surgeon to safely maneuver over body contours and hard-to-reach areas with minimal user fatigue. Instead of using an oscillating back and forth cutting blade, the Excision circular ring blades recover skin grafts or debride the skin via precision cutting, spinning at high RPM. The result is consistent excision depth control when recovering skin grafts, in either two or four inch width strips.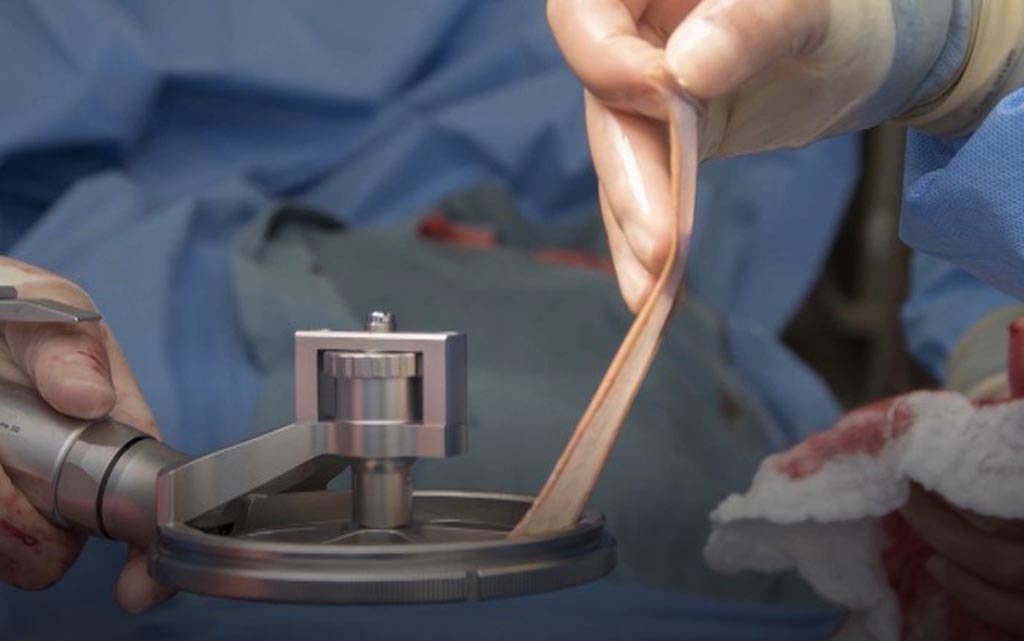 The user can thus gently and smoothly pull the device towards them while performing the skin graft harvest or debridement; depth can be controlled in increments of .001", ranging in thickness from 0.005" to 0.045". The Amalgatome SD also requires less force than other powered excision instruments that require a sawing or pushing motion. Its contoured design glides over the epidermis and dermis with a 180° dissection range, with a maneuverability that simplifies handling of challenging body contours. The overall result is much more control of the excision.
"Exsurco has previously delivered products for tissue bank and processing companies that have helped to improve and simplify the procedures for donor allograft tissue recovery that increases yield, safety and comfort, while minimizing technician fatigue," said Sara Ann MacKinlay, general manager of Exsurco Medical. "We are proud to introduce our new Amalgatome SD medical device for skin grafting and wound debridement to burn and trauma centers across the country for use on patients requiring these critical, lifesaving procedures. These products ultimately help increase the gift of tissue donation to touch more patients."
Skin grafting serves two purposes - reducing the course of treatment needed and improving the function and appearance of the area of the body, which receives the skin graft. There are two types of skin grafts; a full thickness skin graft that consists of the epidermis and the entire thickness of the dermis, and a split-thickness skin graft that includes the epidermis and part of the dermis. Split-thickness grafts are frequently used as they can cover large areas and the rate of auto-rejection is low. The donor site heals by re-epithelialization from the dermis and surrounding skin and requires dressings.
Related Links:
Exsurco Medical

Latest Surgical Techniques News
Other channels