Autonomous Robotic Uses Haptic Vision to Navigate the Heart
By HospiMedica International staff writers
Posted on 08 Jul 2019
A new study introduces a robotic catheter that finds its way through the beating heart without the help of a surgeon's guiding hand.
Developed by researchers at Boston Children's Hospital (BCH; MA, USA), the University of Strasbourg (France), and Veterans General Hospital (Taipei, Taiwan), the autonomous robotic catheter uses haptic vision--an artificial hybrid sense--for both touch-based surface identification and force sensing. The catheter tip, which is about the size of a dime, is touch-sensitive enough to know when it is in contact with blood, heart tissue, or a valve; it also knows how hard it's pressing. The catheter is also equipped with an LED light and a camera.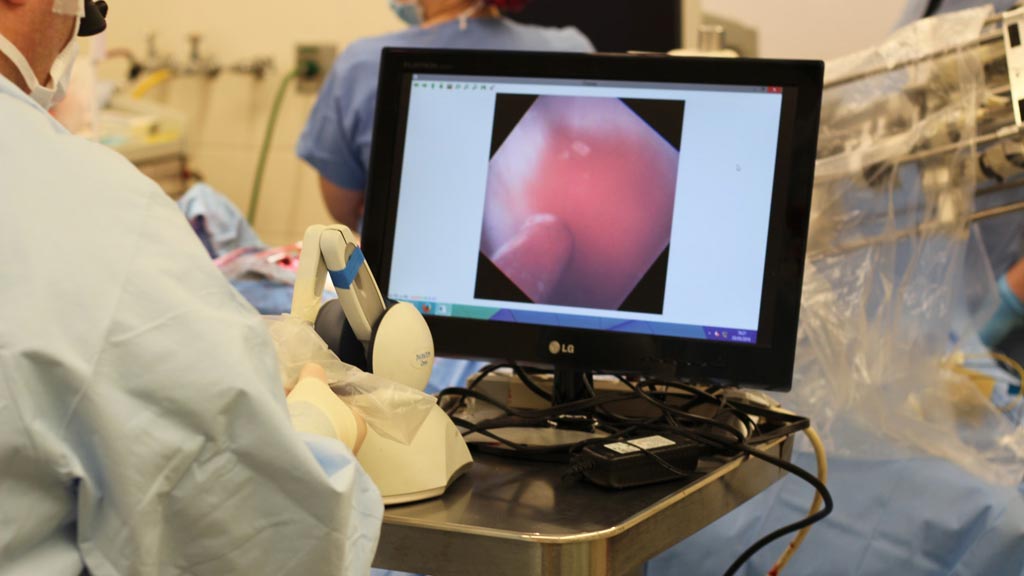 To test the system, the researchers completed 83 catheterization trials on a group of five live pigs. The catheter hit its intended destination 95% of the time, with about the same success rate and duration as an experienced surgeon. According to the researchers, automating catheter navigation to the target with precise and repeatable tool motions, independent of operator experience and fatigue, can free the clinician to focus on more critical aspects of the procedure. The study was published on April 24, 2019, in Science Robotics.
"Autonomous catheters are technologically feasible, and could benefit surgical performance by freeing surgeons to focus their energy on the critical steps, such as deploying the plug for the leaky heart, rather than devoting some energy to navigation and some to placing the plug," said lead author bioengineer Pierre DuPont, PhD, of BCH. "The biggest benefit however might be that the artificial intelligence behind autonomous medical devices never stops learning. Suddenly every clinician in partnership with one of these robots can have their expertise raised to the level of the most experienced person."
The algorithms behind the autonomous catheter were inspired by positively thigmotactic animals, such as rats and crayfish. When navigating through dark environments, rats swish their whiskers against nearby objects to figure out where they are, using this sense of touch to build maps of unfamiliar places. Cockroaches and blind crayfish use their antennae in a similar approach.
Related Links:
Boston Children's Hospital
University of Strasbourg
Veterans General Hospital

Latest Surgical Techniques News
Other channels