Novel Articulating Implant Replaces Arthritic Ankle Joints
By HospiMedica International staff writers
Posted on 09 Jul 2019
A mobile-bearing implant replaces an ankle joint that has turned painful due to primary osteoarthritis, post-traumatic osteoarthritis, or arthritis secondary to inflammatory disease.
The DT MedTech (Baltimore, MD, USA) Hintermann Series H3 total ankle replacement (TAR) system is a non-cemented implant designed to reduce pain and improve motion in the ankle joint. The system is comprised of a cobalt-chrome (CoCr) tibial component with a double coating--titanium plasma spray coated and hydroxyapatite--that covers the very bottom of the tibia, which is also the upper portion of the ankle joint; a CoCr talar component with the same double coating that covers the talus; and an ultra-high molecular weight polyethylene (UHMWPE) sliding insert.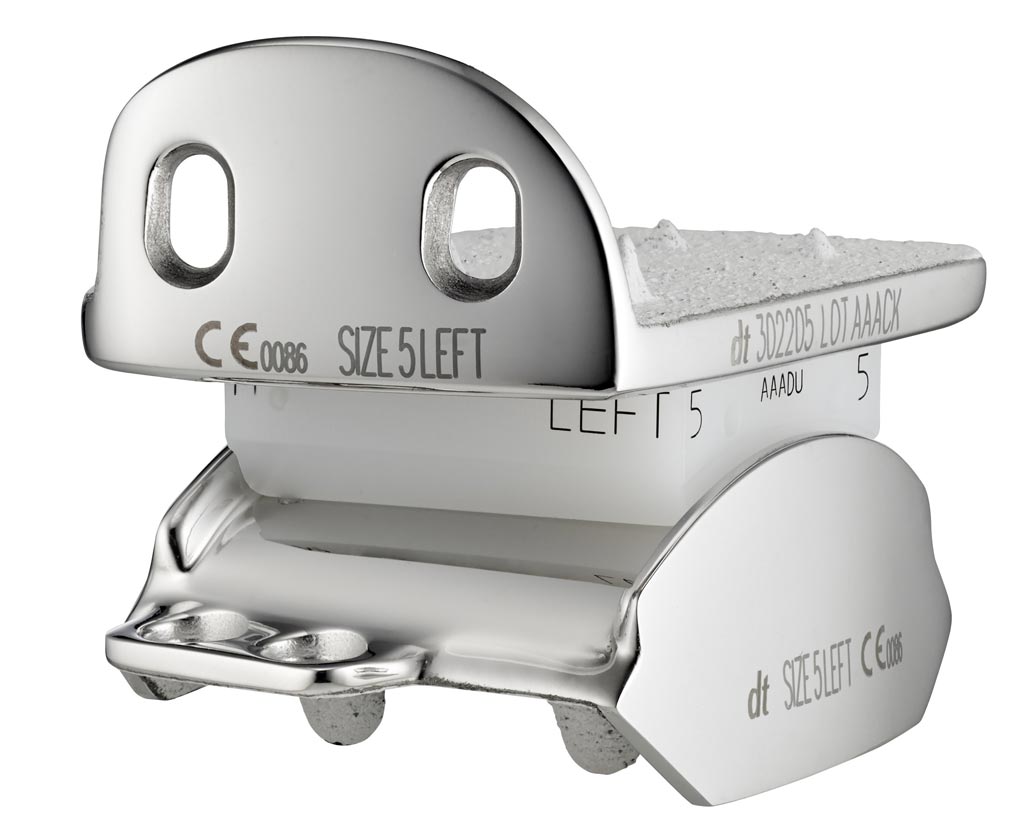 The tibial implant is comprised of a flat-loading plate and an anterior shield. The anatomically shaped flat surface allows for optimal contact with the subchondral bone of the entire resected tibia, including the cortical rim of the metaphysis to maximize the load transfer area without creating stress shielding. The tibial implant is available in seven sizes (0-6).
The talar implant is conically shaped to mimic the anatomic shape of the talus. Rims are provided on each side of this implant to provide mediolateral stability to the UHMWPE inlay bearing and to serve as a guide for anteroposterior translation. Polished overhangs on the medial and lateral side serve as anatomical articular surfaces. The talar implant is also available in seven sizes (0-6).
The UHMWPE inlay provides a flat planar surface to interface with the polished flat plane of the tibial implant and a concave surface to interface with the anatomically oriented polished surface of the talar implant. The PE inlay is available in four thicknesses (5, 6, 7, and 9mm) and matched sizes 0-6 to either orientation (right/left) of the prosthesis.
"I am very proud of this achievement. Since implanting the first H3, it has been a dream to bring the H3 to the U.S. market and enhance patient care and outcomes," said foot and ankle surgeon Professor Beat Hintermann, MD, who developed the Hintermann total ankle replacement series. "We have seen stellar H3 results outside of the United States, and look forward to being able to provide American surgeons with this TAR."
TAR was first attempted in the 1970s, but poor results led to its being considered inferior to ankle fusion until the late 1980s and early 1990s. By then, newer designs, which more closely replicate the natural anatomy of the ankle, showed improved clinical outcomes. TAR is now a viable alternative to the gold-standard treatment option, and provides late-stage ankle arthritis patients with fast pain relief and range of motion in the ankle, allowing individuals to restart recreational activities more quickly.
Related Links:
DT MedTech

Latest Surgical Techniques News
Other channels