Integrated Technology Platform Enables Better Spine Surgery
By HospiMedica International staff writers
Posted on 30 Jul 2019
An innovative multiple technology operating room (OR) platform helps surgeons adopt a more efficient and less disruptive minimally invasive surgery (MIS) approach in all spine procedures.
The NuVasive (San Diego, CA, USA) Pulse OR platform combines neuromonitoring, surgical planning, rod bending, radiation reduction, and imaging and navigation functions to improve operative workflow, reduce variability and increase surgical reproducibility. Independent device access allows OR staff to view the various technologies' imaging and insights, simultaneously and in real time. In addition, the open, modular architecture of the system allows the use of flexible technology packages and selection of the exact tools needed to address specific pathologies in spine surgery procedures.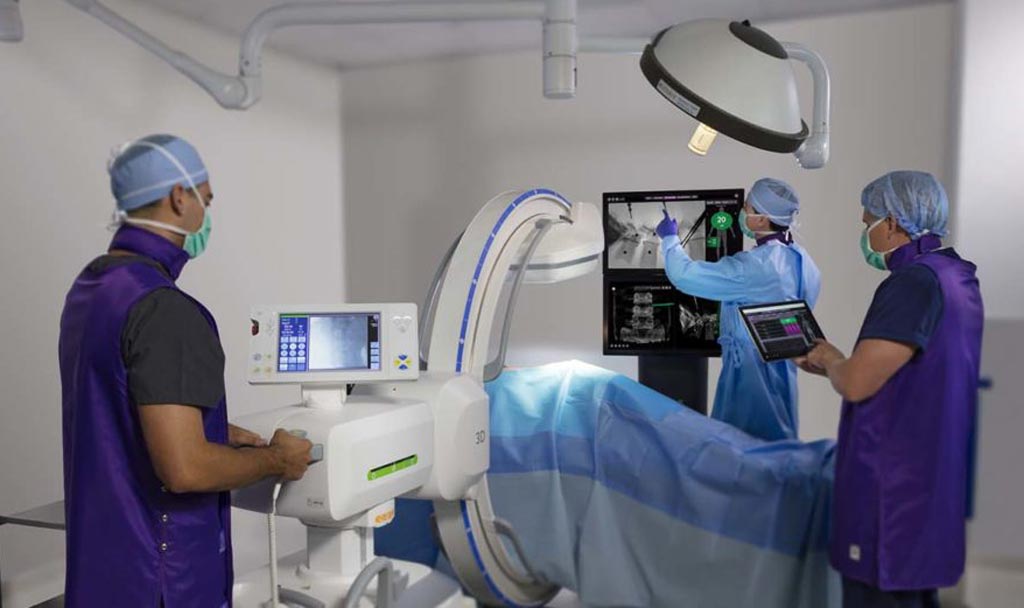 The Pulse OR platform includes a range of hardware and software modules, including:
• Image transferring for both 2D- and 3D-imaging that combines camera, array, and workflow technologies to improve line of sight, ease of use and surgical efficiency in the OR. Pulse also leverages the Siemens Healthineers (Erlangen, Germany) Cios Spin 3D mobile C-arm.
• Surgical Planning with Integrated Global Alignment (iGA), a preoperative planning software that incorporates alignment parameters, implant integration, surgical modeling, and other tools to help create a reliable plan prior to stepping into the OR.
• An automated nerve detection system with standardized setup and clinically validated alerts that help reduce variability and allow for faster neuromonitoring and interpretation of neural information.
• Radiation reduction via LessRay, an imaging system designed to take low-quality, low-dose images and improve them to look like conventional full-dose images, at 80% dose reduction compared to standard fluroscopy.
• Rod bending with Bendini, a technology used to create patient-specific rods, which are bent exactly to implant locations, expediting manual rod manipulation through computer-assisted bend instructions, all without leaving the OR.
"The Pulse platform is uniquely engineered to equip surgeons with a single platform of integrated technologies necessary to perform all spine surgeries, including minimally invasive approaches," said J. Christopher Barry, CEO of NuVasive. "Pulse provides an intuitive surgeon experience by anticipating user needs and fusing these technologies to create a seamless, optimized OR workflow, while addressing a broad range of clinical challenges. This is a pivotal step in our strategic vision to deliver end-to-end solutions that enable predictable clinical and economic outcomes in spine surgery."
"NuVasive's Pulse platform provides an unmatched surgical experience due to its responsive and optimized workflow features," said Juan Uribe, MD, chief of the division of spinal disorders at Barrow Neurological Institute (Phoenix, AZ, USA). "The benefits of the advanced navigation and imaging, coupled with neuromonitoring, allow for optimized outcomes for patients, while gaining impactful efficiencies for my OR staff and hospital system."
Latest Surgical Techniques News
Other channels