Spinal Tether Device Treats Idiopathic Scoliosis
By HospiMedica International staff writers
Posted on 29 Aug 2019
An innovative spinal tether device corrects idiopathic scoliosis in children and adolescents who fail to respond to conservative treatment options, such as external bracing.
The Zimmer Biomet (Warsaw, IN, USA) Tether vertebral body tethering (VBT) system is intended to provide an alternative to growing children and adolescents with idiopathic scoliosis that do not respond to bracing, and whose spinal curves are approaching or have reached the range where surgical treatment is an option. The system includes anchors, vertebral body screws, and setscrews made of titanium alloys that are placed into the same side of each vertebra in the curved section of the spine through an incision on the side of the chest.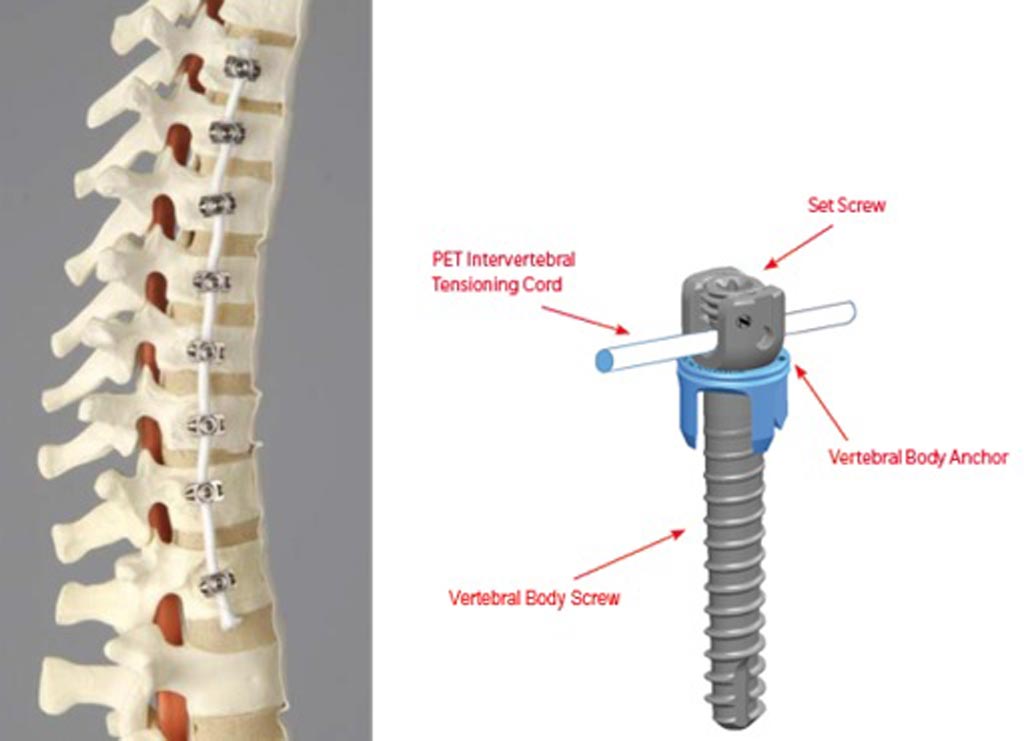 A flexible polymer cord (the tether), made of polyethylene-terephthalate (PET), is connected to the screws. Tension is applied to the tether during surgery to compress one side of the spine, partially correcting the curve. Over time, the tether slows growth on the curved side of the spine, promoting growth on the opposite side. The Tether VBT also continues to correct the curvature over time while providing a fuller range of motion, as compared to spinal fusion procedures. The system is not intended for removal unless certain problems, such as over-corrections, develop.
"For children and adolescent patients with idiopathic scoliosis that does not respond favorably to bracing, treatment options have been limited to fusion surgeries," said Captain Raquel Peat, PhD, director of the office of orthopedic devices at the U.S. Food and Drug Administration (FDA; Silver Spring, MD, USA) Center for Devices and Radiological Health (CDRH). "Today's approval provides access to a new treatment option that could improve quality of life for patients with idiopathic scoliosis."
Idiopathic scoliosis is a sideways curvature of the spine whose cause is unknown. It is the most common spinal deformity in children, most often diagnosed between ages 10 to 18. The standard treatments for idiopathic scoliosis among children and adolescents who are still growing are conservative, non-surgical treatments such as external bracing to help correct the spinal curvature. For patients who do not respond to bracing, spinal fusion surgery may be used to stabilize and correct spinal curvatures, but restricts spine motion and incurs long-term complications such as pain, arthritis, and potential spinal deformities.
Related Links:
Zimmer Biomet

Other channels