Breakthrough Coronary Sinus Device Improves Myocardial Function
By HospiMedica International staff writers
Posted on 04 Sep 2019
A novel intermittent occlusion device helps reduce infarct size and improve cardiac function following an acute myocardial infarction (AMI).
The Miracor Medical (Awans, Belgium) PiCSO Impulse System consists of a balloon tipped triple-lumen catheter and a drive console. The system and concomitant therapy is based on the fact that coronary sinus pressure increases when the vessel is occluded and drainage of venous blood into the right atrium is inhibited. As a result, during the occlusion period, normal right atrial blood pressure builds up to reach a pressure plateau, without effecting systemic arterial pressure. The rise causes an increase in arterial wedge pressure over the ischemic area.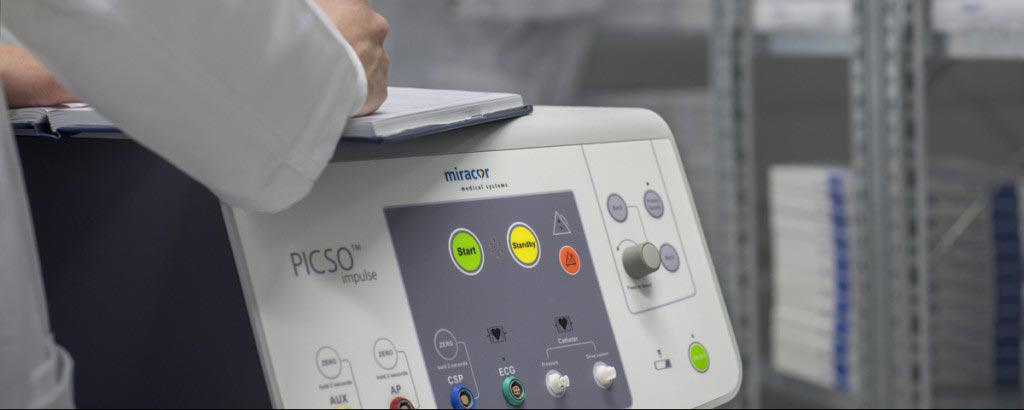 To initiate PiCSO therapy following an AMI, the impulse catheter is inserted in a standard manner via the femoral vein and placed in the coronary sinus, using a steerable guide sheath. Intermittent coronary sinus occlusion is then controlled via the PiCSO Impulse Console using the proprietary 'Wien Algorithm', which continuously monitors coronary sinus pressure dynamics and automatically sets the time of occlusion and release phases based on venous pressure. The therapy is automatically adapted to the individual anatomy and hemodynamics, and extends average percutaneous coronary intervention (PCI) time by 20-30 minutes.
The PiCSO Impulse Console automatically operates the PiCSO Impulse balloon catheter, inflating and deflating it using helium, based on coronary sinus pressure and synchronized with the electrocardiogram (ECG). The monitor displays the inflation/deflation state of the balloon, as well as trend graphs and time counters, live graphs display curves and numeric values of ECG, CSP, AP and auxiliary input. All data are automatically stored and can be retrieved for later analysis for each patient. The unit is transportable and runs on battery supply if needed during patient transportation.
The coronary sinus is a collection of veins joined together to form a large vessel that collects blood from the myocardium. It receives drainage from multiple veins, including the great cardiac vein, the left marginal vein, the posterior vein of the left ventricle, the posterior interventricular vein, the oblique vein of the left atrium, and other veins of the left and right atrium. It directs to the coronary sinus orifice in the right atrium, an opening between the inferior vena cava and the right atrioventricular orifice or tricuspid valve.
Related Links:
Miracor Medical

Other channels