3D-Printed Interbody Implants Facilitate Bone Fusion
By HospiMedica International staff writers
Posted on 07 Oct 2019
An innovative portfolio of three-dimensional (3D) printed titanium interbody implants are designed to treat degenerative spine disease by expediting fusion surgery.
The DePuy Synthes (West Chester, PA, USA) CONDUIT Interbody Platform with EIT Cellular Titanium Technology provides the fabricated structures with a porosity of 80%, which closely mimics the structure and modulus of elasticity of natural human cancellous bone. The differentiated cell design and structure of the interbody cage also allows clear visualization of the space in and around the implant both intra- and post-operatively on X-ray, computerized tomography (CT) scans, and magnetic resonance imaging (MRI), without significant interference.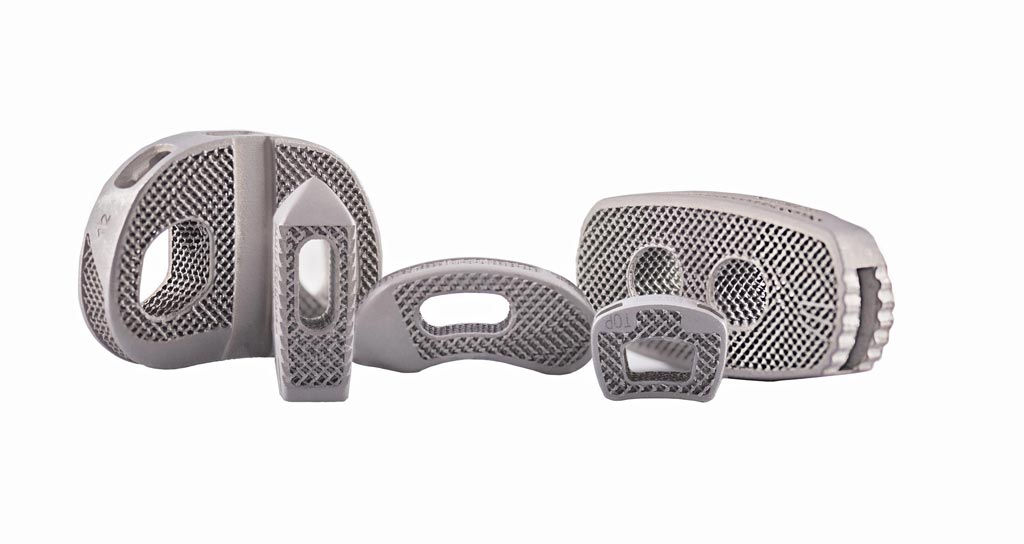 During the spinal fusion procedure, the degenerated, collapsed disc is removed and replaced with a CONDUIT interbody spacer, along with a bone graft, with the intention of restoring natural height and alignment between two adjacent vertebrae. The interbody implant is also prepared with roughened nanoscale surface features that to lead to increased adhesion of osteoblasts, compared to conventional titanium materials. The end result is that the formerly mobile disc space between the two vertebrae fuses into as a single, solid bone.
"Our goal as a spine business is to focus on the areas with the most potential to solve unmet clinical needs, and we are excited to add advanced materials to our interbody portfolio as another option for surgeons," said Nadav Tomer, worldwide president of spine at DePuy Synthes. "The launch of the CONDUIT portfolio, together with our comprehensive interbody implant offerings for degenerative disc disease, helps us deliver life-enhancing spine solutions that advance the standard of care for patients everywhere."
Interbody devices are designed to replace the intervertebral disc of the spine, enhancing stability in the region while the spine fuses. Over time, the packed bone graft material is gradually replaced by natural bone. Fusion procedures typically use a posterior fixation device to the associated level, since the surgeons will implant interbody devices from an anterior approach and flip the patient over to implant a posterior pedicle screw device. This combination increases fusion success.
Related Links:
DePuy Synthes

Latest Surgical Techniques News
Other channels