New Polymer Heart Valve Implanted in First Human Patient
By HospiMedica International staff writers
Posted on 10 Oct 2019
Next-generation implantable biopolymer heart valves last longer, are cheaper to manufacture and are more biocompatible than currently available options.
Developed at the California Institute of Technology (Caltech; Pasadena, USA) and manufactured by Foldax (Salt Lake City, UT, USA), the Tria heart valve combines LifePolymer, an advanced biopolymer material, and a patented bioinspired design in order to create a heart valve capable of lasting for decades without calcification, risk of clotting, or damage to red blood cells (RBCs). During testing, one valve has already lasted for 600 million cycles, the equivalent of around 15 years, without signs of significant wear and tear.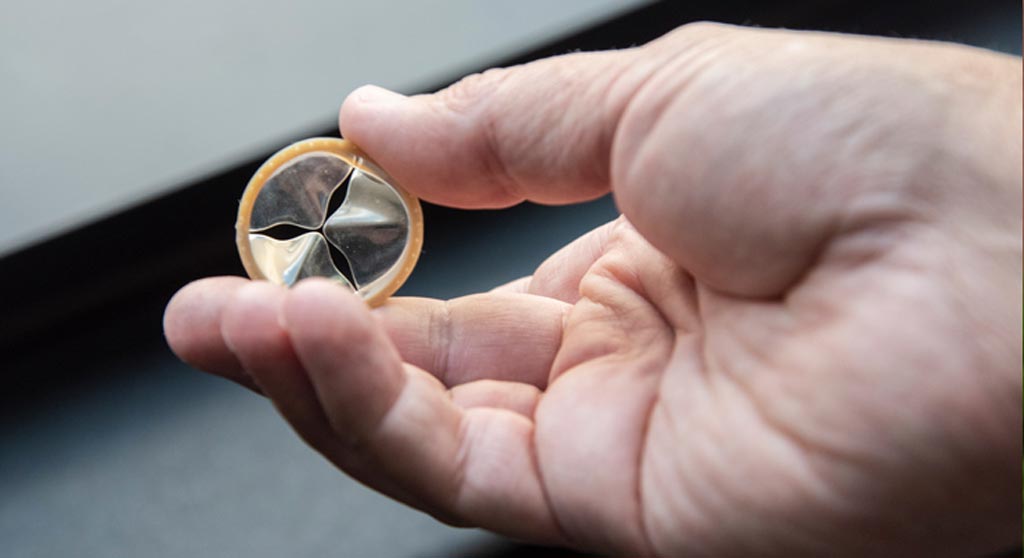 The proprietary biopolymer material and design of the Tria heart valves also allows for high volume manufacturing, as well as potentially lowering the cost of future medical care, since adverse events associated with using animal tissue valves and the accompanying durability and calcification concerns are eliminated. The valves are also robotically manufactured, eliminating the variability of human production, thus providing the highest level of quality and precision. The complete Tria platform will include valves developed for use in aortic and mitral valve disease with transcatheter and surgical applications.
"It's a powerful combination of the bioinspired design and advanced engineering that we have at Caltech," said Professor Mory Gharib, PhD, of the CalTech Division of Engineering and Applied Science, and also co-founder of Foldax, following the implantation of the first valve in a patient with aortic valve disease at Beaumont Hospital (Royal Oak, MI, USA), as part of an FDA Early Feasibility Study. "This is among my proudest moments. Creating something with the potential to save and improve lives is one of the reasons I became an engineer."
Mechanical heart valves are the most long-lasting type of replacement valve, but patients will usually require blood thinners to stop clots from forming, as they can lodge in valve flaps or hinges which can cause a malfunction or form emboli. Bioprosthetic tissue can last 10-20 years, and do not require long-term use of medication. On the other hand, a young person with a bioprosthetic valve replacement, the need for additional surgery or another valve replacement later in life is highly likely.
Related Links:
California Institute of Technology
Foldax

Latest Surgical Techniques News
Other channels