Reduction Guide Preserves Medial Column Function
By HospiMedica International staff writers
Posted on 17 Oct 2019
An innovative reduction guide allows surgeons to place a beam precisely while maintaining adequate reduction along the medial column.
The Paragon 28 (Englewood, CO, USA) Joust Beaming Screw System includes 5 mm, 5.5 mm, and 7.2 mm, solid and cannulated beams, all fully or partially threaded. The beams are made of type II anodized titanium (Ti-64AI-4V) for improved fatigue strength. All beams have a sharp tip for ease of insertion and are offered headless to minimize prominence. The 5 mm and 5.5 mm beams are offered in 50-120 mm for varying patient anatomies and to allow for increased bone capture. The 7.2 mm beams are available in 65-185 mm in length to allow surgeons to extend a medial column beam into the posterior aspect of the talus.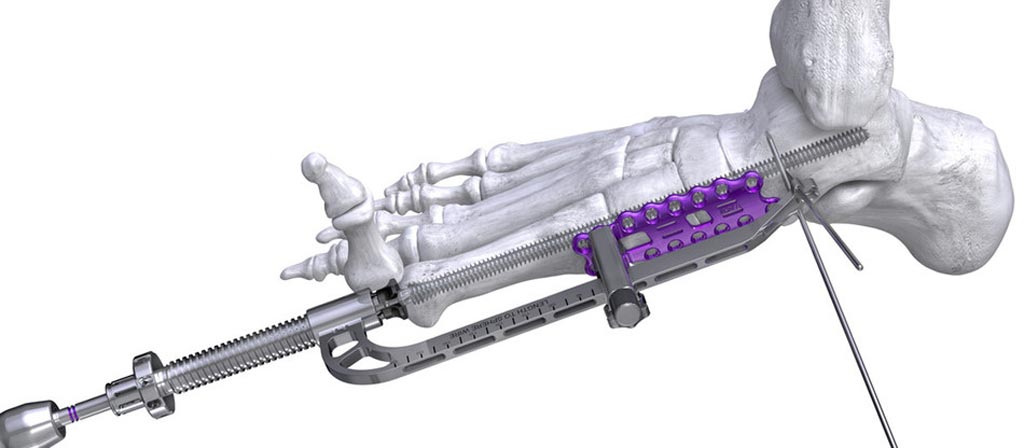 The system offers partially threaded and fully threaded options to allow for compression or increased thread purchase, depending on the surgical requirements and patient anatomy. The Joust Beaming Screw System also includes the PRECISION Reduction Guide, which helps position the K–wire from the head of the first metatarsal to the talus, thus allowing a 2 mm thick Gorilla straddle plate to set the trajectory for a beam to pass through, without the hitting any on-axis plate screws and allowing reduced interoperative fluoroscopy time.
Bone plating is a method of fracture fixation in which one or more metal plates are applied across the fracture and anchored, usually by screws, into the fragments; the broken bones must first be surgically reset into their proper position. The method does have some drawbacks; after initially placing the plate on the break or fracture the bones are compressed together and held under some slight pressure, which helps to speed up the healing process of the bone. Unfortunately, the tension provided by the steel plate is lost after several days and the break or fracture is no longer under compression, slowing the healing process.
Related Links:
Paragon 28

Other channels