Auricular Stimulation Reduces Cardiac Postoperative AF Risk
By HospiMedica International staff writers
Posted on 06 Nov 2019
A new study reveals that postoperative atrial fibrillation (POAF) complications could be halved by non-invasive electrical stimulation of the vagus nerve directly on the ear.
Researchers at the Medical University of Vienna (MedUniWien; Austria) conducted a randomized 1:1 study to examine the antiarrhythmic and anti-inflammatory effects of noninvasive low-level transcutaneous electrical stimulation (LLTS) of the greater auricular nerve in 40 patients slated for cardiac surgery. Following surgery, electrical stimulation electrodes were applied in the triangular fossa of the ear for up to two weeks. Heart rhythm was recorded continuously via Holter electrocardiogram (ECG), and C-reactive protein (CRP) and interleukin-6 plasma concentrations were measured.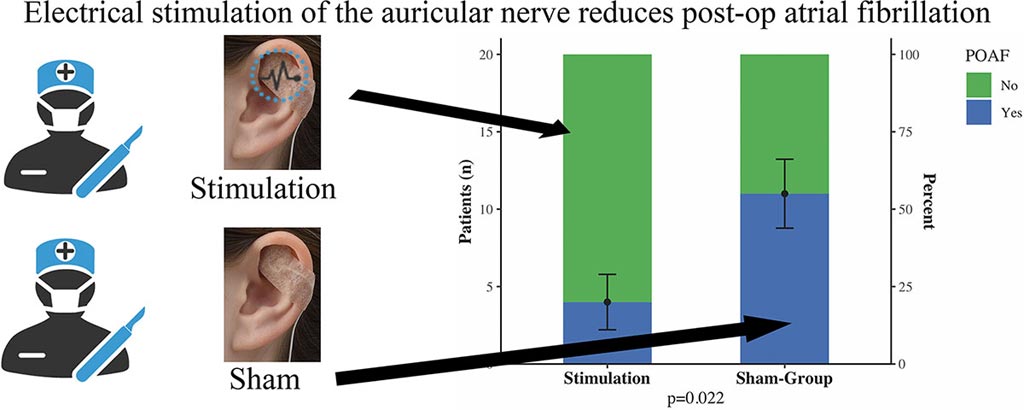 The results revealed that the patients receiving LLTS (amplitude one mA, frequency 1 Hz for 40 minutes, followed by a 20 minutes break) had a significantly reduced occurrence of POAF (4 of 20 events) when compared with the control group (11 of 20 events) during a similar mean Holter ECG recording period. The median duration of POAF was comparable between the treatment and the control group, and no effect of the LLTS application on CRP or IL-6 levels was detectable. The study was published on October 10, 2019, in
Circulation: Arrhythmia and Electrophysiology.
"Electrical stimulation of the ear and the vagus nerve that sits on the surface there has a calming effect, in that we are stimulating the largest nerve of the parasympathetic nervous system and hence the corresponding antagonists," said lead author Martin Andreas, MD, PhD, of the department of surgery. "This stimulation is given continuously in the first five days after an operation, when the risk of POAF is at its highest, and is then stopped, if everything goes well. The innovative product, from an Austrian company from Mauerbach, has already been successfully used for vascular occlusions."
POAF occurs in up to 40% of patients undergoing cardiac surgery. Conventional viewpoints suggest that it is less likely to affect the survival of patients when compared with chronic AF, although it does slightly prolong the duration of hospital stay. However, newer reports suggest that POAF is also associated with a significantly higher incidence of various complications, including cardiovascular events, renal failure, infection, and cerebral infarction.
Related Links:

Medical University of Vienna
Other channels