Robotics Aid Diagnostic and Surgical Bronchoscopic Procedures
By HospiMedica International staff writers
Posted on 06 Nov 2019
A new study confirms that a robot-assisted bronchoscopy platform can successfully localize undiagnosed lung lesions.
Researchers at the Medical University of South Carolina (MUSC; Charleston, USA) conducted a study to examine the safety and feasibility of the Auris Health (Redwood City, CA, USA) Monarch Platform, which visualizes peripheral lung nodules in the bronchial tree using a combination of direct visualization, navigational guidance, and radial endobronchial ultrasound (R-EBUS). The study, which involved 55 patients across five study sites, showed successful localization of the targeted pulmonary lesions in 96.3% of the procedures. Pneumothorax occurred in two patients and required tube thoracostomy in one. No other serious adverse events were reported.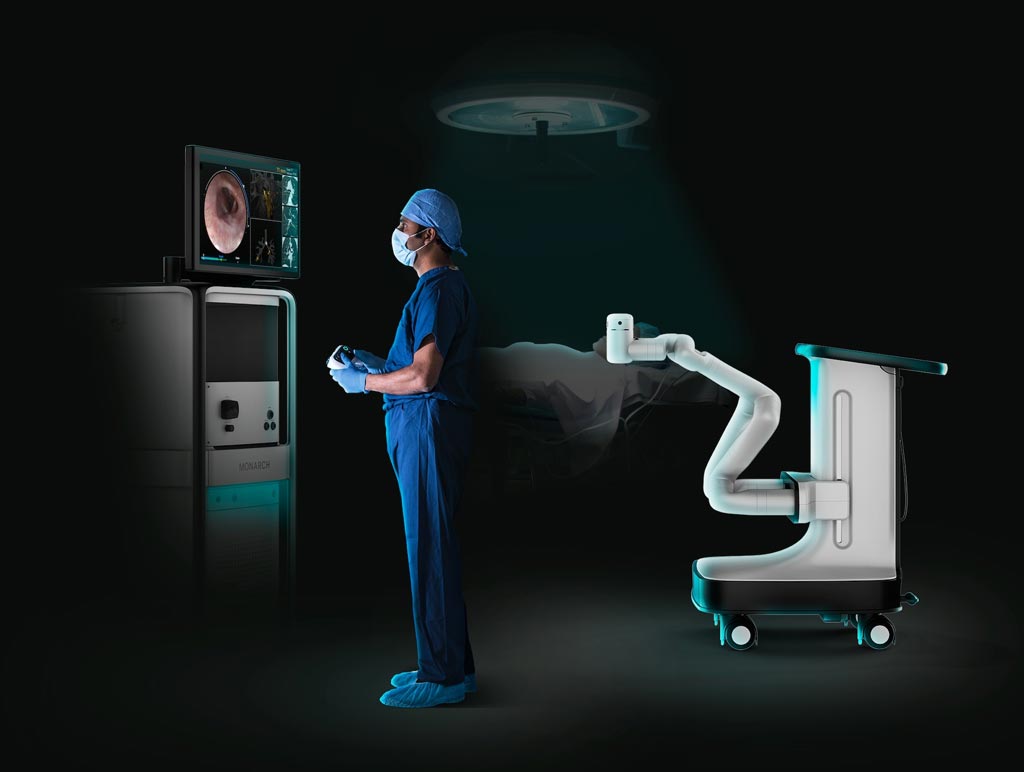 "We were able to safely perform the procedure and successfully localize lesions in 96% of cases. This data suggests robot-assisted bronchoscopy is feasible and may improve bronchoscopists' ability to effectively localize peripheral lesions," said study co-author Professor Gerard Silvestri, MD, a lung cancer pulmonologist at MUSC, when the study was presented at the annual CHEST conference, held in New Orleans (LA, USA) in October 2019. "The promising results of this study warrant further evaluation in additional prospective studies where yield can be better assessed."
The Monarch Platform consists of four major components - the patient side system (PSS), a controller cart, a master device workstation, and the bronchoscope and accessories. The master/slave system uses a controller-like interface to navigate the flexible robotic endoscope to the periphery of the lung. The PSS operates two robot arms with six degrees of freedom, and an instrument drive mechanism (IDM) with four actuated axes. The robotic arms steer the flexible bronchoscope, attached at the end effector of the robotic arm, which also includes a working channel and a camera; the working channel of the bronchoscope is used for irrigation and aspiration.
More patients die every year from lung cancer than from prostate, breast, and colon cancers combined. More than 90% of people diagnosed with lung cancer do not survive, in part because it is often found at an advanced stage. There are a variety of diagnostic options currently available for lung cancer, but all have limitations in accuracy, safety, or invasiveness, which can lead to false positives, false negatives, or side effects such as pneumothorax (collapsed lung) and hemorrhage.
Related Links:

Medical University of South Carolina
Auris Health
Latest Surgical Techniques News
Other channels