Smart Navigation Systems Optimize Total Hip Arthroplasty
By HospiMedica International staff writers
Posted on 07 Nov 2019
The combination of two surgeon-controlled surgical planning and guidance platforms optimizes the treatment of total hip arthroplasty (THA) procedures.
The EOS Imaging (Paris, France) hipEOS 3.0 is a three dimensional (3D) surgical planning solution that uses weight-bearing standing and sitting EOS images and 2D/3D patient-specific models and datasets to help select and position implants for the best anatomical fit in order to optimize range of motion, based on each patient's 3D anatomy. This delivers an optimal surgical strategy while taking into consideration patient-specific factors that are key criteria for successful THA, including hip-spine relationship, leg length discrepancy, femoral offset and femoral torsion.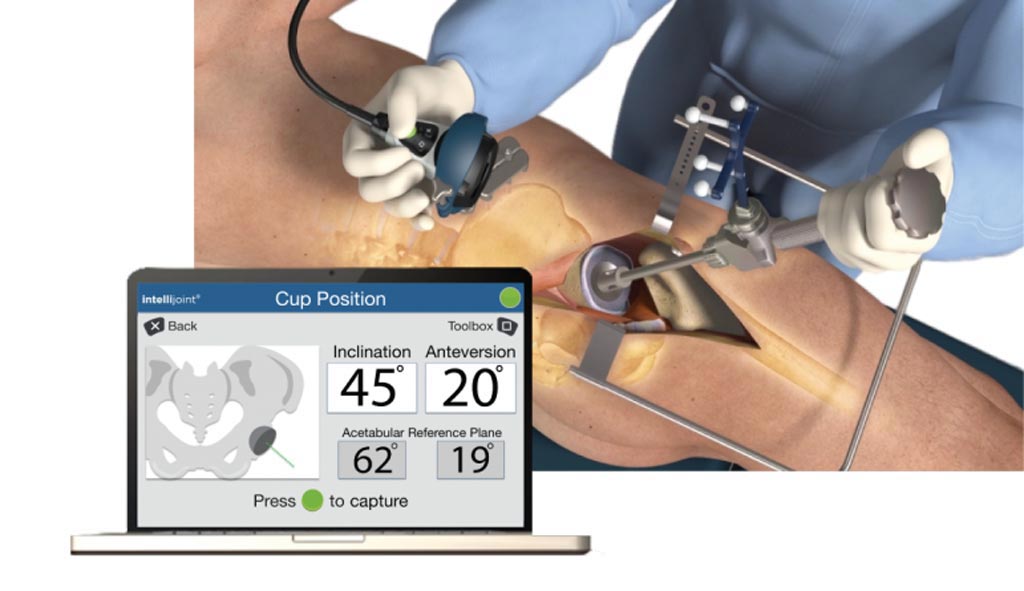 In the first cased performed using the new software, the surgical plan was implemented using Intellijoint Surgical (Waterloo, ON, Canada) HIP, a mini-optical navigation system that provides accurate intraoperative alignment information. The combination of the two platforms enables surgeons to select the best implant type and size, the ideal position and orientation, and make real-time intraoperative measurements that deliver an accurately executed surgical plan. The entire process is facilitated through EOS imaging EOSlink and EOSapps, that together help reduce leg length discrepancies and risk of dislocation or impingement.
"The combination of hipEOS with the Intellijoint HIP system instills a great deal of confidence that I have an accurate preoperative surgical plan that includes patient-specific modifications based on dynamic pelvic motion and femoral version, and can then execute that plan with a high level of fidelity," said orthopedic surgeon Peter Sculco, MD, of the Hospital for Special Surgery (HSS; New York, NY, USA). "I believe this represents a valuable combination of technologies that are relatively low cost, easy to use, improve operative efficiencies, and ultimately lead to improved patient outcomes."
The intellijoint Surgical HIP is an imageless guidance system based on a miniature camera and tracker that provide surgeons intraoperative measurements to help establish proper cup position, equalization of leg length, and restoration or maintenance of offset and joint center of rotation. Correct alignments are imperative to prevent complications such as dislocation, revision, leg length discrepancies, and readmissions. HIP is suitable for anterior, lateral, and posterior THA surgical approaches and can be used with all major implant vendors.
Related Links:

EOS Imaging
Intellijoint Surgical
Latest Surgical Techniques News
Other channels