3D Guiding System Aids Minimally Invasive Vascular Repairs
By HospiMedica International staff writers
Posted on 26 Nov 2019
An innovative intra-operative positioning system (IOPS) provides endovascular surgeons with dramatically improved visualization and guidance.
The Centerline Biomedical (Cleveland, OH, USA) IOPS is designed to provide surgeons with a radiation-free method to navigate catheters and guidewires through tortuous anatomy with precision and control. Using three dimensional (3D) visualization and real-time tracking, the system improves device placement accuracy, simplifies complex procedures, and helps decrease endoleaks and secondary procedures, including costly re-interventions. An electromagnetic tracking system limits fluoroscopy and contrast dye use, making endovascular procedure safer for both patients and physicians.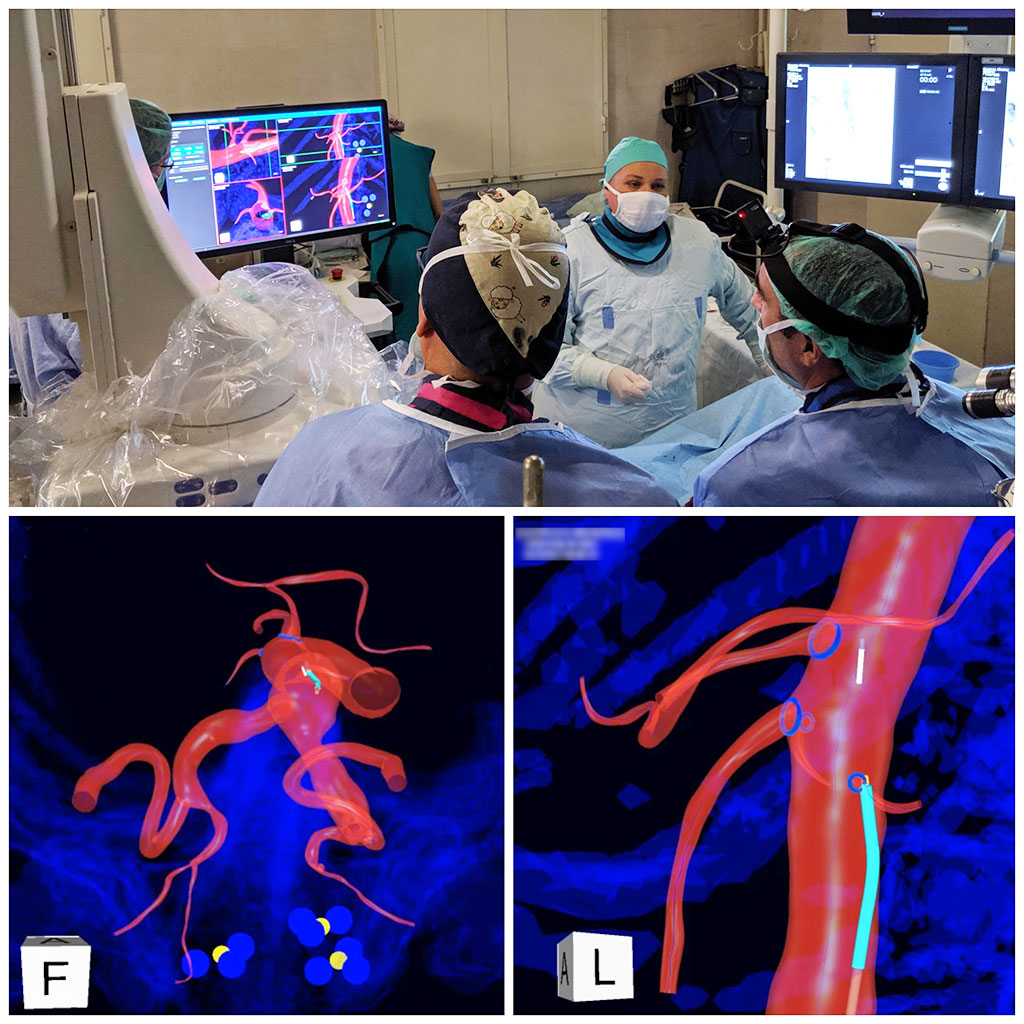 Image registration begins with alignment of intraoperative cone beam computerized tomography (CBCT) and preoperative multidetector computed tomography (MDCT) scans. Once completed, a tracking pad on the patient's back detects the patients motion and corrects potential deviations; catheter, guidewire, and tracking pad sensors data sampling is performed dozens of times a second, minimizing the latency of the rendered updates. The tracking pad does not adjust for automatic movement, such as peristalsis, breathing, or heartbeat.
IOPS provides a 3D, high-definition (HD) image in full color, creating an instantly intuitive experience, without the need for interpretation. Additionally, IOPS offers a four-viewport, multiplaner display of the patient's anatomy and all surgical instruments being used. All sensor-equipped catheters and guidewires are like those used in contemporary operating rooms (ORs), supporting clinical workflows, including more accurate placement of stents and endografts. Since doctors and technologists are accustomed to this type of display, the visualization and controls are familiar and straightforward.
"IOPS has all the key attributes to achieve the triple aim in healthcare – improved patient experience, improved health of populations, and reducing healthcare costs," said Philip Rackliffe, CEO of Centerline Biomedical. "The team has worked tirelessly to develop something that offers more than a stepwise improvement in care. The IOPS technology completely changes the game in endovascular procedures."
"Using IOPS I released the fluoroscopy pedal and felt a sense of calm which I never had before, because for the first time I was navigating without hearing the pumps and sounds of the fluoro system," said Igor Končar, MD, of Serbia Vascular Centre (Belgrade), who participated in the first successful human procedures of IOPS. "We cannulated the AAA contralateral limb on the first attempt with IOPS. Both patients are doing well and the surgeons are pleased with the system."
AAA is the localized dilatation of the abdominal aorta exceeding the normal diameter by more than 50%, and is the most common form of aortic aneurysm; approximately 90% occur below the kidneys. The aneurysms can extend to include one or both of the pelvic iliac arteries. The major complication of AAA is rupture, which is life-threatening, as large amounts of blood spill into the abdominal cavity, and can lead to death within minutes. Mortality of rupture repair in the hospital is 60-90%.
Related Links:

Centerline Biomedical
Latest Surgical Techniques News
Other channels