Micro-Engineered Membrane Reduces Pacemaker Tissue Fibrosis
By HospiMedica International staff writers
Posted on 02 Dec 2019
A protective membrane made of biosynthesized cellulose (BC) significantly reduces the build-up of fibrotic tissue around implanted cardiac pacemakers, according to a new study.
Developed at the Swiss Federal Institute of Technology (ETH; Zurich, Switzerland), the German Centre for Cardiovascular Research (DZHK; Berlin, Germany), Charité University Medicine (Charité; Berlin, Germany), and other institutions, the micro-engineered non-resorbable BC membrane was created by transferring surface microscale geometries via a lithographic protocol harnessing the fermentation process. Symmetric arrays of hexagonal pits in the micron range were generated onto the BC surface in order to interfere with the adhesion of cells involved in foreign body reaction, including fibroblasts and macrophages.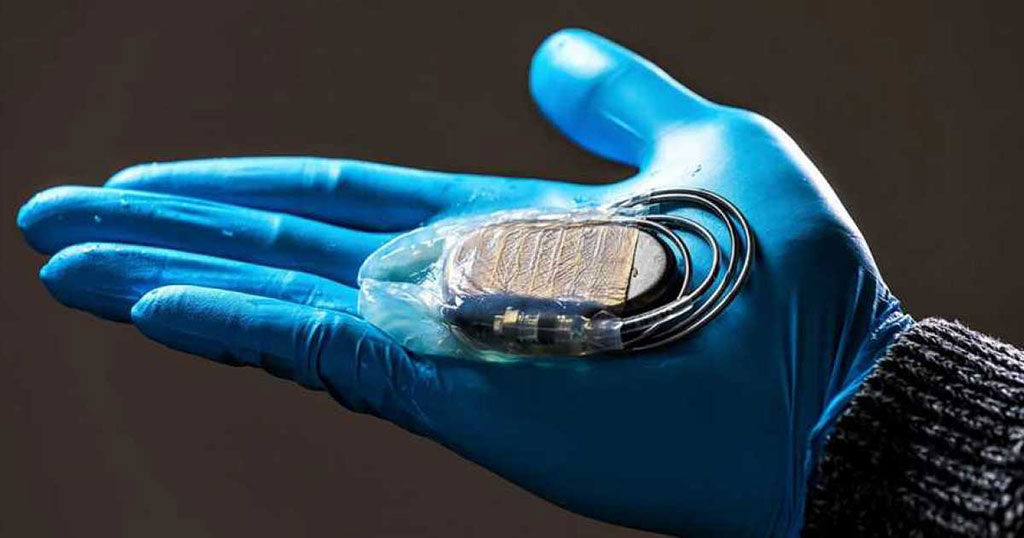 The researchers tested the membrane on 16 pigs; two pacemakers were implanted in each, of which one was enveloped in the cellulose membrane; the pacemakers were explanted at three and 12 months. Analysis showed that the BC protective layers were undamaged, with no sign of chemical or mechanical degradation. They appeared as a thin white-tan layer adherent to the surrounding thin fibrous capsule, from which it could be peeled off by gently pulling with forceps. An average reduction of 66% in fibrotic tissue thickness around the pacemaker was shown, and both the generator and the proximal parts of the leads were completely free of fibrotic tissue. The study was published on October 31, 2109, in
Biomaterials
.
"When fibrotic tissue forms, the first stage is the deposition of proteins on the surface; a fibrous membrane surface impedes this process. Another factor is that the membrane has honeycomb-like indentations in the surface, each measuring 10 micrometres in diameter," said lead author Francesco Robotti, PhD, of ETH. "These indentations make it difficult for the cells that form fibrotic tissue to adhere to the surface, creating the conditions for simplified implantable electronic device revision surgeries."
"Every pacemaker has to be replaced at some point. When this time comes, typically after about five years when the device's battery expires, the patient has to undergo surgery," said co-senior author Aldo Ferrari, PhD, of ETH and Empa. "If too much fibrotic tissue has formed around the pacemaker, it complicates the procedure. In such cases, the surgeon has to cut into and remove this excess tissue. Not only does that prolong the operation, it also increases the risk of complications such as infection."
Upon cardiac implantable electronic device (CIED) exchange, upgrade, or revision surgery, patients are exposed to a considerable risk of adverse events. The presence of firm fibrotic tissue endangers these procedures. Leads can be damaged in the attempt of freeing them from fibrotic tissue, and hematoma can form as result of capsulectomy, pocket debridement, and leads dissection. Due to the increasing number of CIED exchange, upgrade, and revision surgeries, the incidence of related complications is expected to rise in the near future.
Related Links:

Swiss Federal Institute of Technology
German Centre for Cardiovascular Research
Charité University Medicine
Latest Surgical Techniques News
Other channels