Novel Endoscopic Hemostasis System Improves Visibility and Controls Upper GI Bleeding
By HospiMedica International staff writers
Posted on 03 Oct 2022
Gastrointestinal (GI) bleeding is a common condition worldwide accounting a significant proportion of hospital admissions and a major cause of morbidity and mortality. Annual bleeding incidence is approximately 80 to 150 per 100,000 population for upper GI bleeding and 20 to 30 per 100,000 for lower GI bleeding. In most cases, the standard of care for the diagnostic evaluation of suspected GI bleeding is urgent (within 24 hours) upper endoscopy or colonoscopy. Endoscopic hemostasis is frequently the first line treatment and are typically performed during upper or lower endoscopy using different devices available to the physician (clips, injection of agents, argon plasma coagulation, hemostasis graspers, sprays, bipolar probes, etc). Physicians frequently use more than one endoscopic device to achieve hemostasis. Now, a new endoscopic hemostasis system provides gastroenterologists improved visibility and controls upper GI bleeding effectively and with ease.
Developed independently by Next Biomedical Inc. (Korea) and distributed globally by Medtronic plc (Dublin, Ireland), the new Nexpowder endoscopic hemostasis system uses a noncontact, nonthermal and nontraumatic hemostatic powder sprayed through a catheter that has a propriety powder-coating technology for minimized clogging which provides improved visibility and control for treating upper GI nonvariceal bleeding.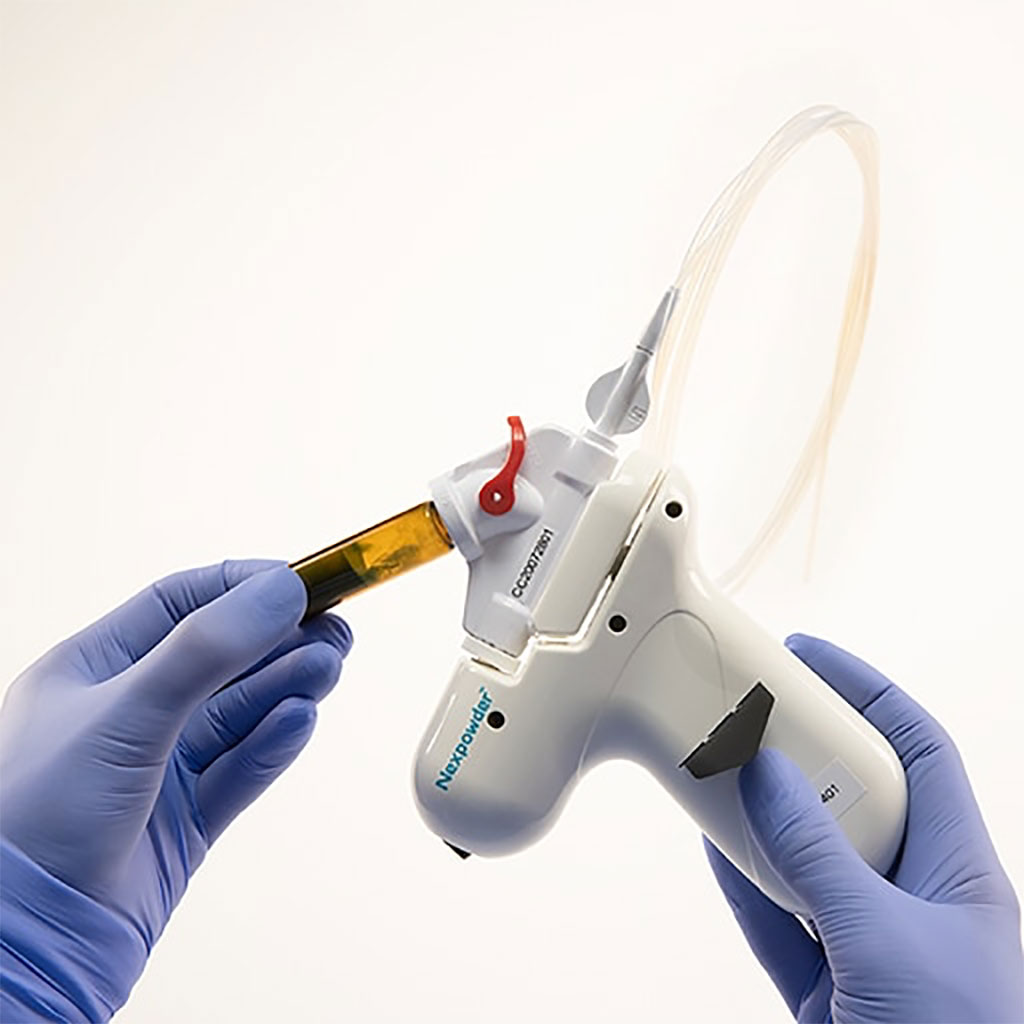 Nexpowder is sprayed on to a target site endoscopically through a catheter that connects to a spray handle. Once sprayed, Nexpowder immediately forms a muco-adhesive and durable gel upon contact, with or without blood, which degrades in one-to-three days. The spray adheres to the tissue with double the adhesive force of other commercially available products, resulting in a durable hemostatic effect. Nexpowder delivers a precise solution for nonvariceal upper GI bleeding with minimal scattering or clogging, enabling direct endoscopic visibility without impairment.
Created with a unique delivery system that does not require CO2 or air compressors, the Nexpowder endoscopic hemostasis system combats the inefficiency of clogged catheters and cloudy fields of vision with a proprietary hydrophilic polymer to enable controlled delivery, minimize catheter clogging and maintain endoscopic visibility. The system responds to all types of moisture, not only blood.
"We are very excited to bring the innovative, Nexpowder system to gastroenterologists," said Gio Di Napoli, president of the Gastrointestinal business, part of the Medical Surgical Portfolio at Medtronic. "We considered the potential impact on physicians and patients alike, by meeting a clear need to reduce mortality from upper GI bleeding, a condition that causes death for one out of every 1,000 people while also reducing rebleeding, which happens in 20% of all upper GI bleeding cases."
"With a 94% immediate hemostasis rate and a 3.7% rebleeding rate, we're thrilled to share this effective technology with gastroenterologists," said Dr. Austin Chiang, M.D., M.P.H., chief medical officer of the Gastrointestinal business at Medtronic. "When we treat patients, we're looking for immediate and lasting results when it matters most. The Nexpowder system is a powerful tool for GI professionals to add to their toolboxes."
Related Links:
Next Biomedical Inc. 
Medtronic plc

Visit expo >
Other channels