New Catheter-Delivered Embolic Shows Promise for Treating Brain Bleed
By HospiMedica International staff writers
Posted on 13 Jan 2023
Chronic subdural hematomas (CSDH) occurring on the surface of the brain is a common pathology that can result in death and/or disability in patients. CSDH is usually treated by drilling a hole in the skull and draining the blood. However, minimally invasive catheter-based middle meningeal artery (MMA) embolization holds great promise in addressing CSDH and is particularly suitable for elderly patients as well as those who are unable to undergo invasive surgical procedures. In this procedure, the surgeon navigates a small catheter into the MMA located within the dura mater which covers the brain, after which an embolic material is delivered into the vessel in order to block arterial flow.
In-vivo research by Fluidx Medical Technology (Salt Lake City, UT, USA) has shown that its IMPASS Embolic Device is successful in MMA embolizations which can be used to treat CSDH on the surface of the brain. The IMPASS Embolic Device uses core Fluidx embolic technology but is designed particularly for neurovascular uses. The material is a low viscosity, aqueous-based solution that solidifies into a durable embolus upon delivery without polymerization or dimethyl-sulfoxide (DMSO) precipitation.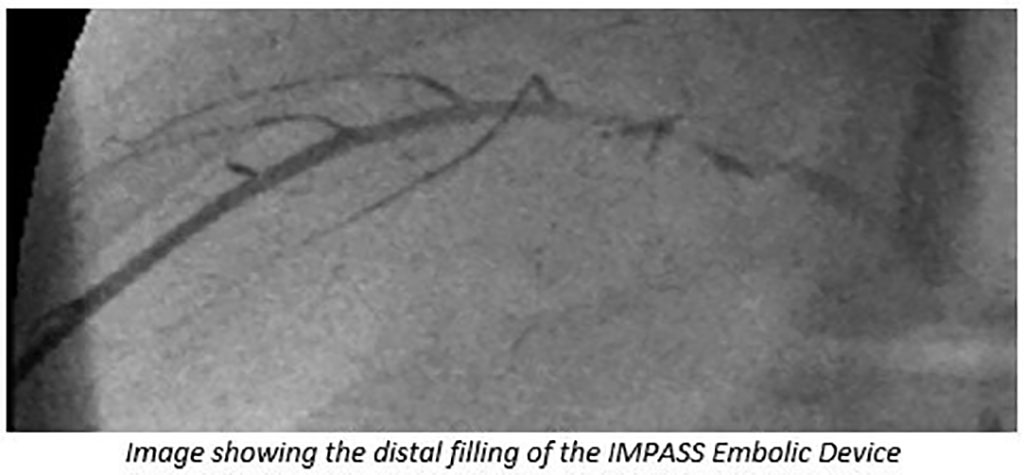 The Fluidx embolic platform is anticipated to bring simple preparation and controllable material delivery to a variety of applications. The IMPASS device is packaged in a ready-to-use syringe, can be prepped tableside by the clinician in 30 seconds, and delivered through standard microcatheters without the need for complex mixing systems or special delivery catheters.
"We've been listening to clinicians and they need better tools to treat CSDH," said Danny Smith, VP of R&D for Fluidx. "We designed the IMPASS Embolization Device to work with standard embolization catheters and embolize small microvasculature in the MMA. Our results are encouraging and the IMPASS product could be a great solution to unmet patient needs."
Related Links:
Fluidx Medical Technology