Innovative Aspiration Catheter for Treatment of Stroke Delivers Next-Level Navigation Performance
By HospiMedica International staff writers
Posted on 30 Jan 2023
Stroke is a disease that affects the arteries within and leading to the brain. Globally, stroke is the second-leading cause of death and the third-leading cause of death and disability combined. Someone has a stroke every 40 seconds with ischemic strokes accounting for about 87% of all incidents. An ischemic stroke occurs when a blood vessel to the brain is blocked by an embolus or blood clot. Inadequate surgical devices used for neurovascular procedures to remove blood clots can lead to repetitive procedures, ineffective treatment and loss of human life. There is a need for reducing the dependence of neurosurgeons on insufficient, out-dated devices for such difficult procedures. Now, an innovative aspiration catheter designed to access targeted vessels easily, quickly restore cerebral blood flow, and retrieve clots in patients experiencing acute ischemic stroke (AIS) due to a large vessel occlusion (LVO), delivers next-level navigation and performance.
The Inspira aspiration catheter from Infinity Neuro (Lake Forest, CA, USA) is indicated for the injection of intravascular fluids, introduction of interventional devices into the peripheral and neuro vasculature, and removal/aspiration of soft emboli and thrombi from the arterial system, including the peripheral and neuro vasculature. Inspira provides unparalleled control and visibility in performing intricate surgical procedures and advances the standard of care in the treatment of stroke. It utilizes innovative, technological material advances and is engineering to increase reliability and usability during surgery.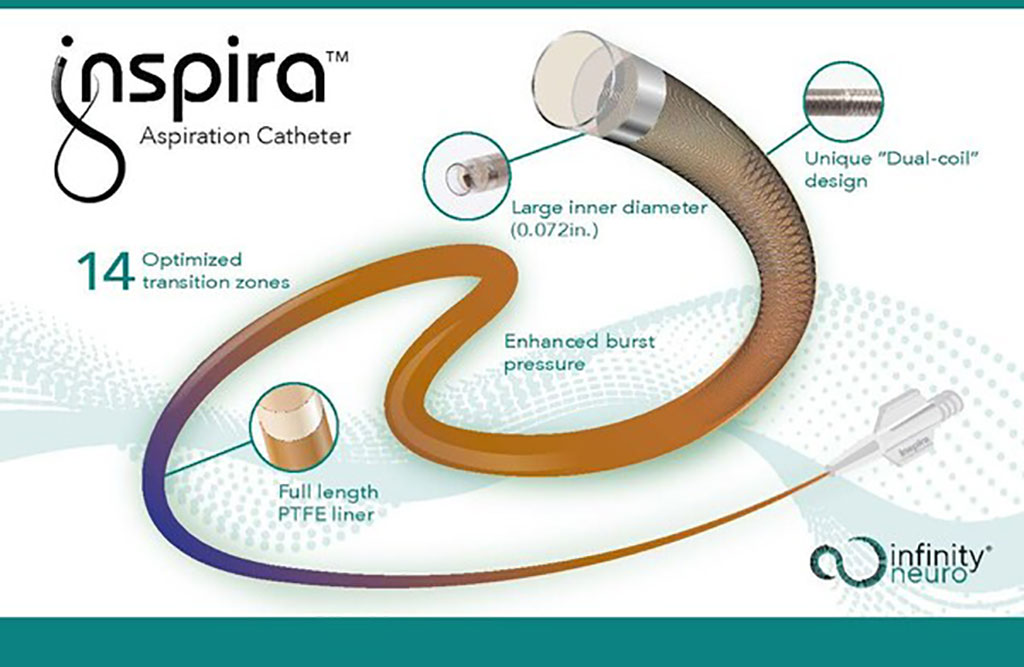 Inspira is the first offering from Infinity Neuro which will launch a full range of products for the treatment of ischemic and hemorrhagic stroke throughout 2023 and beyond. According to the company, Inspira is the first phase of a complementary integrated system which will offer greater ease-of-use and performance with first-to-market product innovations. Inspira aspiration catheters have received CE Mark approval and the product's European commercial launch is underway through a network of EU distributors.
Related Links:
Infinity Neuro
Other channels