Advanced Robotic Navigated Bronchoscopy System Ushers in New Era in Lung Nodule Biopsy
By HospiMedica International staff writers
Posted on 10 Mar 2023
Most potentially cancerous growths are situated in the outer third of the lungs, which poses a challenge for doctors to perform accurate biopsies. Current technologies suffer from limitations in accessing and precisely targeting these suspicious lesions. Now, a robotic navigated bronchoscopy system integrates real-time tomosynthesis and utilizes a disposable bronchoscope, ushering in a new era in lung nodule biopsy.
The Galaxy System by Noah Medical (San Carlos, CA, USA) is a robotic navigated bronchoscopy system featuring advanced imaging technologies that provide real-time location updates, and are designed to improve tool-in-lesion and diagnostic yield. The Galaxy System features TiLT+ Technology with integrated tomosynthesis and augmented fluoroscopy. The system's always-on-camera bronchoscope enables direct visualization for the entire procedure, including at the time of biopsy. It features a purpose-built 4-way bronchoscope articulation that makes navigation to even the most peripheral lesions possible.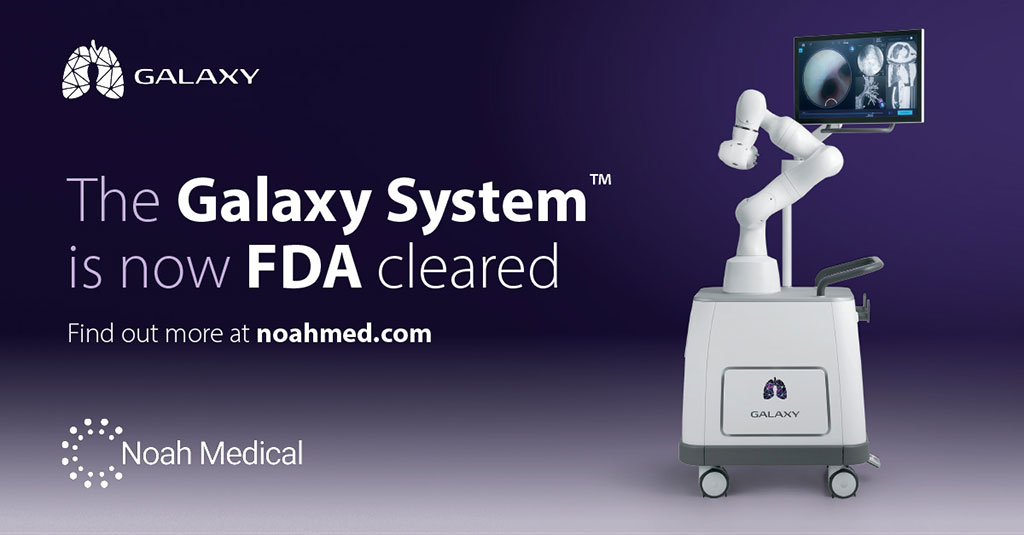 The Galaxy System is the only robotic navigated bronchoscopy system on the market to feature a single-use, disposable bronchoscope, specifically to improve efficiency and workflow, as well as minimize the risk of cross-contamination. The system has won positive reviews from pulmonologists and thoracic surgeons who have used the system as part of pre-clinical studies and multiple technology demonstrations around the U.S. in 2022. Noah has now received FDA clearance of the Galaxy System and its accessories which are intended to provide bronchoscopic visualization of and access to patient airways for diagnostic and therapeutic procedures.
"While various technologies to diagnose lung cancer have been utilized over time, the diagnostic yield has remained relatively low," said Jian Zhang, PhD, Noah Medical founder and CEO. "The Galaxy System is designed to close this gap in the market, giving clinicians a safe and easy-to-use platform to potentially improve diagnostic yield and produce better clinical outcomes. With this FDA clearance, we are excited to move into the commercial phase of our journey."
Related Links:
Noah Medical 
Other channels