New Coronary IVL Catheter Treats Severely Calcified Coronary Artery Disease Using Pulsatile Sonic Pressure
By HospiMedica International staff writers
Posted on 24 May 2023
One in three patients with coronary artery disease have calcified lesions, with heavily calcified coronary lesions posing significant challenges in current coronary interventions due to difficulty in dilation. Existing treatment solutions, including high pressure and modified balloons, as well as atherectomy, face limitations due to their inability to reliably dilate vessels with rigid, severe calcium. These technologies only treat superficial calcium, leaving deep calcium untreated, which can affect procedural outcomes.
Now, the latest device to treat severely calcified coronary artery disease - Shockwave Intravascular Lithotripsy (S-IVL) System with the Shockwave C2 Coronary Intravascular Lithotripsy (IVL) Catheter from Shockwave Medical (Santa Clara, CA, USA) – effectively addresses these challenges. IVL utilizes sonic pressure waves to break down calcium in situ. After inflating the integrated balloon to 4-atm, a small spark at the emitters vaporizes the saline-contrast solution and generates a bubble. This bubble quickly expands and collapses within the balloon, resulting in a brief burst of sonic pressure waves. These waves pass through the coronary tissue and reflect off the calcium, breaking it down with an effective pressure of about 50 atm. The emitters positioned along the length of the device create a localized field within the vessel to fracture both intimal and medial calcium. The integrated balloon plays a crucial role; it positions against the vessel wall to facilitate efficient energy transfer during IVL, then helps to dilate the lesion to maximize lumen gain.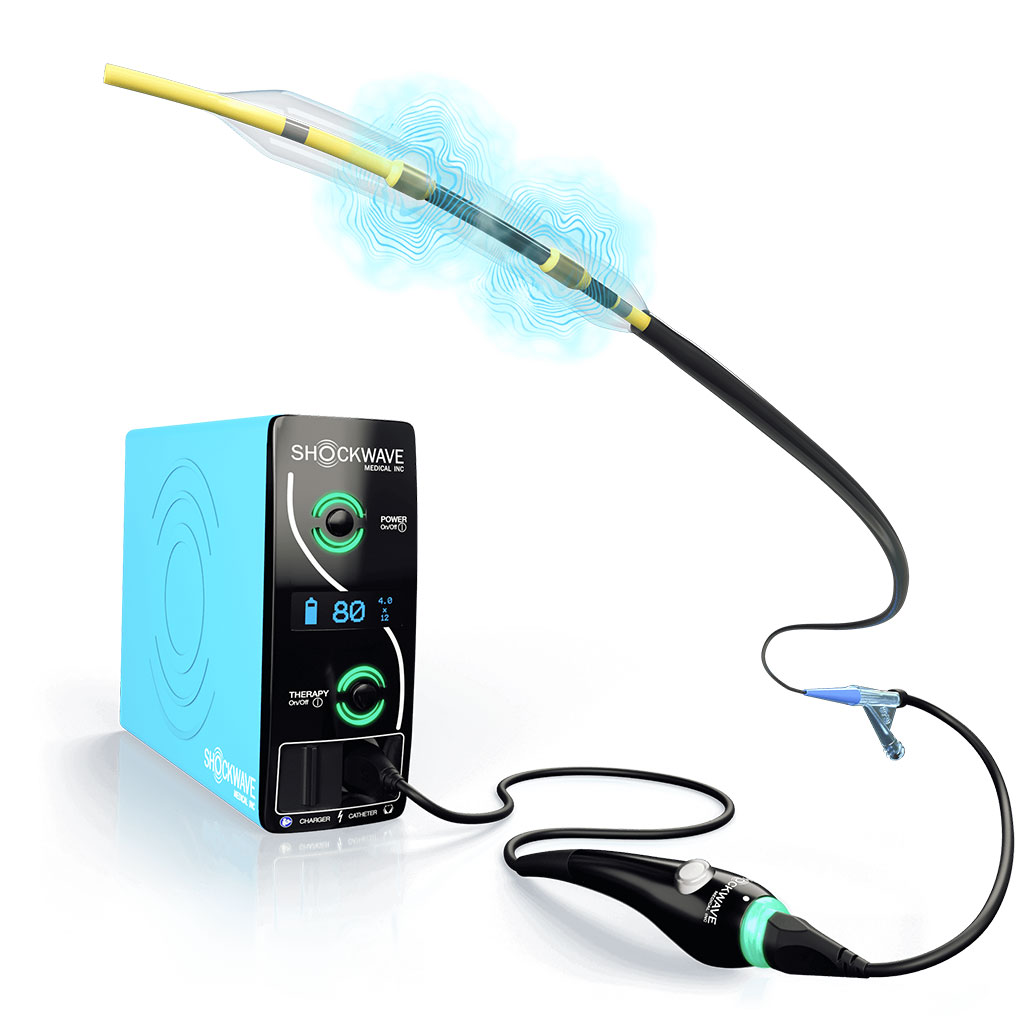 The Shockwave C2+ Coronary IVL Catheter is specifically designed to treat longer calcified lesions and more challenging eccentric and nodular calcium. It minimizes trauma to soft tissue by safely targeting and fracturing intimal and medial calcium. This optimizes stent delivery, expansion and apposition while reducing the risk of perforation and cost escalation. With its straightforward and intuitive system, it makes complex calcified coronary procedures more predictable. The Shockwave C2+ offers 50% more pulses per catheter than Shockwave C2, making it particularly suitable for treating longer calcified lesions and more challenging eccentric and nodular calcium.
"Shockwave C2+ maintains the intuitive catheter design and ease of use that are foundational to the success of Shockwave IVL and incorporates improvements that will enhance procedural efficiency and optimize the treatment of the most challenging morphologies," said Jonathan Hill, MD, Consultant Cardiologist at London's Royal Brompton Hospital. "The extra pulses are most advantageous in areas with the highest burden of calcium, including nodular, eccentric, diffuse and multivessel calcium."
Related Links:
Shockwave Medical 
Other channels