Miniature Robotic System Assists Surgeons in Performing Total Knee Replacement
By HospiMedica International staff writers
Posted on 31 May 2023
Traditional total knee arthroplasty (TKA), also known as total knee replacement, is widely recognized as one of the safest and most cost-effective orthopedic procedures. It serves as a potent solution for alleviating pain and restoring function in patients with advanced arthritis, especially when non-operative options have been exhausted. With technological advancements and improvements in surgical practices, surgeons constantly seek ways to enhance patient outcomes and satisfaction. Robotics has emerged as a useful tool that surgeons can utilize to execute surgical procedures, reduce human error and increase surgical precision. Now, a new system with a small footprint, open implant platform and intuitive workflow opens up robotic possibilities in total knee replacement for more clinics, operating rooms, and surgeons.
The TMINI Miniature Robotic System from THINK Surgical, Inc. (Freemont, CA, USA) comprises a wireless robotic handpiece that aids surgeons in total knee replacement procedures. Following a CT-based three-dimensional surgical plan, the TMINI robotic handpiece automatically adjusts to surgeon's hand movements to accurately place bone pins along precisely defined planes. Cutting guides are subsequently attached to these bone pins for precise bone resection. The TMINI system simplifies usage and replaces numerous instruments currently employed in knee replacement surgery.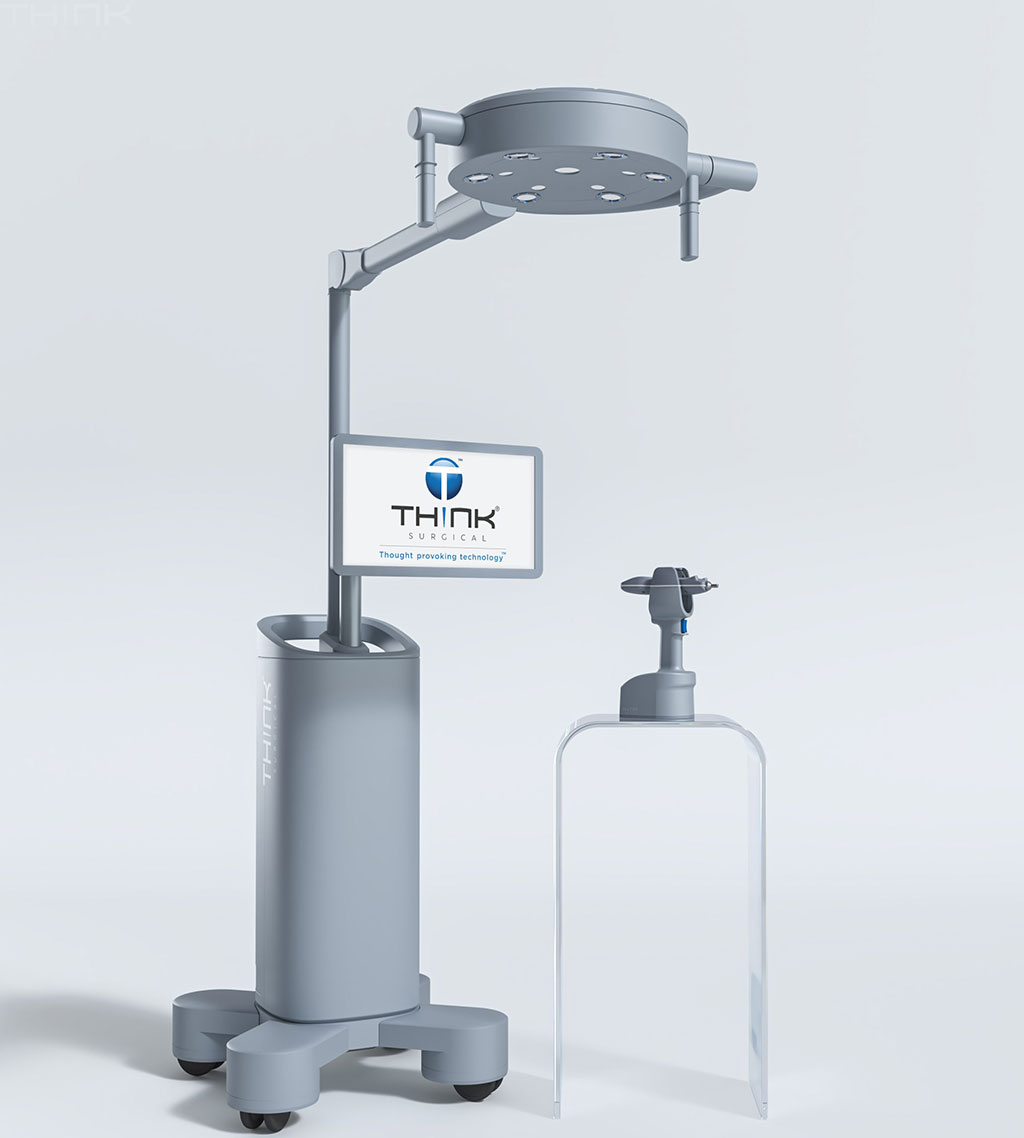 Powered by the Implant Data Hub (ID-HUB), a proprietary database of partner implants, the TMINI system improves access and choice for surgeons. Despite the transformative role orthopedic robotics have played in implant surgery, robotic capabilities have remained tied to implant and robotics manufacturers. THINK Surgical is of the view that by placing implant choice at the heart of the robotic procedure, in collaboration with surgeons and implant partners, its robotics can transform the field of orthopedics. The company is committed to maintaining an open implant library and will continually incorporate new implant options over time. This open implant approach, combined with the user-friendly TMINI system, is likely to attract a wide-ranging customer base that might have been hesitant towards robotics previously. The TMINI Miniature Robotic System has received 510(k) clearance from the U.S. Food and Drug Administration (FDA).
"With its small footprint, open implant platform and intuitive workflow, the TMINI system opens up robotic possibilities for more clinics, operating rooms, and surgeons," said Stuart Simpson, president, and chief executive officer of THINK Surgical.
Related Links:
THINK Surgical, Inc.